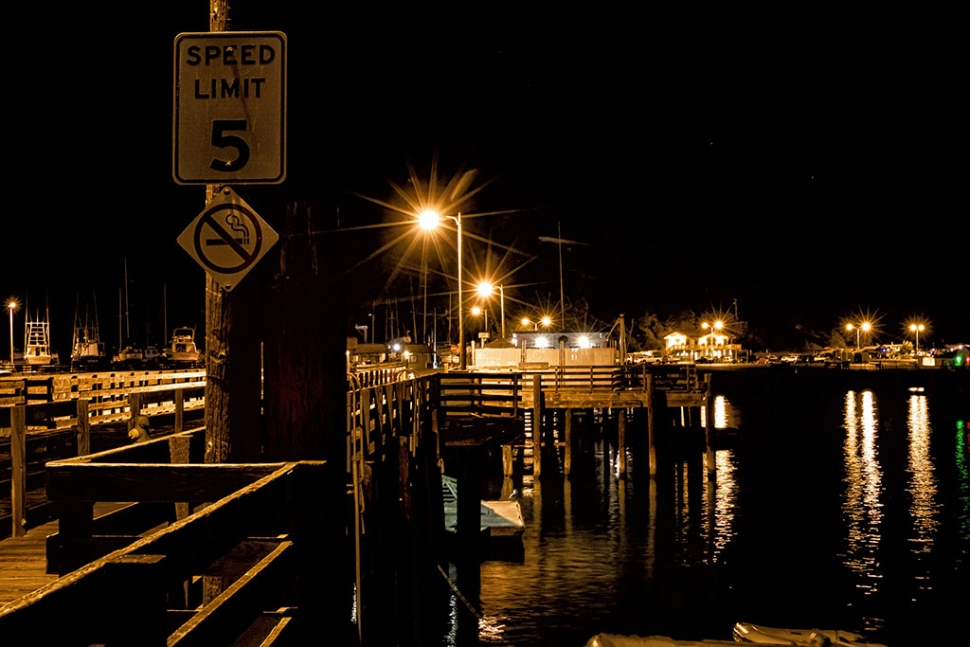 Photo of the Week "Port San Luis boat yard and village from the Harford Pier" by Bob Crum. Photo data: Canon 7DMKII camera, manual mode, Tamron 16-300mm lens at 29mm. Exposure; ISO 1250, aperture f/11, 2-second shutter speed.
By Bob Crum — Wednesday, May 27th, 2020
5-4-3-2-1-Click!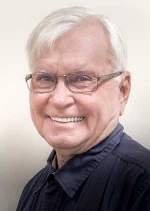 Bob Crum
Back in the film days, I received a phone call from an excited Florida marina manager friend. "You have to see this new boat," he yelled! I jumped in my '86 Chevy pickup and boogied. Oh my, a 36-foot fiberglass sport fisherman complete with transom door, outriggers and flybridge. Wow! Twin diesel engines pushed the revolutionary hull through the ocean. The owner came by and filled us in on the details as we drooled.
Of course, I made photos.
Later, the processed film revealed bad news: All 36 exposures were out of focus. Repair shop found the lens focusing mechanism misaligned. Fortunately, it wasn't an assignment, and I got a better do-over. The boat owner invited me back to go out on the ocean for on-the-water photos. Action photos shot and I sold the photos to a boating magazine. Karma?
From that day on, focusing remained uppermost in my mind. In these days of autofocus, inaccurate focus is not acceptable. Publications will not accept out-of-focus photos. Furthermore, if I spend $hundreds on a lens, I expect it to perform correctly. But what if it doesn't?
At a photography conference, I learned that even new lenses could exhibit focusing errors for various reasons. I also discovered a tool called LensAlign. But using LensAlign is like washing my truck's windshield with an ice cube: Tedious. But I can assess whether a camera-lens combination is autofocusing accurately and, if not, the amount of deviation.
Three lenses I tested autofocused accurately, two didn't. A slight focus issue might not be noticeable in a photo from a 10MP camera. However, it is noticeable in a photo from a 20+ MP camera like mine. Stopping (closing) down the aperture tends to minimize the appearance of autofocus errors. But open the lens aperture for bokeh, as I do for my mermaid boudoir photoshoots, and unacceptable blur occurs.
One lens back-focused slightly, and one front-focused slightly. Back or front focus is the autofocus error of the lens when the focus point falls behind or ahead of the subject. Being somewhat out of focus creates the appearance of a slight blur. After adjusting my Canon 7D MKII camera's AF microadjustment for each lens, the now sharp photos made my toes wiggle. Gearheads need to keep in mind that it's not a lens issue alone. It involves both the camera and lens combo. For the timid types, there are affordable camera & lens calibration services such as 'Perfect Image.'
The photo of the week was quite a challenge to create. Last fall, PCD (Pre COVID Days) I was shooting on the Harford on the San Luis Bay until after sundown. As I was returning to the parking lot, a photo opp suddenly appeared. Standing in the middle of the pier, the composition was so-so. I retreated a few feet to an alcove. From there, I framed a lovely composition. However, exposure issues prevented making the photo.
If only I could shoot out the overhead light messing with my camera's light meter. I moved to the other side of the pier. Voila! Uh, another problem: A two-second shutter speed was necessary for the required exposure! Good grief! A 2-second handheld photo is not practical. Without a tripod, it was cry or improvise. I improvised. I programmed the camera's timer for 10 seconds, put the camera on the pier railing, re-composed the photo and pressed the shutter release button....5-4-3-2-1-Click! I love the boats on the far left and the stars in the distant sky. Ah, sweet success.
Send comments, suggestions or questions to: focusonphotography@earthlink.net