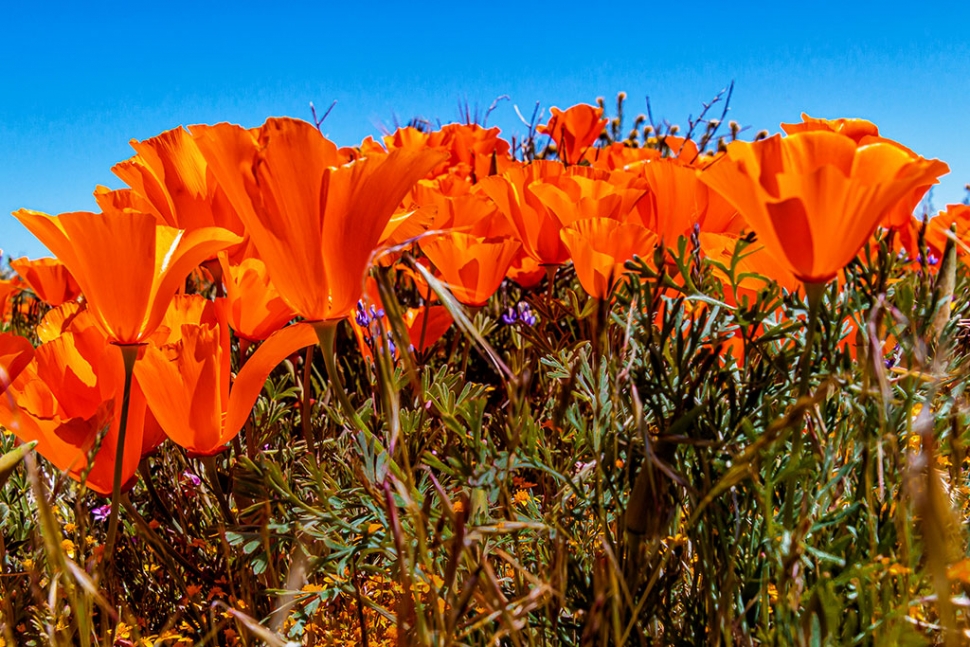 Photo of the Week: "Gorgeous California poppies (Eschscholzia californica)" by Bob Crum. Photo data: Canon 7DMKII, manual mode, Tamron 16-300mm lens @24mm with polarizing filter. Exposure; ISO 400, aperture f/11, 1/200 sec shutter speed.
By Bob Crum — Wednesday, May 13th, 2020
I needed Shinrin-yoku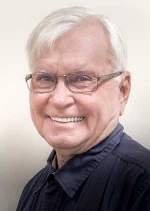 Bob Crum
The social police wasted no time reminding me that my recent visit to the Antelope Valley poppy fields broke the shelter-at-home guidelines. "Stay home and protect the world!" However, my respite to nature was not unlike a Sunday drive. When I stopped, I was never closer than 200 yards from the nearest human.
Photography was one motivation for the visit but not the only reason. Long ago, I came to the understanding that our upbringing never leaves us. Just as food, water and shelter are vital for our and comfort and well-being, so is a frequent commune with nature. I lived my young years in a small farming community. Woods surrounded the town. To the north, my favorite forest. A babbling brook flowed through it. Six-foot high bramble bushes guarded the parameter. Attempting to breach this tangle of thorny plants required heavy armor. So with pruning sheers, I carefully cut a 'secret' tunnel through eight feet of bramble to access my creek-side oasis.
Paraphrasing Time.com, being in nature can restore our mood, restore our energy and vitality, refresh and rejuvenate us. Japanese practice something called forest bathing, or shinrin-yoku. Shinrin in Japanese means forest, and yoku means bath. So shinrin-yoku means bathing in the forest atmosphere or taking in the forest through our senses. This is not exercise, or hiking, or jogging. It is simply being in nature, connecting with it through our senses of sight, hearing, taste, smell and touch.
In further defense of my alleged illegal behavior, a public health report by researchers Stamatakis and Mitchell report that "being in nature, or even viewing scenes of nature, reduces anger, fear, and stress and increases pleasant feelings. Exposure to nature not only makes you feel better emotionally, but it also contributes to your physical well-being, reducing blood pressure, heart rate, muscle tension, and the production of stress hormones. It may even reduce mortality." So you see, my shinrin-yoku pilgrimage was for medicinal purposes and thus totally legal!
Photographing poppies is always challenging. In bright daylight, sunlight reflected from the petals causes the camera's light meter to go wonky. The brightness makes the camera want to reduce exposure drastically. To neutralize the flower petal glare, I employed a polarizing filter. Sometimes helpful, but a polarizing filter is most effective at an angle 45º from the sun - not so much when shooting at the sun or with the sun at my back.
I noticed another interesting phenomenon that I'll call an apparent color shift. As I look out over a field of poppies in one direction, I see a blaze of intense orange. Turn and look at a field of poppies in a different area and I see a field of mostly yellow. Why? There must be a scientific reason. A poppy plant was blooming next to where I was standing. I got down on the ground. At ground level the dominant color I saw was intense orange, very little yellow observed. When I stood and look down at the poppies, I saw a mixture of orange and yellow, a lot of yellow. Conclusion: the tops of poppies are buttered! Aha! So, the color of the poppies one sees, or photographs, from afar is dependent on your position and the viewing angle. Mystery solved!
For the photo of the week, I got intimate with the ants and other critters flitting around on the ground to get the desired photo. Nothing but the best is good enough for my 2,692,585 readers. Happy photoing!
Send comments, suggestions or questions to: focusonphotography@earthlink.netFocus on Photography