Photo of the Week "a hayrake in a field of poppies in the Antelope Valley" by Bob Crum. Photo data: Canon 7D camera, Canon EF-S 55-250mm lens @163mm, Exposure; ISO 200, aperture f/22, shutter speed 1/30 second.
By Bob Crum — Wednesday, May 6th, 2020
I get antsy often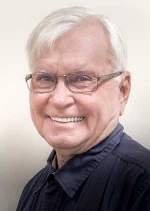 Bob Crum
Too many cases of COVID-19 confirmed here in Fillmore. I hear the Space Station is virus-free. But according to SpaceX, I am #2,946,012 on the ticket waiting list. Hmm, that's only 32 less than my readership. Interesting.
'Tis the season for prime wildflower or wildlife photography. I'm looking at four pages of ads featuring 'photography workshops' in my April issue of the Outdoor Photographer magazine. The following describes a few such photographic workshops.
~"James Kay photography workshops-New Zealand, Glacier National Park, Zion Nat Park, Canadian Rockies/Banff NP, Telluride, Grand Staircase-Escalante NM and Bryce Canyon NP." I want to go!
~"Jim Steinberg Photo Tours-Fall in the Colorado Rockies-Experience the beauty of the aspen and alpenglow in the San Juan and Sneffel Mountain ranges as photographer Jim Steinberg guides you on a journey to capture mountains ablaze in orange and gold." I want to go!
~"Strabo Photo Tour Collection-Northern lights & icebergs from Nuuk, Western Greenland. Your journey to Greenland goes through Iceland, making this an amazing adventure in which you will be immersed in the wild beauty of both countries." I want to go!
~"Russ Burden Nature Photography Tours - Join Burden on nature tours to an iconic US destination or the Serengeti in Tanzania. Russ is intimately familiar with every tour location. He'll teach you how to read light, create optimum compositions and improve your technique. Experience his contagious enthusiasm, motivation, knowledge and passion." Are we there yet?
I don't need Burden's enthusiasm or motivation, but the fact that he is intimately familiar with select prime locations excites me.
While living in Florida, I participated in a fishing tournament in South Carolina. The grand prize was $5,000, but I knew nothing about the lake. Fishing was from Friday to Sunday. I left Florida on Tuesday that week. At a local fishing camp, I hired a fishing guide that knew the lake. On Wednesday and Thursday, we fished at locations marked on his map of the lake. Ready? At the tournament's end, I finished second pocketing $3,000. Not possible without learning about the lake and its underwater topography from someone who knew the lake. Location - location - location. Landscape photography is not different.
When I see a great landscape/waterscape photo, whether online or in a magazine, I get antsy. I want to go there! The Internet and Google Earth Pro are handy planning tools. However, nothing done remotely (at home) can equal boots on the ground. A long time ago, around 1904, I learned that little is known about a location until you visit. Once there, I need to learn where I need to be to get the best photo of the iconic scene. I could learn on my own, and exploring is sometimes fun, but also time-consuming.
Knowing the best location from where to make once-in-a-lifetime photos is a tremendous benefit. There's value in a workshop leader who knows 'secret' photographic places. But I don't need their photographic expertise. I can compose and expose photos quite well on my own. I only want their invaluable guide service. And I'd rather the latter be on location to facilitate my getting a giraffe's portrait in the Tanzania Serengeti. Excuse me; I need to start a gofundme account.
The hay rake among the poppies, the photo of the week, which I took five years ago, was an irresistible photo op. I located the property owner who granted me permission to trespass. Driving by the property this year, I saw that the rake is gone. Happy photoing.
Send comments, questions or suggestions to: focusonphotography@earthlink.net