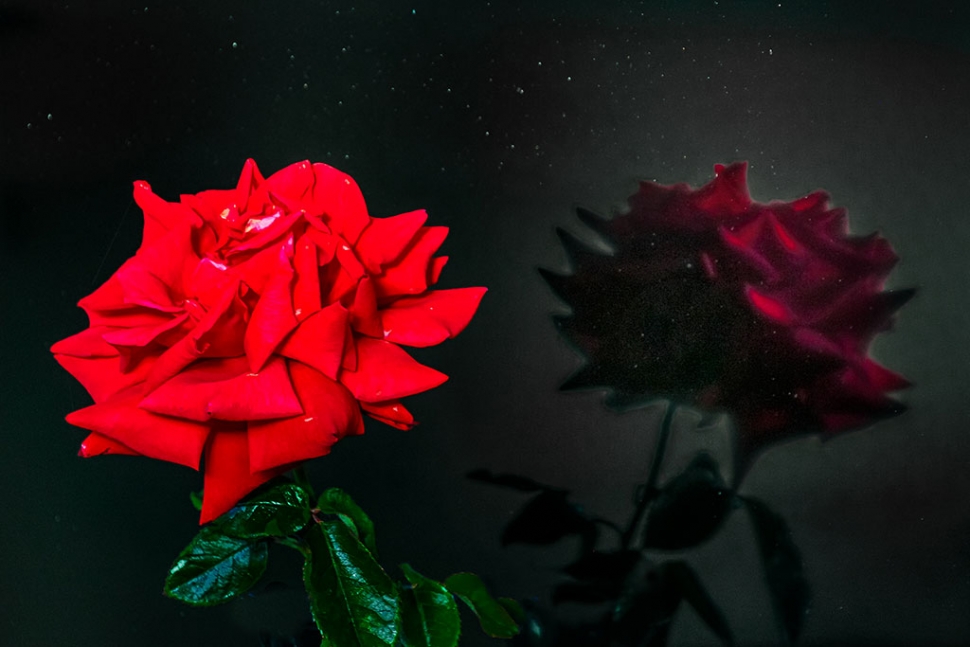 Photo of the Week: "Starry night roses-see story to win prize" by Bob Crum. Photo data: Canon 7D MKII, manual mode, Tamron 16-300mm lens @ 124mm. Exposure; ISO 800, aperture f/7l1, 1/200 sec shutter speed.
By Bob Crum — Wednesday, February 26th, 2020
First JPEG, now HEIF!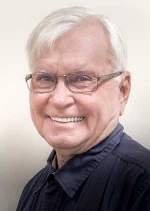 Bob Crum
The digital age has infiltrated our lives in many ways--some good, others aggravating. Digital devices from audio recorders, TVs, cameras and of course, cellphones. Ah yes, cellphones, the prolific pocket-size devices that render cognitive-behavioral therapy for the gazillions of people who have a narcissistic personality disorder. And of course, to occasionally make a phone call.
While the plethora of digital devices presents many appealing conveniences, it has also caused yet another photographic demise: The print! Remember prints? We shot some photos on a 36 exposure roll of film, and before we finished the whole roll, we rushed to the one-hour photo facility. After relishing a Starbucks iced dirty chai latte, we dashed back to pick up the prints.
Back at Starbucks, LOOK at Johnny at his first birthday party putting the whole cupcake in his little mouth. OMG, here's a photo of Aunt Julie falling off the picnic table. And one of the cute little puppy, but who is the idiot who named him Wigglebutt? Ah, the wonder of prints!
Photographic prints used to document everything from anniversaries, to birthday parties, to graduations, to family reunions and get-togethers on holidays. Cellphones killed all of that. Phonetographers take snapshots all day to plaster on Instagram and or charm their Facebook (FB) friends and watch to see how many 'likes' their masterpiece collects. What? Only 12 likes? Com'on people. It's a gorgeous photo of my trophy pumpkin! When was the last time you had a print made from a photo you took on your cellphone? Never? I'm not surprised considering that 53% of consumers haven't printed a photo in more than 12 months, 70% don't have photo albums and 42% no longer print photos at all!
Let's briefly consider technology. You presently back up your photos on hard drives. Good. But did you forget that hard drives crash! Poof, photos all gone. Oh, you are one up on me, eh? You have your photos stashed up in a cloud. Good for you. Wait, are you sure that 'cloud' company is going to be around in 10 years? Or what if they hike the storage price to a point you can't afford? Gotcha! And BTW, have you heard about HEIF? HEIF (High-Efficiency Image File, pronounced 'heef' as in beef) is a new file format. The MPEG group developed it. The HEIF format is used by Apple as a modern replacement for JPEG . But to view a HEIF, you have to first convert it to a jpeg. Egad! Point being that all those great jpegs from your cellphone might not open on state-of-the-art computers of the future. More about this important subject later.
In the meantime, the digital-photography-school.com website sums up the topic perfectly. "While there is joy in taking photos and viewing them digitally, our satisfaction is not properly realized until we have printed our photos. A photo that isn't printed is like a script that is never performed or a musical composition that is never played. There is still value in the digital photo, just as there is value in a script or musical composition. But the value is mainly the hope that one day the digital photo will be printed and share a bodily life with us – to inspire us, cheer us, and remind us."
If the paper edition is not in color, be sure to check the photo of the week at fillmoregazette.com. The first person who can briefly describe how I made the photo wins one free scoop of Baskin-Robbins ice cream. Happy photoing!
Send comments, suggestions or questions to:focusonphotography@earthlink.net