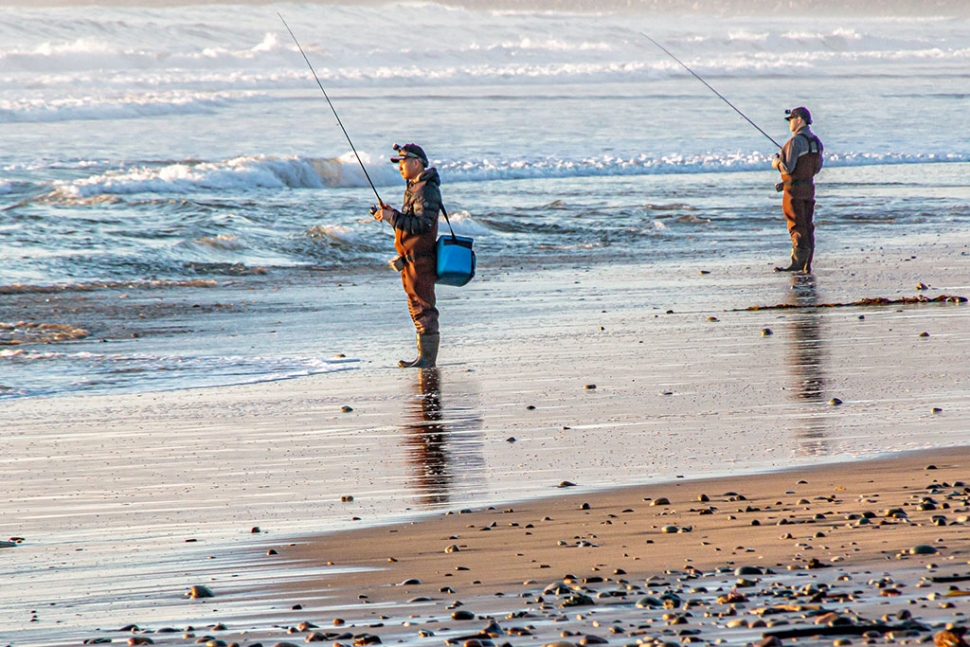 Photo of the Week "Two fisherman at sunset, Faria Beach" by Bob Crum. Photo data: Canon 7DMKII with Tamron 16-300mm lens @300mm. Exposure; ISO 1,000, aperture f/11, shutter speed 1/320th second.
By Bob Crum — Wednesday, February 5th, 2020
Irrelevant?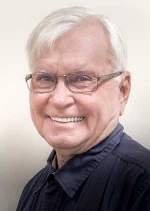 Bob Crum
Based on several email comments received, irksome could describe the state of mind of a percentage of this column's readers. Puzzling is the recurring question: Why do I persevere in promoting the dead medium called photography? The question is relevant with respect to the advancing technology of the cellphone's ability to 'take' decent photos.
The following are relevant excerpts from the Guardian. "It's really weird," says Antonio Olmos. "Photography has never been so popular, but it's getting destroyed. There have never been so many photographs taken (300 million posted on FB every day) but photography is dying."
But what does Olmos mean by saying photography is dying? He argues that in the 1850s the rise of photography made many painters, who had previously made nice livings from painting family portraits, redundant. Now it's the turn of professional photographers to join the scrap heap. "Photographers are getting destroyed by the rise of iPhones. The photographers who used to make £1,000 for a weekend taking wedding pictures are the ones facing the squeeze. Increasingly we don't need photographers – we can do just as well ourselves."
"Don't get me wrong. I love iPhones and Instagram," says Olmos. "But what I worry about is that Kodak used to employ 40,000 people in good jobs. What have they been replaced by? Twelve people at Instagram.
But there's a stronger reason that makes Olmos argue photography is dying. "The iPhone has a crap lens. You can take a beautiful picture on the iPhone and blow it up for a print and it looks terrible."
But who needs prints in a paper-free world? "For me the print is the ultimate expression of photography," he retorts. "When I do street photography courses, I get people to print pictures – often for the first time. The idea is to slow them down, to make them make – not just take – photographs."
Guardian photographer Eamonn McCabe agrees: "At the risk of sounding like one of those bores defending vinyl over CDs, I think there's a depth to a print you don't get with digital. It took me back to the days when photography didn't make people like me lazy."
Why is digital lazy? "It's a scattergun approach. You snap away thinking, 'One of these shots will work', rather than concentrate on capturing the image."
McCabe used to take two rolls of 24 exposures on a typical assignment. "Now I can shoot 1,000 pictures in one of these sessions on digital – and I give myself a massive editing problem as a result. I don't think photography's dead, it's just become lazy. People are taking lots of pictures, but nobody's looking at them."
For a more positive sense of what digital and cameraphone technology has done to photography, I spoke to Nick Knight, the British fashion photographer who's just done two big assignments entirely on iPhone – a book of 60 images celebrating the work of the late fashion editor Isabella Blow. "I work frequently on the iPhone. It's almost become my camera of choice."
But what about the "crap" iPhone lens? "Who cares? The image isn't sharp? Big deal! One of my favorite photographers is Robert Capa, whose pictures are a bit blurry sometimes – I love them because he's captured a moment.
"What I'm into is a visual connection to what I'm taking, not pin-sharp clarity. It's absurd for people to think all photos need to be high-resolution – what matters, artistically, is not how many pixels it has, but if the image works. The machinery you create your art on is irrelevant." Irrelevant? Hmm. To be continued...
The photo of the week is of two fishermen at sunset. I particularly like how the light and shadows work on the fishermen and the soft light reflected off the ocean.
Send comments, suggestions or questions to: focusonphotography@earthlink.net