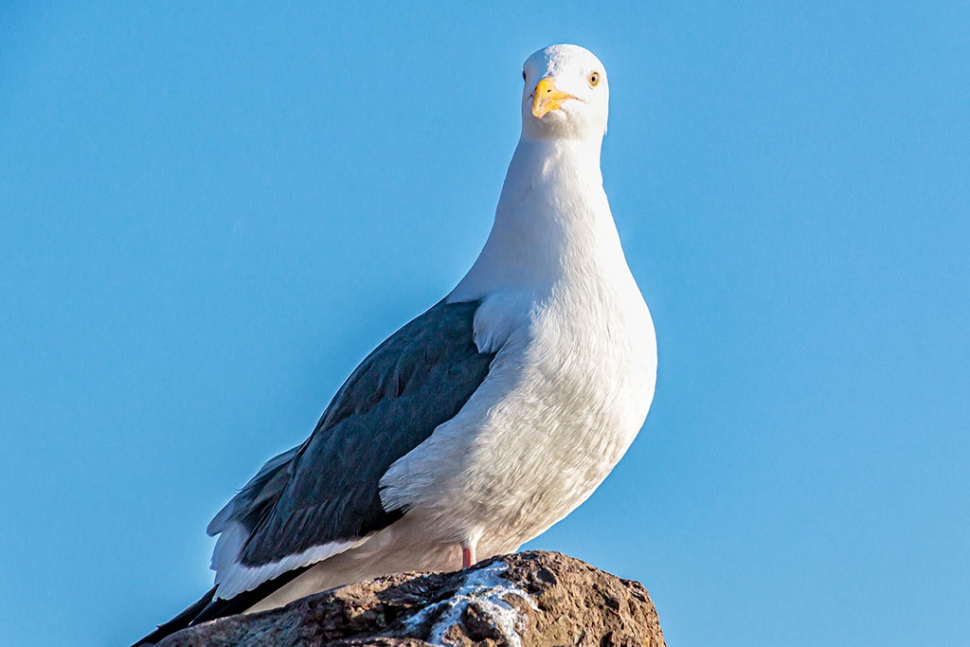 Photo of the Week "J. P. Seagull, in need of a bath, posing for his headshot" by Bob Crum. Photo data: Canon 7DMKII camera with Tamron 16-300mm lens @238mm. Exposure; ISO 400, aperture f/11, shutter speed 1/500th second.
By Bob Crum — Wednesday, January 29th, 2020
Plan Sunk at Sunset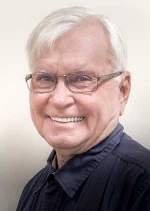 Bob Crum
I'm experiencing ongoing respiratory issues, among other things. Last Thursday, I underwent a pulmonary function test (PFT) at the Ventura County Medical Center (VCMC). That's an ordeal when breathing is a challenge. Last Sunday I needed another breathing treatment. A breathing treatment involves inhaling a medication (Albuterol) turned into a fine mist and inhaled for about 20 minutes. Some may know this therapy as a nebulizer treatment and may contain steroids to decrease inflammation and secretions. I now have a nebulizer at home to use when I need it. But why can't a pharmacy lab make strawberry margarita flavored Albuterol?
Of course I took my camera and tripod with me thinking that after the respiratory therapy, I might be able to get out in the fresh air at Faria Beach and make a few photos, something I hadn't been able to do for too long. But why the beach?
It's reported that ocean waves create delightful negative ions, which are small molecules that's gained a negative electrical charge. These negative ions are found in extremely high concentrations at the beach. These microscopic molecules can pass through our skin cells and through our lungs via the air we breathe making breathing easier. But wait, there's more! Studies have also shown that negative ions possess not only an anti-microbial element but also mood enhancers. Research seems to indicate that negative ions can - I love this - influence serotonin levels in the brain. Wonderful! If a hefty dose of negative ions can kick up my serotonin level, bring'em on!
So, going to the beach following a breathing treatment is like a doctors' prescription that reads: Spend three hours at the shore of your choice for medicinal purposes. Who would dare suggest that I ignore medical orders? I ignored the part that said roguery with mermaids is forbidden.
Along with my camera, I also took my lens filter bag. Among the many filters in my filter bag, I have a very special 150mm X 100mm Singh-Ray Daryl Benson (D.B.) reverse graduated filter. Remember, the sun setting on the horizon is extremely bright. Without filtration of some type, photos of the sun at sunset exhibit a big overexposed blob. Ugh! The D.B. reverse graduated filter is darkest where it needs to be, at the center. It's clear on the bottom (for proper exposure of foregrounds which are generally darker at sunset) and transitions from dark to light above the horizon. This filter makes it perfect for sunrises and sunsets with flat defined horizons such as the seashore, prairie or desert. Accordingly, I was eager to capture a sunset photo with the D.B. filter for this week's photo of the week. I could hardly wait for the sunset.
About 15 minutes before the sun dropped down out of sight, I brought out my Lee filter holder in which I slide the D.B. filter. OH OH! The filter size on my Tamron 16-300mm lens is 67mm. The Lee filter holder that screws on to the lens is 77mm. The problem? My 67mm to 77mm step-up adapter for mounting the Lee holder was back home. Bummer! At that moment, my body was not generating sufficient serotonin to overcome instant depression.
Plan ruined, I sat down on the steps, dejected, and watched the ten-foot waves roll in. Then I heard the familiar chirp, looked up, and there he was, on a boulder overhead, posing for me. I programmed the camera (real cameras have dials and buttons) and made a few headshots of grungy J.P. Seagull for the photo of the week. Happy photoing.
Send comments, suggestions or questions to: focusonphotography@earthlink.net