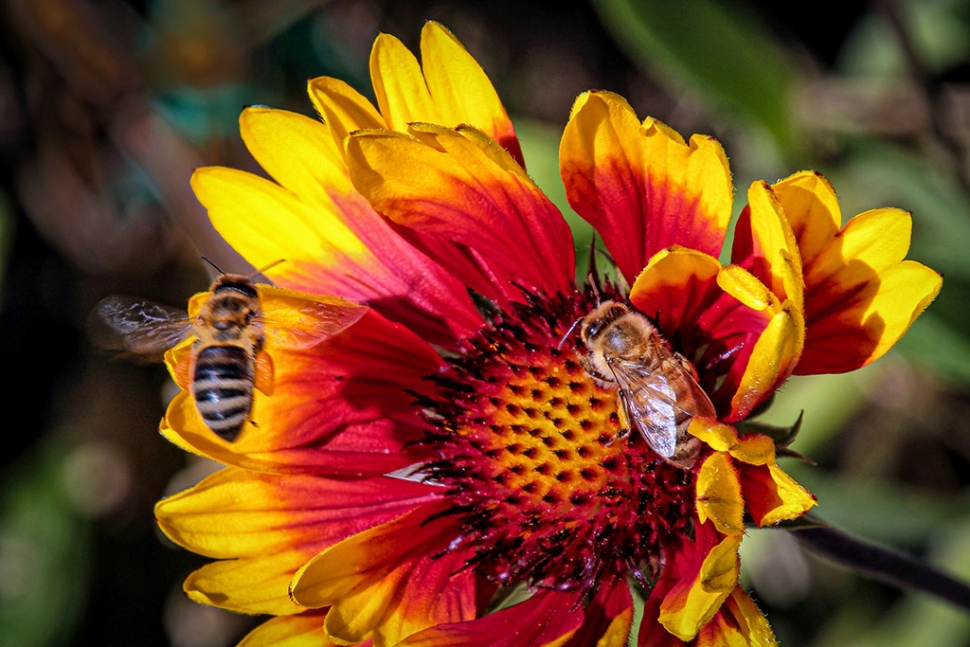 Photo of the Week: "Two bees, 1 gathering sweets, the other taking a load to the hive" by Bob Crum. Photo data: Samsung S10+ cellphone... whoa... just kidding! Real photo data: Canon 7D2 with Tamron 16-300mm lens @300mm. Exposure; ISO 200, aperture f/11, shutter speed 1/250th second.
By Bob Crum — Wednesday, January 22nd, 2020
Sacred Moments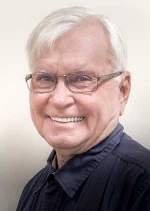 Bob Crum
Imagine that I'm walking on a pier in the Ventura Harbor. My 'real' camera is home. A pelican dive-bombs me and lands on my head. As I bring out my cellphone for a selfie, the pelican smiles, and poops. Phew, this bird ate stinky herring for lunch. Anyway, I push the big white button on my cellphone and PRESTO, instant snapshot for social media.
In the chimerical scene above, I took a snapshot, not a photo, with my cellphone. But as good as the snapshot may be, something intangible and significant is missing.
Continuing to play with my Samsung S10's camera, I sense that every time I hold the approximately 3" X 6" glass-faced device, it lacks charisma, duende, and enchantment. It's splendid for making phone calls and communicating via texts and email. But without dials and buttons, it's not a real camera!
The S10 has five lenses. Operational modes include photo, pro photo, live focus, live focus video, video, panorama, night super slow-mo, slow-motion hyperlapse and food. Ho hum.
The 'food' mode is silly. In night shot mode, the device says to hold your phone steady while taking night shots probably because the shutter speed is at the lowest setting. In panorama mode, the device says to tap the camera button, then pan slowly in one direction. Automation makes the pano image. Everything is automated. However, in pro photo mode, I can adjust ISO and shutter speed. Color temperature, tint, contrast, saturation, highlights and shadows are also adjustable with sliders. I found these adjustments weak and minimal at best. Yawn. Creativity is sacrificed with the operating mode limitations and automation.
Waxing philosophical, one of the elusive elements of photography seldom - if ever - described or talked about is the act of becoming one with a 'real' camera. Some will render this esoteric given that you can't see this 'oneness', nor can you feel it, you can only experience it. Camera brand and model are irrelevant. More important is that the camera enables us to execute an essential part of the creative photographic process.
As photographer Ming Thein wrote, "If you don't feel like your getting a positive emotional return from handling and shooting with the camera, then you're probably not going to be inclined to use it as much, which in turn means you shoot less, experiment less and make worse images." Cellphones disguised as a camera does not give me an emotional return.
A 'real' camera becomes an extension of my vision. As I view a scene or object to be photographed, and bring the camera to my eye, I am simultaneously envisioning a multitude of creative options. Adjustments for the light and the scene are made in the moment. Time, the concept that it is, becomes suspended. Consecutive moments dissolve into a form of unequaled meditation. At some point, I press the shutter button to capture an instant moment of time and light. I immensely enjoy these sacred moments. Relishing the experience is an understatement.
From observation to pressing the shutter button might have taken minutes yet feels like seconds. Though the preceding may sound abstruse, the emotional component of the creative process is real. Oh, lest I forget, the cellphone's tactility - the responsiveness to stimulation of the sense of touch - is woefully suboptimal, IMO.
Less I will be misunderstood; I like my Samsung S10+. The technology is spectacular. But as good as most of the snapshots look, they cannot supplant those from a 'real' camera. So, premature to consider changing the title of my column to Focus on Phonetography.
Photo of the week, two bees, made with my Canon 7DII. See it online to appreciate the photo details.
Note: Because of recurring health issues, I may need to suspend writing the column temporarily. Stay tuned.
Send comments, questions or suggestions to: focusonphotography@earthlink.net