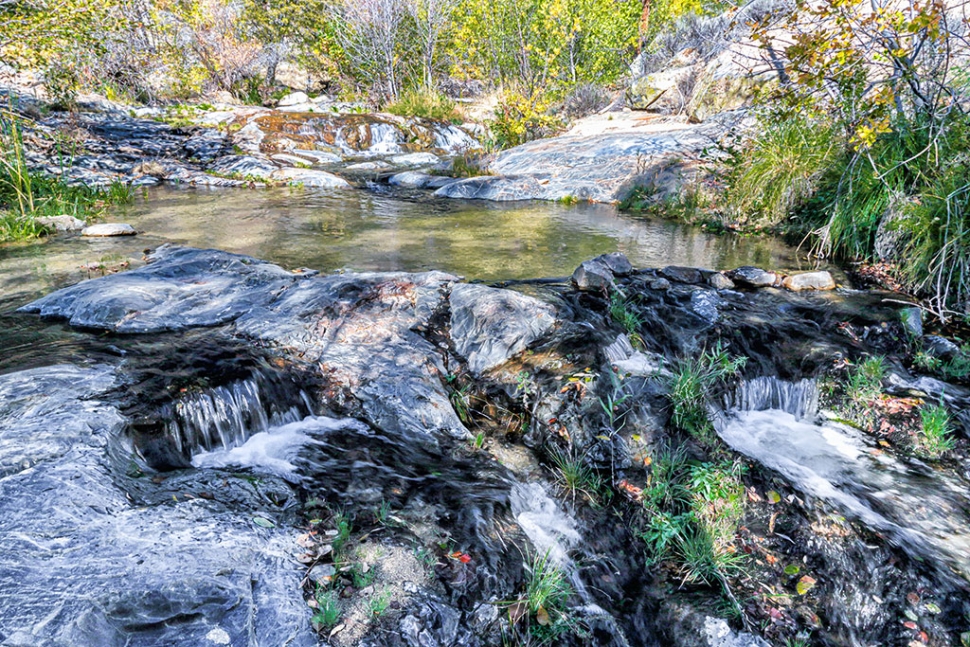 Photo of the Week "Brush Creek north of Kernville, CA" by Bob Crum. Photo data: Canon 7DMKII camera with Canon EF-S 15-85mm f/3.5-5.6 IS USM lens @16mm. Exposure: ISO 100, aperture f/16, shutter speed @1/25th second.
By Bob Crum — Wednesday, January 1st, 2020
Happy New Year!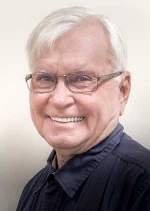 Bob Crum
This column concludes editing the previous photo of the week. (review online) Recall that I exported the image (from Adobe Lightroom program), in the tiff format, to Photoshop Elements 2020 (PSE), with NIK plug-ins. In the tiff format, it's now a digital photo, not just data.
A few photographers wrote asking why I don't export to Photoshop (PS) instead of Elements (PSE). I could have, but PS compared to PSE is like comparing a Dodge supercharged 6.2L Hemi Hellcat engine producing 797 HP to a Toyota 2.5L 2Arfe 4-banger. Since I'm not creating 50 layer composites, I don't need the power of PS. Editing a Fillmore parade photo with Photoshop would be like driving my 454 HP Maserati GT sport coup three blocks to Vons to fetch a banana!
Photoshop Elements is Photoshop without some bells and whistles. It's like my Maserati V8 running on four cylinders. Most PSE editing functions are similar to PS. However, add NIK plug-ins to PSE and PSE sings like Lady Gaga. Presently, the plug-ins include Analog Efex Pro, Color Efex Pro, Dfine2, HDR Efex Pro, Sharpener Pro, Silver Efex Pro, and Viveza. I use Color Efex Pro 4 and Viveza 2 extensively. The key that makes NIK plug-ins so fantabulous is their U-Point technology. It's awesome sauce!
Let's edit! If the image has excessive digital noise (in low-light photos), I use Imagenomics, a third-party plug-in. On occasion I use both Imagenomics and NIK Dfine because they use different algorithms. Plug-in algorithms are better than boiled beet greens. But I digress.
In the original capture, Spanish moss on the tree limb is the wrong color. Using Viveza, I put a U-Point on the moss, closed down the circle of influence so that only the moss is affected and adjusted hue, saturation and brightness. Ah, much better.
I created another U-Point placed on the tree under the Sunstar. The bright sun washed out the green color, restored it with the 'green' slider and an increase of saturation. I also applied 'structure' to the overall image to enhance the tree's leaves.
Afterward, I applied 'Tonal Contrast' with a Color Efex Pro filter. Satisfied with the photo's enhancements, the last step was to resize the image and resolution. Bidda bing-bidda boom-DONE. And almost as much fun as a bubble bath with a mermaid.
While some profess photo editing is a time-consuming pain-in-the-buttocks, I embrace it as a creative exercise. And it's not rocket science. Learn it and it's like eating ice cream.
It's a new year and time to reassess the direction for this column through 2020. Some have said that I often get too technical. Others look forward to more in-depth technical info. I need your feedback. Please take a moment to email me your preferences. It's important! Also, please tell me your status: photographer, photography enthusiast, wannabe photographer or phonetographer. Include your favorite photographic genre: Landscapes, portraits, pets, wildlife, flowers, street photography etc. and if you are you more interested in photography or post-processing (editing)? Also, might you be interested in participating in a photography club get together once a month? Think fun! Receive a shooting assignment, submit your photos the following month to be reviewed & discussed. Please write now before you forget! I am looking forward to hearing from all of my 2,395, 557 readers! Happy New Year!!!
The photo of the week, Brush Creek, is from my nostalgic archives of photographic haunts. Scenic Brush Creek, north of Kernville, presents a variety of fantabulous photo ops, with or without mermaids.
Send comments, suggestions or questions to: focusonphotography@earthlink.net