Photo of the Week: "Fillmore's beautiful snow-capped mountain tops" by Bob Crum. Photo data: Canon 7D MKII camera with Tamron 16-300mm lens @48mm. Exposure; ISO 125, aperture f/11 and 1/250th second shutter speed.
By Bob Crum — Wednesday, December 11th, 2019
To Photoshop, or not!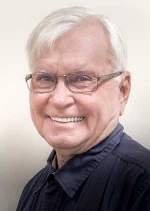 Bob Crum
Besides the inclement weather, I can't always do what I used to regularly do like photograph the Fillmore Christmas parade. So disappointed that I didn't get to present Santa my 'wish list' directly. After all, I've been exceptionally good all year. Now I have to hope that my letter to Santa got to his North Pole address. Considering the purported effects of climate change, perhaps the Post Office will need to deliver my letter by boat. But I digress.
I previously mentioned that with a new camera in hand, you need photo editing software. Well, I received a few emails from astute readers reminding me that if the photographer got it right in the camera, in the first place, there's no need to edit the photo afterward. Hm, if only I didn't open those emails! Though I gave considerable thought to ignoring the comments, to do so would be a disservice because it's a relevant point.
Who will argue that it's a good idea to 'get it right' in the camera in the first place? Technically speaking, it's referred to as 'Straight Out Of Camera' (SOOC) photography. However, mention SOOC at a gathering of photographers around a campfire and you can hear the yelling punctuated with a smattering of profanity miles away. The staunch proponents of each camp, (SOOC) and (Post Process), ferociously present arguments defending their chosen position. I can attest that incongruous cacophony renders noise-canceling headphones useless.
It makes sense to get as much as possible right in the camera. After all, in addition to composition, we all know that proper exposure is essential. White Balance is equally important. Remember, out of focus photos cannot be fixed afterward. Many times I anguished over a photo of exquisite, compelling content (mermaids), delightfully composed (in a boudoir setting), but slightly out of focus. It's heartbreaking to have to put such photos in the trash. Um, I don't delete them, I sneak them into a folder labeled 'To avoid Heartbreak.' Works for me!
Imagine that I'm about to make a fantabulous photo. I see the green light in the viewfinder indicating focus accomplished. I slowly push down on the shutter button. CLICK. Ah, the histogram reveals a proper exposure and the composition is compelling. Bingo! I can take that photo straight out the camera and make prints or submit it to numerous social media websites for the world to enjoy. Bidda bing-bidda boom, DONE! It may be done for the SOOCers but not for me! I've said several times in this column that no photo straight of the camera is as good as it can be.
The perennial argument robustly ensues. Some say that SOOC is stupid! Others say that photographers who use Photoshop (or some other photo editor program) simply don't know how to use their camera. Conversely, others say that SOOC photographers simply don't know how to use Photoshop. The contentious quarrel rages on. Photoshop is indeed a powerful photo editor, and learning how to use effectively is not for the faint of heart. It takes serious dedication to learn all that PS is capable of accomplishing. In any event, neither argument is valid. Times up, to be continued.
I made the Photo of the Week after a recent pre-winter storm. I roamed hither and yon making several photos of the snow-capped mountain tops. One particular location provided multiple delightful compositions. Of several photos made at the location, I particularly like this image because of several photogenic components and the overall composition. BTW, it's not SOOC but processed much less than an Oscar Mayer hot dog!
Send comments, suggestions or questions to: focusonphotography@earthlink.net