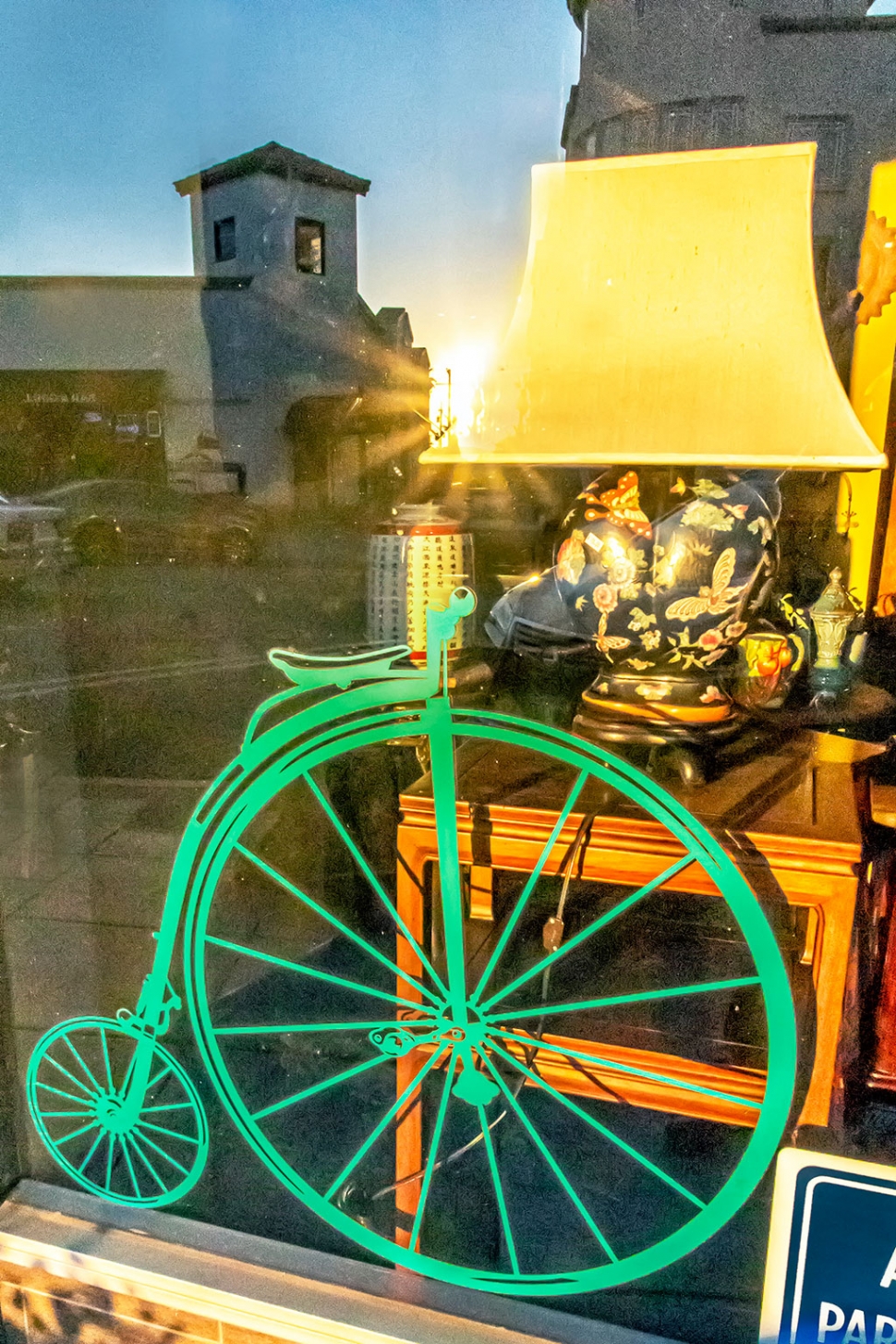 Photo of the Week: "Sun reflection on green unicycle in Central Avenue shop window" by Bob Crum. Photo data: Canon 7D MKII camera, manual mode with Tamron 16-300mm lens @16mm. Exposure; ISO 16000, aperture f/22, 1/500th second shutter speed.
By Bob Crum — Wednesday, November 27th, 2019
Prepare to pounce!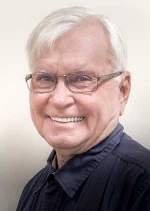 Bob Crum
Is 'time' an abstract mental construct, or does it exist independent of human consciousness? 2019 is like a wisp of smoke, briefly observed before rapidly dissipating. Doesn't it seem like July 4th was last week? Now Thanksgiving is abruptly upon us.
This Thanksgiving, and always, thank you! I am so grateful to have so many ardent readers. In my wanderings around our town of Fillmore, many of you have told me that you enjoy reading this column. It's because you tell me that my column is worth the three minutes to read that I faithfully continue to pound the keys on my keyboard week in and week out.
The day after Thanksgiving is the vexatious Black Friday! And you can hardly wait to leap eagerly into the pandemonium, right? Relax, you have no choice! Like Black Holes, Black Friday possesses such a powerful gravitational pull that not even the stingiest budget can prevent you from spending wildly. With your list in hand, you mysteriously find yourself inline at 5 a.m. for the 6 a.m. store opening. The idea that you could escape the gravitational pull of Black Friday ads is folly. Resistance is futile, so compelling are the tantalizing tales of your heroic conquests. The idea that you could sleep in and retain a firm hold on your money is utter fantasy. Imagine the coveted treasures should you prevail and survive the rough-and-tumble melee. Keyword: Survive!
Photographers, and wannabe photographers, Black Friday is your optimum opportunity to buy the camera, or lens, that you've been lusting for while saving enough money to treat me to lunch-for six months! Remember, cellphone cameras are virtual cameras pretending to be a camera. You deserve better. The best cellphone camera is no match for a dedicated camera for creating desired photos-snapshots notwithstanding! Camera manufacturers are producing an impressive variety of fantabulous cameras.
First, distill your needs from a long list of options. Are you primarily a landscape, portrait, macro, fashion, sports, travel, wildlife, event or street photographer? And do you also intend to record videos with your camera? The type of photography you will shoot the most will help you determine the best-suited camera while keeping in mind many cameras can be effectively used for various kinds of photography.
DPreview.com writes: "A Canon EOS M200 is a capable, inexpensive and easy-to-use compact mirrorless camera. Its image quality and autofocus performance are solid, its video performance is passable, and it's an excellent option for new users looking for their first dedicated camera." Also, the Canon EOS Rebel T7 is an excellent all-around inexpensive camera. If you prefer Nikon, the brand has a couple of quality entry-level cameras. The Panasonic Lumix DMC-G7 with a 14-42mm and 45-150mm lens can be bought at Samy's Camera for $497.00! Imagine that! For a pocket camera while traveling Europe or a U.S. national park, the Canon Powershot G9 X MarkII is perfect. For a tight budget, consider the Canon Powershot ELPH 180.
Online retailers like Adorama often present some phenomenal photo gear sales. For example, a Canon EOS Rebel T6 DSLR with 18-55mm IS and 75-300mm III Lenses for $399.00, free shipping and no sale tax. Awesome deal! The link: http://tinyurl.com/smjgzye. To shop closer at home: samys.com and hoopercamera.com. Happy shopping!
Cyber Monday (CM), the Monday after Black Friday, often also present great deals on tech gear and photo editing software. Do your research! KNOW precisely what brand and model camera (or photo-related item) that you want so when you see it on sale- POUNCE! Great deals disappear quickly. For example, I need a new TV. I know exactly what Samsung model I want. I'm ready to pounce!
Happy Thanksgiving.
Send comments, questions or suggestions to: focusonphotography@earthlink.net