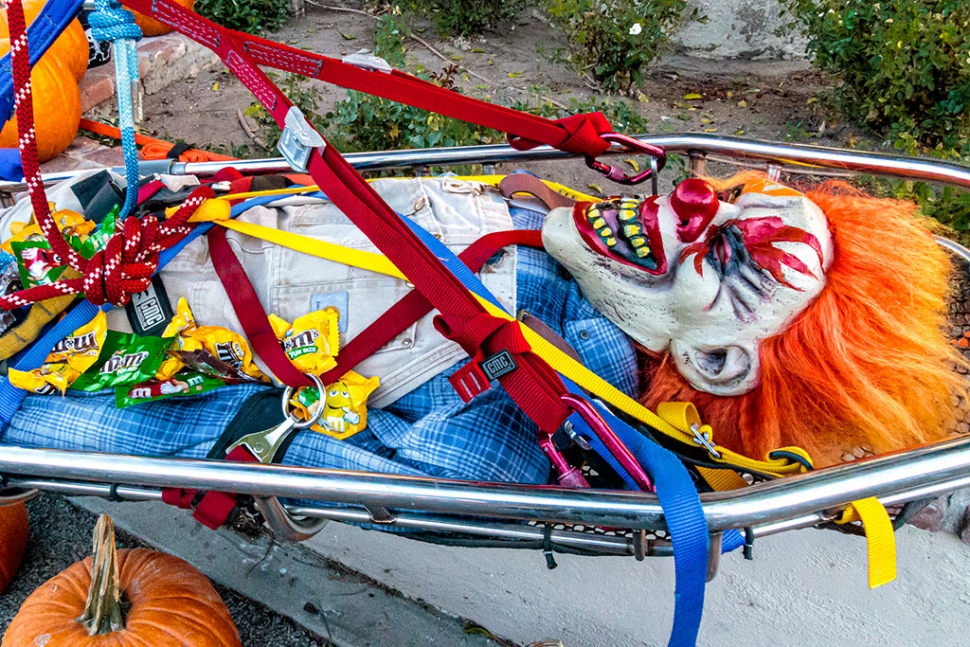 Photo of the Week: "Deceased ghoul died of M&M overdose at Trunk or Treat" by Bob Crum. Photo data: Canon 7D MKII camera, Tamron 16-300mm lens @16mm; exposure ISO 8000, aperture f/22, 1/160th shutter speed.
By Bob Crum — Wednesday, November 20th, 2019
$109.95 complete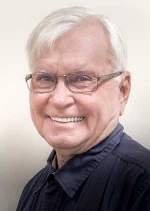 Bob Crum
What could go wrong? (You'll see!) I have a Tripp Lite step transformer plugged into the 120-volt outlet because the voltage dips to 115 volts when I turned on the A/C or microwave. Bad condition for sensitive computer electronics. The transformer takes the reduced voltage and boosts it to 120 volts. I also have a UPS (Uninterrupted Power Supply) plugged into the step-up transformer. The UPS provides run-time to power down the computer properly when electricity is abruptly stopped. Especially important when shooting mermaid boudoir photography. But I digress.
Along came the Santa Ana breeze, the wind sufficiently strong to blow over a D9 bulldozer. To prevent the ferocious winds from possibly downing power lines and igniting a wildfire, SoCal Edison switched off power to many customers. I was one of them. As I sat without electricity for eternity (34 hours), I mentally envisioned going back in time, way back to 1889. Journey back with me.
It was 3:30 p.m., and I had just left a bar in Albuquerque, New Mexico, where I quenched a bit of dusty trail thirst with a couple swigs of white lightning. Upon my trusty horse, Brandy, I rode back out to where I parked the horse-drawn ATTW (All Terrain Trail Wagon). Because the bar was out of beef jerky, I needed to hunt for supper out in this hinterland. With my 30-30 carbine, I began the hunt. Elk steak would be nice. I'd better be lucky because I had only one round of ammo until I get to Sedona, AZ. About 100 yards off, a rabbit darted out from under the brush. My aim was good. Back at the wagon, I prepared a campfire. While the rabbit was roasting, I fed and watered Brandy.
The late afternoon sun was painting the sky with gorgeous hues of lavender and crimson. I grabbed my faithful Eastman Interchangeable View (EIV) camera that I bought in 1888 at Miss Daisy's mercantile in Dallas, TX.
I bought the pricey 5 X 8 model EIV camera. Without a lens and shutter, the smallest model costs $26. The largest one had a price tag of $100, without lens and shutter. My 5x8 model cost: Camera, case and one holder, $34, a Beck Autograph Rectilinear lens $35, Laverne between the lens shutter $30, 2 extra plate holders $3.20, tripod $3.50, black cloth $1, and a $3.25 roll of film. Complete deluxe outfit cost $109.95 paid for with poker winnings back in Kansas City.
Back to the present day, imagine living back in that period. Having lived entirely off the land for a week in Florida's Big Cypress preserve, perhaps I could go back to that time and ably survive. But I wouldn't go back without my Canon 7D MKII camera. I could handle beef jerky for breakfast and roasted rabbit for supper, but I'm done with the Eastman Interchangeable View camera! Especially the painfully slow 100 exposure roll of ASA 10 film. Snails crawl faster!
Electricity finally restored but not without problems. The equipment survived, but for unknown reasons, several of the computer programs got discombobulated. And I was in the middle of a huge editing project. I had to download and reinstall photo editing programs. That was routine. Downloading and reinstalling the plugins was painful. It was a frustrating couple of weeks getting everything working properly. To date, getting the computer 100% remains a work in progress and I'm running out of Tequila.
Warning: Black Friday is coming. Save $ on the camera of your dreams! Here's a resource link: http://tinyurl.com/slgpz37.
Send comments, suggestions or questions to: focusonphotography@earthlink.net