Photo of the Week "Miss Fishbreath posing on a dock at the Ventura Harbor" by Bob Crum. Photo data: Camera - Panasonic DMC-TS3, built-in telephoto lens @4.9mm. Exposure; ISO 100, aperture f/3.3, 1/1000 second shutter speed.
By Bob Crum — Wednesday, August 28th, 2019
Artistic photojournalism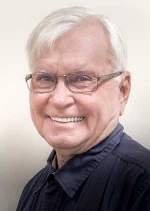 Bob Crum
A fellow photographer and friend provided fodder for this week's column when she emailed me a scathing, acrid, caustic, critique of my photography of late. It's OK. Belly buttons and opinions, everybody's got one. Furthermore, she loves firing salvos of rants with the declaration: Just trying to be helpful. Hmm.
She opined that as a photojournalist, I took too much artistic license with my photos. She obviously overlooked the significance of 'style', the artistic personality of a photographer.
On lensdiaries.com, paraphrasing Roland Gomez, explained that some photographer's have style, most don't. Many photographers don't even know what style is. Style, however, is a key ingredient that will identify a professional photographer from their colleagues and photography enthusiasts.
According to Gomez, photographic style is consistent, identifiable quality in a photographic body of work that portrays the artistic personality of the photographer. Plus a reflection of what the photographer saw and felt when making the photo.
Ultimately style is something that most photographers should develop but don't know how to achieve, Roland wrote. But all photographers passionate about their craft should strive to create their own personal style. I did exactly that years ago.
How does a photographer develop a style? Establish consistent shooting habits. This includes consistent exposure settings, composition, lens selection, lighting quality and all the other technical aspects of developing a photograph. Consistency is key." Will the majority of my followers agree that my photos have a consistent look? Does the aperture f/11 sound familiar? Histogram to the right wall?
As a photojournalist shooting events, my task is to tell their story with photos. But I'll pounce on every opportunity to photograph fantabulous landscapes and waterscapes. But rather than photojournalism influencing my landscape photography, the reverse is the reality. Years ago, I made the deliberate decision to initiate & add an artistic element, a style, to my photojournalism. The reason? Separate my photographic work from the mainstream. After all, it's a competitive business!
My friend has trouble reconciling my artistic photojournalism. But why do event photos have to be ho-hum run-of-the-mill images? As Roland mentioned, a photographic style is also interpreted or defined by the viewers. Over time it is hoped that viewers will recognize a style, a consistent theme in my photos. The reward of achieving a photographic style is that when you see my photos, you almost immediately associate them with my name. A sweet reward, indeed!
The photo of the week is Miss Fishbreath on a Ventura Harbor dock. I launched my new inflatable kayak, but because I don't have a waterproof case for it, I did not take my Canon 7D2 camera. What if I tip over the kayak? Instead, I took my 8-year old 'waterproof' Panasonic DMC-TS3 pocket camera. This ancient little digital camera sports a CCD resolution of 12-megapixels and 28-128mm zoom range when shooting still images. The zoom lens offers a slightly greater focal length of 30-140mm equivalent range. Apertures ranging from f/3.3 to f/10.0 at wide-angle, and f/5.9 to f/18.0 zoomed out.
If I accidentally tip over the kayak, I just need to climb back in and wipe off the lens of the camera and continue shooting. I paddled to within about 10 feet of Miss Fishbreath while she posed. As I was photoing her, a couple of sea lions tussling in the water next to me bumped the kayak! Whoa ho, that was an exciting moment! The kayak rocked a bit but didn't tip. Whew, that's one way to learn that the kayak is more stable than I thought. Happy photoing.
Send comments, suggestions or questions to: focusonphotography@earthlink.net