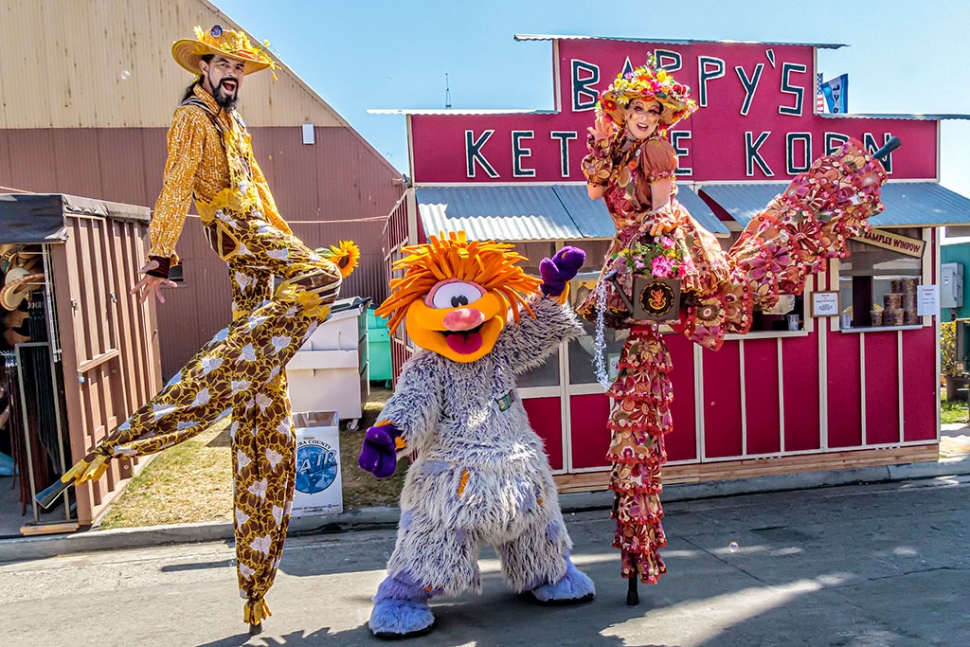 Photo of the Week "My favorite stilt couple at the Ventura County Fair" by Bob Crum. Photo data: Canon 7DMKII camera, manual mode, Tamron 16-300mm lens @16mm. Exposure; ISO 1600, aperture f/13, 1/640th second shutter speed.
By Bob Crum — Wednesday, August 21st, 2019
Affordable and it floats!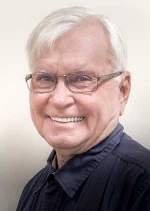 Bob Crum
Two old trucks are my rides: A Ford Ranger for rumbling around town, an F350 dually for long hauls. A fireman next door recently bought a Chevy Colorado truck. Instantly reminded about how much I miss the aroma of a new truck wafting through the cab. Upon checking the MSRP of the Colorado diesel crew cab long box 4-wheel drive truck I was instantly reminded about how much I don't miss new vehicle payments. Yet lust prevails.
Photographically speaking, a friend did what I often think about doing: He bought a new Olympus OM-D E-M1X camera and a couple of superlicious lenses. Unmercifully teasing me about its prima facie attributes, I revisited the Olympus website. The OM-D E-M1X MSRP is another budget buster. I glanced at my Canon 7D Mark II camera and was instantly reminded that it still works well. A strong reason for continuing to love what I have and forego coveting the latest-greatest camera. Yet lust prevails.
Lust constrained by the budget is depressing, especially when a relentless itch for adventure persists. So, I did something that is not only considerably more affordable, it also allows me to party hearty with mermaids. Since the ocean is too cold to swim around in with the damsels of the sea, I bought an inflatable Driftsun Rover 120 kayak!
Seriously, a kayak enables me to fulfill a desire to photograph many scenic locations from a different perspective. For example, I have photographed the intriguing tufas of Mono Lake but always from the shore. I yearn to photograph the majestic tufas from the lake. I have also photographed Lake Tahoe but again only from the shoreline. I envision photoing Lake Tahoe's Sand Harbor from the lake.
I opted for an inflatable because, even full of air, the Rover 120 weighs only 22 pounds. My aging body can tote this boat. Collapsed, the kayak fits nicely into a sturdy bag--inflates in five minutes. The paddle breaks down to four sections. And the bow has a camera mount! I wonder if AAA offers emergency harbor/river/lake service.
In the bag, I can take the kayak on an Island Packers boat to Santa Cruz Island and paddle around to photograph the sea caves. For more exciting adventures, kayak the upper Kern River and record video of the trip. If I have to portage, the kayak's lightweight makes it doable. BTW, the Rover 120 is rated for up to Class 3 rapids. In a word: Exciting!
However, my Canon 7D2 is not waterproof! Hence, I need a "waterproof" (action) camera. With an action camera, you'd be right to postulate that I intend to shoot video in addition to stills. A lot more video! More learning curves. But not always learning is a boring life, isn't it?
I narrowed the choices to a GoPro Hero 7 Black or the recently introduced DJI Osmo Action camera. However, Photo Rumors said GoPro might be releasing Hero 8 this September. Photo Rumors is reporting the action camera will support 4K video at 120 fps and full HD at 480 fps, all powered by a 12-megapixel sensor and GoPro-designed GP2 chipset and improved lens design for better image quality. Slam on the brakes! Best to wait to compare the expected Hero 8 with the DJI Osmo Action cam.
Attention kayakers! I initiated the "Southern California Kayakers" group on Facebook. All SoCal kayakers are encouraged to join. Requirement: Own a kayak; hardshell or inflatable.
My favorite stilt-walking couple at the Fair is my photo of the week. Happy photoing!
Send comments, suggestions or questions to: focusonphotography@earthlink.net