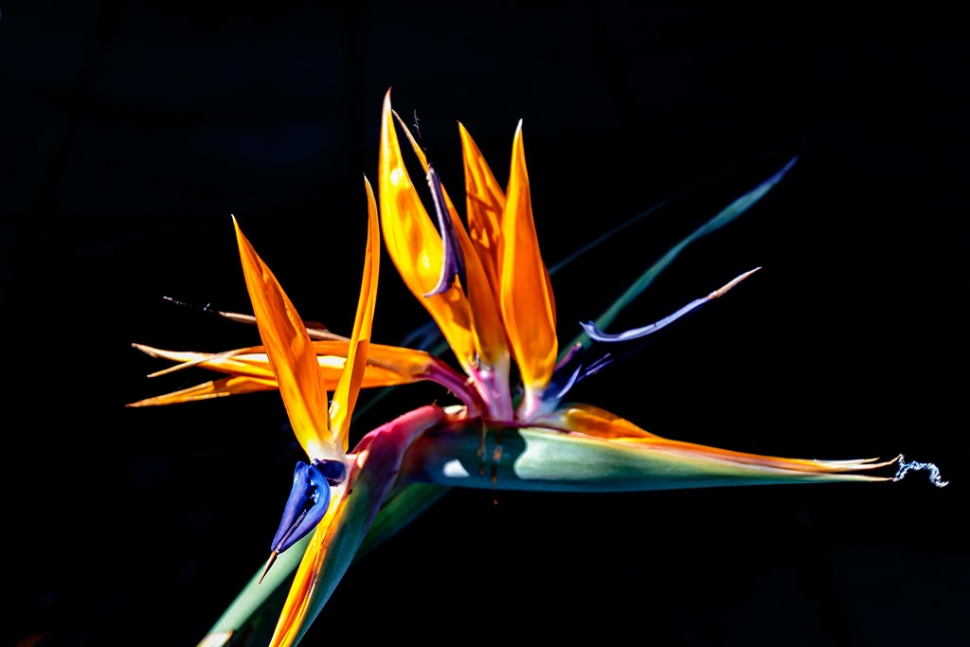 Photo of the Week: "Bird of Paradise flower" by Bob Crum. Photo data: Canon 7DII camera, Tamron 16-300mm lens @46mm. Exposure; ISO 100, aperture f/5.0, 1/160 second shutter speed.
By Bob Crum — Wednesday, August 7th, 2019
It's Av time!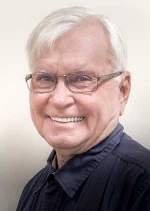 Bob Crum
As I parked my truck, two other SUVs parked alongside. Uh oh, are they going to go where I'm going? I waited. And waited! Alas, they're going on the other trail. The countryside is getting crowded these days. There are times when I have to patiently wait to make the photo I want because of 'tourist' intruders. Consideration for photographers seems to have gone the way of extinct white rhinos.
Landscape photography is a favorite, ranking right up there with my specialty: Mermaid boudoir photography. I scour maps and the Internet in search of photogenic gems. Without photography, I probably would not have traveled far afield to shoot the southwest's magnificent landscape. Places like Montaña de Oro State Park, Mono Lake Tufa State Natural Reserve replete with spectacular "tufa towers." Tufas are calcium-carbonate spires and knobs formed by the interaction of freshwater springs and alkaline lake water.
Other interesting locations visited: Anza-Borrego Desert State Park, Lake Tahoe, Big Sur, the Mojave Desert, Mt. Whitney, Alabama Hills outside of Lone Pine, where many western films were made. Another fascinating sight is the Ancient Bristlecone Pine Forest high up in the White Mountains. Some of these living trees exceed 4000 years of age. And there's Avila Beach at Port St. Luis Harbor and the Harford Pier, home of Mr. Fishbreath, the resident chubby sea lion. I made an exciting whale photo in St. Luis Bay as it broached twenty feet from the pier with a mouthful of small fish. Woohoo!
So I ask: How many readers have hopped in their vehicle and made a day trip to observe some awesome landscape? Or wildflowers? Or wildlife? See what I mean? This creative itch and my passion for photography are what motivates me to continue to seek landscape eye candy to photograph. Why go to see such grand vistas and not make a photo for posterity? Just a thought.
OK, time to get technical. Landscape photography lends itself wonderfully to... wait for it... Av (aperture priority) mode! Av, a semi-automatic mode, is my most used mode when I'm lazy. OK, actually best for landscapes. In landscape photos, I prefer to maintain a large depth-of-field. Meaning, I prefer everything from near to far to be in focus. On rare occasions I may choose to isolate a particular subject by opening the aperture to blur the background. This is the joy of photographic creativity?
Whether manual or Av mode, I usually lock aperture at f/11 which insures a large depth-of-field. In Av mode, the aperture remains constant so the camera will have to adjust shutter speed and/or ISO for proper exposure. However, in normal daylight, I often also peg ISO at 100, the lowest setting. Av mode is absolutely necessary for HDR (High Dynamic Range) photography to maintain a constant depth-of-field through multiple exposures.
Of course, there are exceptions: Golden hour and blue hour. In Av mode during those times, I first imbibe a strawberry margarita and while I float I'll let ISO float in auto mode to account for the lower light levels. Works every time! Tv (Shutter priority mode) is the other semi-automatic mode to be discussed another day.
No one found the intentional mistake in last week's column. I was sure several readers would have caught it.
It's dishonorable to ignore a beautiful flower. On assignment downtown, I noticed a beautiful bird-of-paradise flower. As I approached, I heard: "Hi there, I'm posing just for you." Well thank you, I said, and made this delightful photo of the week. As I left I heard it whisper: "Thank you!"
Send comments, questions or suggestions to: focusonphotography@earthlink.net