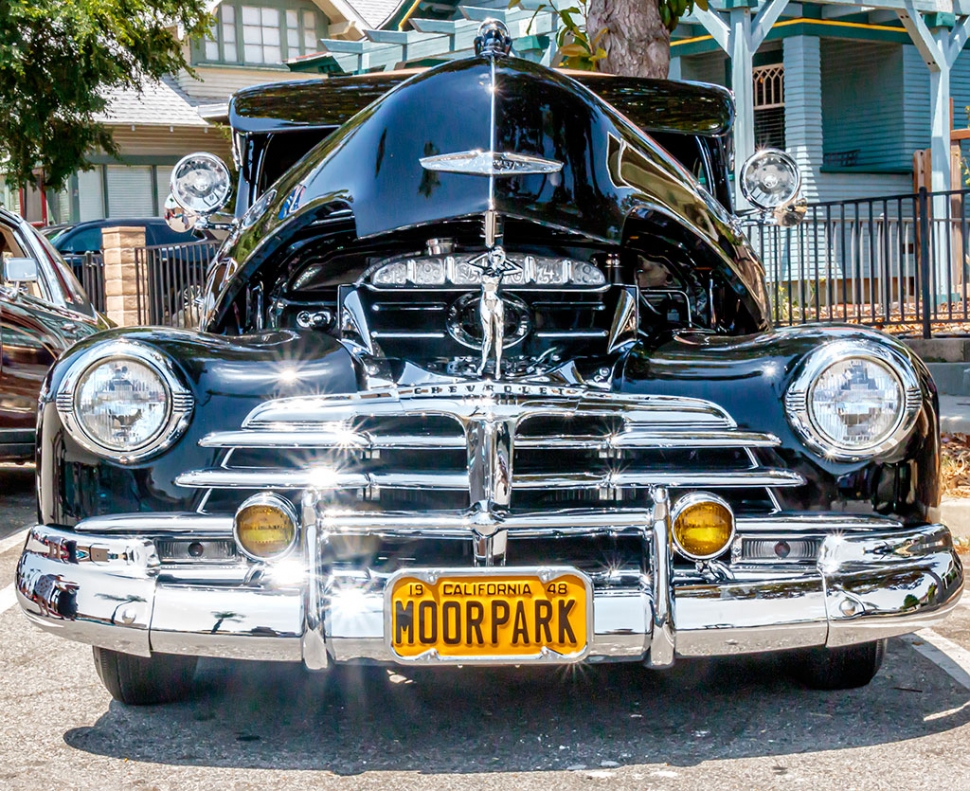 Photo of the Week "My favorite Chevy at the Sespe Creek Car Show" By Bob Crum. [Bob says "Note the sunstars on the chrome! Irresistible photo op!" Photo data: Canon 7DMKII, manual mode, Tamron 16-300mm lens @35mm. Exposure; ISO 1000, aperture f/25, 1/250 second shutter speed.
By Bob Crum — Wednesday, July 17th, 2019
It's Complicated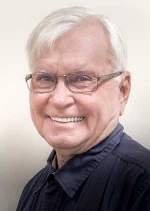 Bob Crum
It's reported that planet earth, and the universe, was created in darkness. Not satisfied, God said: Let there be light! Thomas Edison, not one to argue with a higher authority, promptly invented the light bulb. And the Lord was pleased saying: Light is good but more is better, and the sun was born.
Without light, photography couldn't exist. But what is light? Paraphrasing BBC.com: "Einstein suggested that light is carried in tiny quantum packets. Each quantum packs a discrete energy punch that relates to the wavelength: the shorter the wavelength, the denser the energy punch. A brighter light source delivers more light packets, but doesn't change the amount of energy each light packet contains.
Furthermore, Einstein named these energy packets 'photons', now recognized as particles which carry visible light. At this point, physicists decided to end the debate over whether light behaved as a wave or a particle. Both models were so convincing that neither could be rejected. To end the confusion of non-physicists, the scientists decided that light behaved as both waves and particles at the same time: A paradox.
While we take sunlight for granted, photons often wreak havoc. While the human eye can discern differing brightness levels, not so even for the most advanced cameras. Camera sensors bombarded with variations of photons often get confused. Hence, white balance not always correct, not to mention exposure. Challenges prevail.
However, understanding light will significantly improve your photography. For example, different types of natural light can also produce a wide variety of subject appearances, even though these all have the same light source: The sun. Three factors influence how natural light renders a subject: Time of day, camera direction and weather.
Cambridge in Colour explains: From sunlight, a subject's illumination is comprised of several components: Direct sunlight (warmer, high contrast) diffuse skylight (cooler, low contrast) and bounced light (reflective light). The time of day complicates matters because the kind of light affects white balance and/or contrast. Besides the time of day, the extent of cloud cover significantly varies the type of light. As I said, light is complicated.
To beat the throng, I was ready at 8 a.m. to shoot the car show. Not so fast. The marine layer (clouds) was thicker than cold yogurt. Under the clouds, the light was softer than room temperature rose petals. Soft light is fine for mermaid boudoir photography, but not for classic vehicles. I prefer sunlight to reflect the rich, gorgeous colors. Furthermore, without sunlight no sunstars.
About noon, with the marine layer beginning to break up, it was time to go. OMG, the throng became a super-sized crowd. Oh my, look at the luscious Chevy - excuse me sir - I'd like to photography that car. Yes sir, you are in my way. Scuse me ma'am, I'd like to photograph that car - yes, you are in my way. Wish I had a dollar for every person that walked in front of my camera! Ugh!
Anyway, so many fantabulous classic vehicles it was a gold mine of photo ops. But cars parked side-by-side made it challenging to get the desired perspective. Did the best I could considering the circumstances. Remember, it's not nice to ask how many photos I shot.
Oh, and when the sun moved towards the western sky, hallelujah! You know I can't resist a few shots of cars with sunstars? Remember, in addition to kind of light, the time of day is equally important. Hear me?
The photo of the week is the black Chevy at the car show, complete with multiple sunstars on the chrome. Happy photoing!
Send comments, suggestions or questions to: focusonphotography@earthlink.net