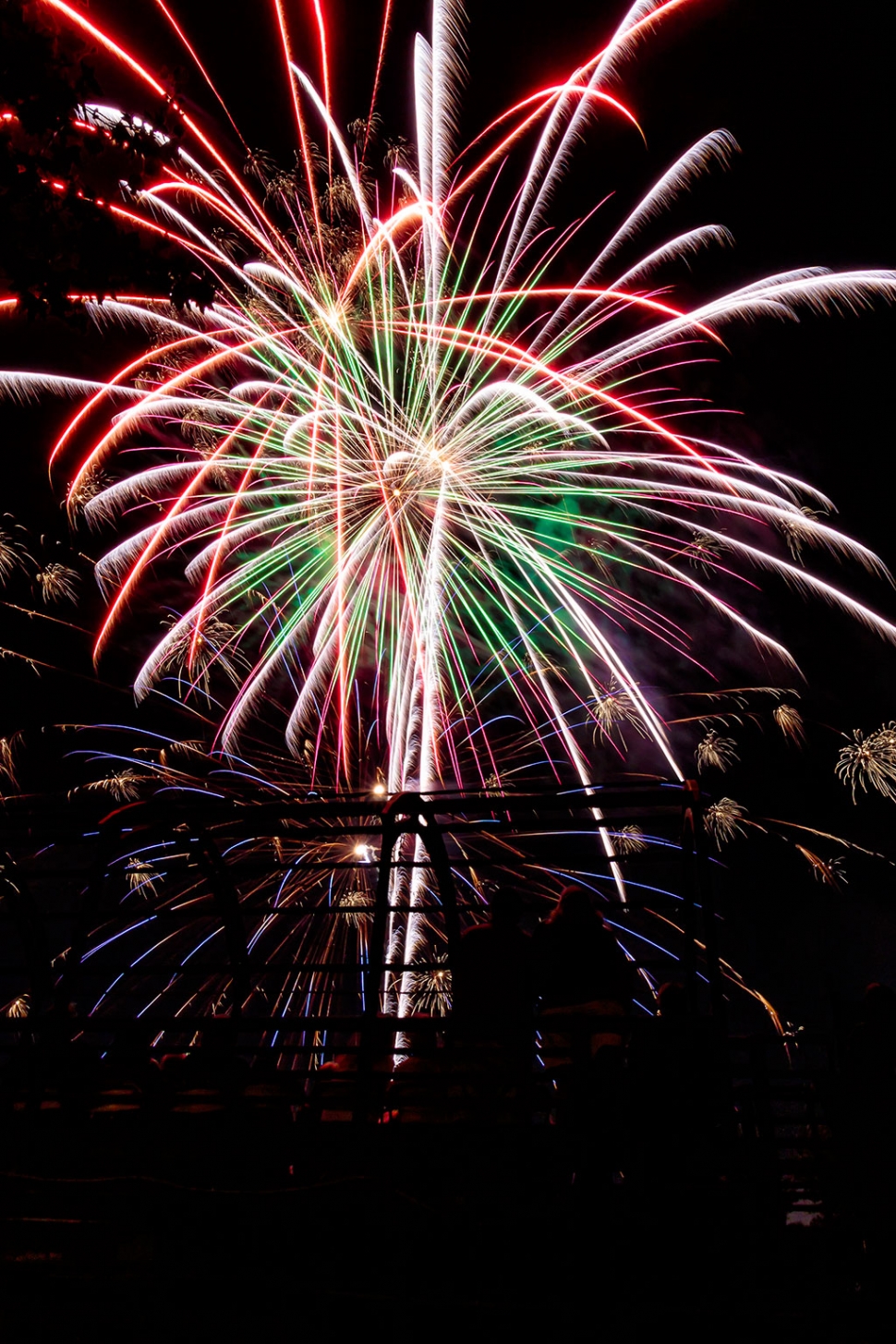 Photo of the Week: "Fillmore fireworks" by Bob Crum. Photo data: Canon 7D2 camera, Tamron 16-300mm lens @16mm. Exposure; ISO 100, aperture f/18, bulb time 10 seconds.
By Bob Crum — Wednesday, July 10th, 2019
Another conspiracy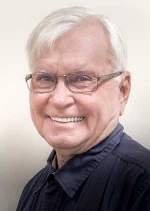 Bob Crum
Kaboom! Another July 4th has come and gone, but not without consternation. Rest assured it has nothing to do with patriotism. I'm as patriotic as any red, white and blue-blooded American. Even just as patriotic as when I wore a U.S. Air Force uniform.
Fond memories of the 4th take me back to yesteryear when as Parks & Rec director for a small Florida town, I produced the annual fireworks display lock, stock and boom! With a $2.5K budget, I selected the aerial explosions and choreographed the display ignited with the help of the volunteer fire department. I also included a ground display complete with rousing marching music. Ah, those were the days.
So why the consternation? There were no illegal fireworks fired off by residents back then like here in Fillmore. While I was setting up to photograph this year's fireworks display, illegal fireworks enveloped me. So many were fired off at any given moment that I was being overwhelmed by the resultant smoke. Being asthmatic, it was not pleasant! But I digress.
Most of my readers know that I've been photographing the Fillmore fireworks display for several years. From the years of practice, you'd think I have the procedure wired. Yes, I know the photographic routines, but I wasn't ready for what happened this year.
There are two basic methods for photographing fireworks with digital dSLR or mirrorless cameras. One way is to set ISO at 100, or 200 if that's the lowest setting. Put the lens on manual focus with focus set at 'infinity,' aperture at f/8 or f/11. The only remaining criterion is the shutter speed. A typical setting is between two and four seconds.
I prefer a more flexible option. For this, as well as the above method, a tripod is mandatory. I secure the camera on a tripod ball head and program it: ISO @100, aperture usually at f/8 but instead of selecting a shutter speed, I connect a remote shutter release to the camera and put the camera in "bulb" mode. Bulb mode allows me to make a photo for as long as the shutter is open. As the first couple of aerial bombs are fired, I make a test shot to check composition. Another test shot for relative exposure and adjust as needed. This procedure eliminates showtime guesswork and allows me to capture the whole duration of the aerial explosion. The bulb mode also enables me to make multiple exposures, two aerial explosions in one frame.
The conspiracy? After positioning the camera and locking it down on the ball head, I was surprised to see so many fireworks rise and veer off to the left, out of view of my lens! I don't recall this happening in years past. Note that as I hold the remote shutter release button, I can't see what the camera sees. If the aerial bomb veers off one direction or the other, I can't track it. I quickly learned that if I saw it begin to veer off to the left in time, I'd unlock the ball head to readjust the camera. But that's guesswork. It didn't work too well. C'est la vie.
Did you notice the photo of the week data? Ten-second exposure at an aperture of f/18 is correct. It's a multiple exposure incorporating three fireworks bursts in one frame. I had to stop down the lens quickly otherwise the 10-second duration would result in a severely overexposed image. It pays to be flexible, nimble, and very adventurous. Happy photoing.
Send comments, suggestions or questions to: focusonphotography@earthlink.net