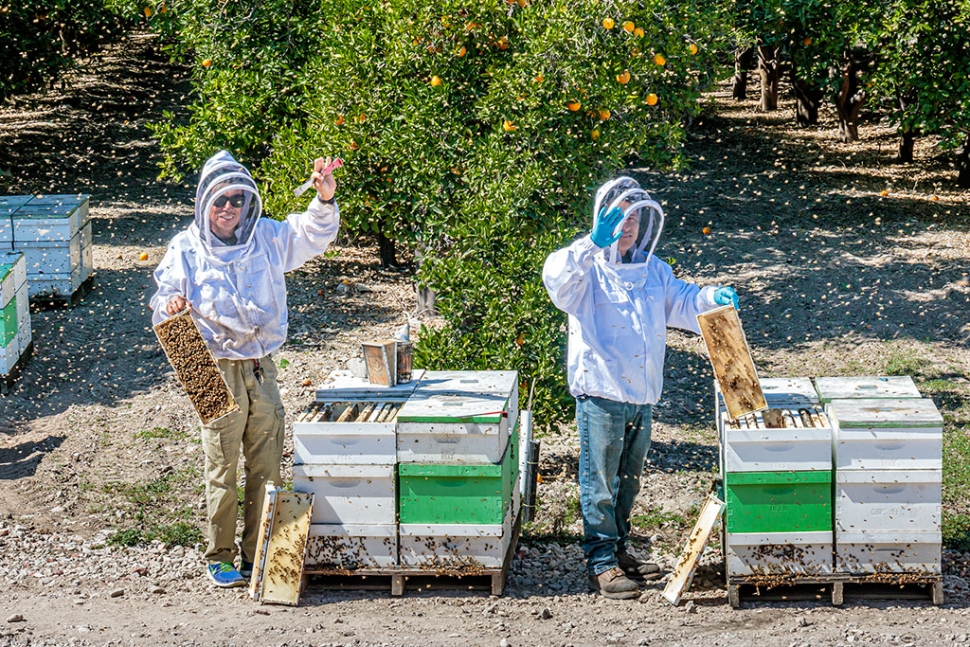 Photo of the Week: "Beekeepers working at the hives. Little brown spots flying around are, ahem, bees! And lots of bees around the hives in the orange grove" by Bob Crum. Photo data: Canon 7DMKII camera, manual mode, Tamron 16-300mm lens @50mm. Exposure; ISO 320, aperture f/10, shutter speed 1/500s. More Honey Festival Photos to come next week.
By Bob Crum — Wednesday, June 26th, 2019
Honey bees & the Sandman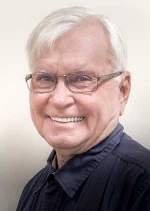 Bob Crum
On Saturday morning, June 22, I jumped out of bed excited and full of vim and vigor. It was day one of the Fillmore Honey Harvest Festival. I decided to ride the 11:05 a.m. train to Bennett's Honey Farm. Arriving downtown, I was surprised to find a parking space without having to drive around town for 30 minutes. Love miracles!
The Honey Harvest Express left right on time. Oh how I love fun-filled assignments. However, as a long-time photojournalist, I've learned to expect the unexpected so every shoot is a challenge. As expected, it was.
As in years past, there are beehives and workers somewhere on the route. A great photo op. The train usually slows down at the area of the hives, but it's still not as smooth as a drive down Central Avenue in my Rolls Royce Phantom. So, I set a shutter speed of 1/500 second to compensate for the rollicking ride and the aperture at f/10 for depth-of-field. I was ready! We arrived at the designated area and flew by at track speed. Arrrgh! I managed to capture only a couple of so-so photos. Bummer! Not to fret I was told. It was scheduled to run by slowly on the return trip to Fillmore. We'll see.
At Bennett's Honey Farm, we toured the facility. Lots of changes from years past. Starting in the warehouse, we saw worker bees (employees) make beeswax candles and honeycomb trays. Then on to the extractor and the honey filter. After filtering, honey is piped to the highly mechanized bottling room. Then on to the best part: Taste testing! Oh my, so many flavors - buckwheat, red clover, blackberry, avocado, orange blossom, sage, eucalyptus, wildflower and more! Buckwheat is my usual favorite. This year I bought blackberry honey. Soo yummy!
Back on the train, away we go, track speed to Fillmore. I reprogrammed my camera to be ready for the hives in the orchard. As we approached the area, the train began to slow down, slightly. Wait, going too fast! SLOW DOWN!, I yelled, as if the engineer could hear me. Again only a couple of so-so shots. Not happy!
Back in town, I stopped by the Rotary Club's BBQ for a late lunch. Made a few photos of the happy vendors and then back on the next train. But first I yelled up at the engineer to slow down at the beehives! He yelled back; it's up to the conductor. OK!
Off we go. Before long, the conductor came by. Ah, excuse me, but it would be much appreciated if you would have the engineer really slow down at the designated area. He smiled and nodded. At the designated area, the train passed the beekeepers slow enough for me to photograph them and the gazillion bees. A rare successful do over! Did you know that honey bees flutter their wings 200 times per second flying a speedy 15 mph? Harder to photograph than an F-14! The little brown spots in the photo of the week are honey bees!
Back in town, no time to rest. The Fillmore Recreation department's Great American Camp Out was taking place at Two Rivers Park. Oh what fun!!! Tents everywhere. At sundown, Fillmore firemen lit a campfire. With the fire roaring, out came the (flammable) marshmallows and hot dogs. Remember s'mores? Sooo good! Campfire, s'mores, tents, sleeping bags, now that's living. Wait, there's more. As the campfire dwindled, campers gathered to watch an outdoor movie on a giant blow-up screen. Afterward, everyone tucked in their sleeping bags, the Sandman made his rounds but, not until the cow jumped over the moon. Sweet dreams!
Send comments, suggestion or questions to: focusonphotgraphy@earthlink.net