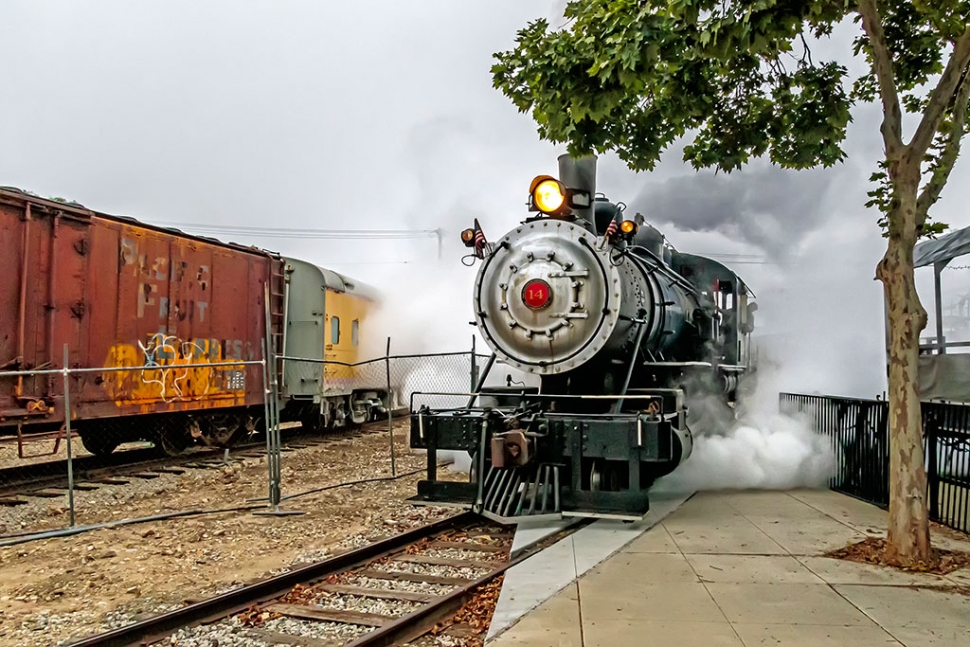 Photo of the Week "Baldwin steam engine #14 approaching the Santa Clara River Valley Railroad Historical Society's turntable" by Bob Crum. Photo data: Canon 7DMKII camera, manual mode, Tamron 16-300m lens @16mm. Exposure; ISO 4000, aperture f/13, 1/250 second shutter speed.
By Bob Crum — Wednesday, June 19th, 2019
Noise & Histograms!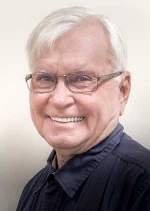 Bob Crum
I previously mentioned that my readership is presently 2,397,602. Max Z. wrote to challenge the number. Max, here's the data: 276 readers in the U.K., 830 throughout Europe, seven in Hong Kong, five mermaids, the remaining 2,396,484, including Max, are Fillmore readers!
Also, in my previous column, I mentioned histograms and some got hysterical. Reader Larry A., emailed me telling me that I was rude introducing a technical term without an explanation. OK, I'll explain!
Photography is an art form and a digital image or print is the artistic expression. But a little camera technical know-how helps one create the desired photograph. One great aid is the camera's histogram. While deceptively simple at first glance, a histogram contains a wealth of image information. However, it will not tell you whether or not your composition is compelling or provide the Power Ball winning numbers!
A. Make a photo and chimp the shot. (remember chimping from last week?) B. Push your camera's "Info" button. Voila, the histogram! It quickly tells you the light levels of the exposure in graph form. The histogram plots light (luminosity) levels from black – the left end (wall) of the histogram – to pure white – the right side (wall) of the graph.
A perfect histogram rises gently from the left cresting in the midsection and gradually drops to the right, indicating a full range of tones from C# to B-flat. Oops, I mean luminosity tones. By not hitting either wall, the histogram indicates that there's no loss of detail in shadows or in the highlights. Celebrate! Your exposure is sweet.
A histogram bunched up at the right wall is a high-key image. Spikes at the right wall indicates burned-out (clipped) highlights, i.e., no detail in the highlights. Not good. But note that the sun is so bright that it will spike at the right wall. A histogram hitting the left wall indicates underexposure with blacks clipped, meaning no detail in the shadows. Not good. Mostly. Now revel in your new histogram expertise.
Roger M. wrote insisting that the ISO of 10000 of last week's photo of the week is a typo. It's not! However, he's right to question the number. An ISO that high is almost always unacceptably degraded. Generally speaking, an ISO higher than about 1500 will begin to show noise. Image noise appears as random specks and when excessive, significantly degrades image quality. At 10000, there should be so much digital noise that it should look like it was snowing.
At an ISO of 10000, why isn't there noise apparent in the photo? The secret is deft post-processing (editing). With two computer software programs and and two plugins, I utilize a three-step process to eliminate as much noise (image specks) as possible. But the process requires patience because noise reduction typically decreases image sharpness and tends to dull detail. The process is like a do-si-do dance, a delicate balance of noise reduction while maintaining image detail and contrast. Not always easily accomplished. Get it all right and voila, a magnificent image sans noise.
Even in problematic event light, I can usually maintain a shutter speed sufficient to compensate for camera shake, and hold the aperture at f/8 through f/11 for depth of field and not worry about how high in ISO auto mode it has to go for a proper exposure because I'm can usually salvage the image from excessive noise in post-processing. Keyword: Usually. It doesn't always work.
Photo of the week is steam engine #14 heading for the Santa Clara Valley Railroad Historical Society's turntable during a media photo op. Happy photoing!
Send comments, questions or suggestions to: focusonphotgraphy@earthlink.net