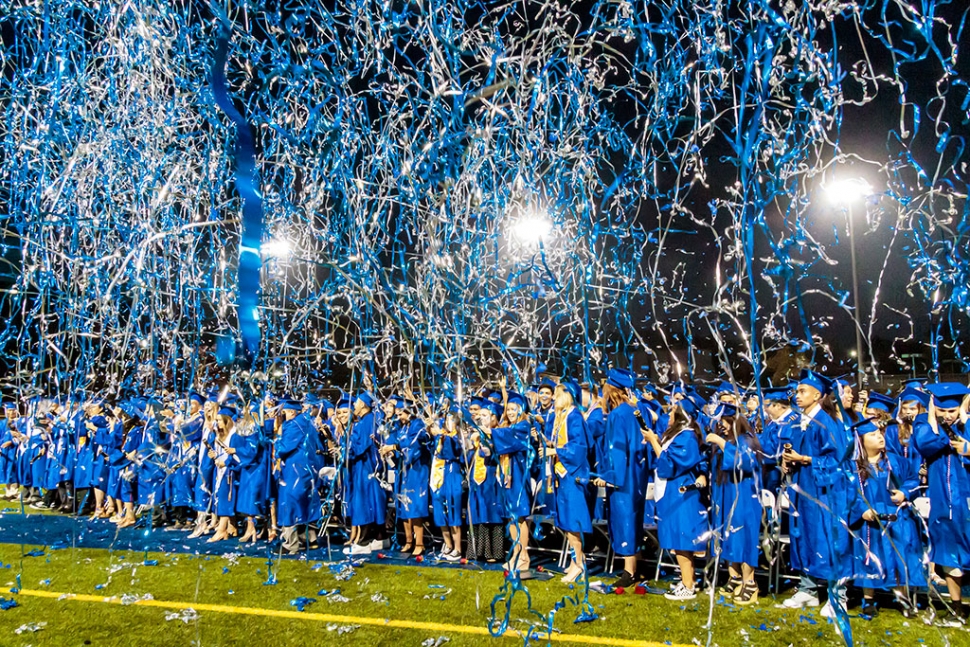 Photo of the Week: "Tassels crossed to other side of the mortarboard (caps), graduates celebrate by firing blue & white streamers into the air" by Bob Crum. Photo info: Canon 7DMKII camera, manual mode, Tamron 16-300mm lens @16mm. Exposure; ISO 10000, aperture f/10, 1/125th of a second shutter speed.
By Bob Crum — Wednesday, June 12th, 2019
I chimp, do you?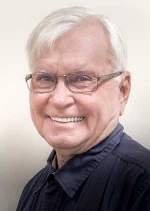 Bob Crum
I read that humans share 98 percent of our genes with chimps. Uh huh. Perhaps that explains why many photographers emulate them. Photographically speaking, chimping is looking at the digital camera's LCD screen as soon as a photo is made. As shuttermuse says, "the term is jokingly derived from the excited noises oooh ohh that photographers often make when they see a great shot on the LCD screen sometimes followed by ape-like hand motions while exclaiming LOOK AT WHAT I GOT! Good grief!
Chimping is often a derogatory term prescribed to photography amateurs lacking confidence. However, professional and enthusiast photographers also often chimp their shots. Of course I don't. OK, I'm guilty! (gasp!)
Chimp at your peril. Action at events is often fast and unpredictable so chimping might cost you a 'money' shot. But, as shuttermuse states, instant feedback is a significant benefit of shooting digital. Chimping is a quick way to check exposure. Sure but (this is embarrassing) if I got a dollar for every potential 'money' shot I missed due to chimping, perhaps I'd have enough money to take all 2,397,602 of my readers out to lunch.
Of course, when shooting landscapes chimp away. It's good to periodically check the histogram to analyze the exposure, check focus, and composition.
Chimping can help photography newbies build confidence. If your camera's settings are out of kilter, instant feedback will show mistakes and guide you make the necessary aperture, shutter speed or ISO adjustments. Used accordingly, chimping can be considered a learning tool, thereby expedite your learning process.
But chimping is not necessarily peachy. As stated above, but bears repeating, chimp at the wrong time and you might miss the shot of a lifetime. At the event, make a test shot or two to check exposure so when the event begins, you can concentrate on composition and not worry about exposure.
Additionally, I often see newbies chimp while not realizing that the camera LCD screens are not Hi-Def. Fact is, the LCD screens on most cameras are lousy. Therefore, the image viewed on the LCD screen is a poor example of the photo's quality or even exposure. If you're capturing photos in RAW mode, what is seen on the camera LCD screen is not the RAW photo but a jpeg based on the RAW photo data. Image exposure is best indicated with the camera's more accurate histogram.
I was assigned to shoot Fillmore High School's graduation ceremony. The light was problematic. With the sun setting, some of the event in the sun, other parts in shadow. Had to continually adjust aperture settings as I pointed the camera in a different direction. I had to make exposure adjustments so fast I had to double clutch the lens to quickly dial in proper aperture! Love muscle memory! But I digress.
Surprises are fine for birthday parties but not at event shoots. It's been ages since I shot the graduation program. Not forewarned, I was bamboozled. As the turning of the tassels was happening, I quickly moved to get in position for the tossing of the mortarboards (caps) into the air. That didn't happen! Instead, the graduates fired plastic streamers (WHAT?) into the air from tubes. I was instantly startled! Then my trusty experience kicked in, and I quickly changed to burst mode and fired away-click-click-click-click-click-click, eight frames/second. Over in seconds, NO time to chimp till done. Success! Whew! One of the ceremony finale photos is the photo of the week. Graduation ceremony photos at fillmoregazette.com.
Send comments, suggestions or questions to: focusonphotography@earthlink.net