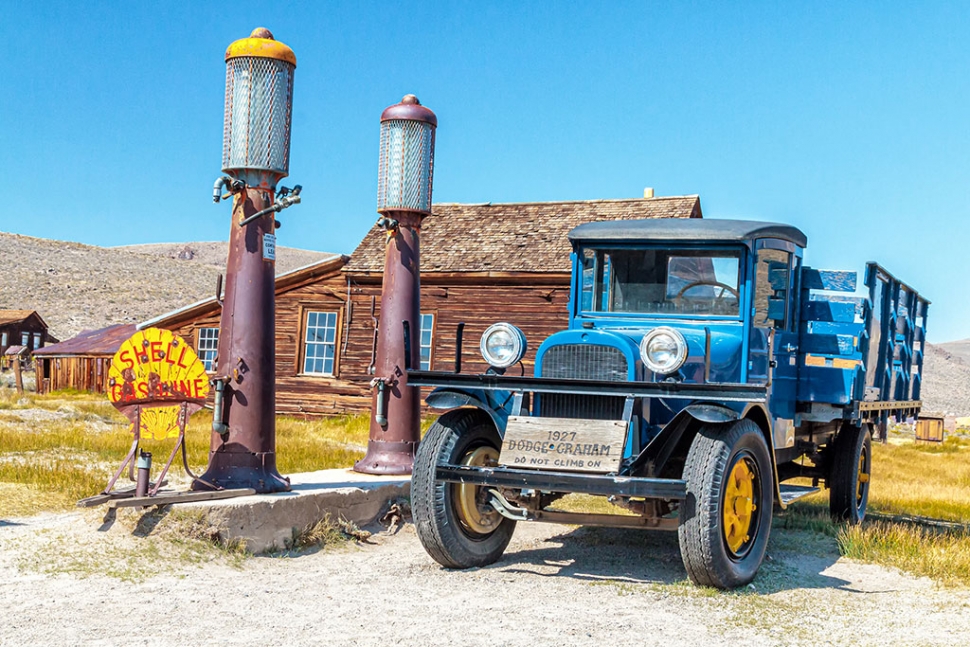 Photo of the Week: "Blue Dodge truck at the Bodie ghost town" by Bob Crum. Photo data: Canon 7DMKII camera, Av mode, with Canon EF-S 15-85mm lens with polarizer filter. Exposure; ISO 640, aperture f/11, 1/250sec shutter speed.
By Bob Crum — Wednesday, June 10th, 2020
You aim. You fire. You ZINK it!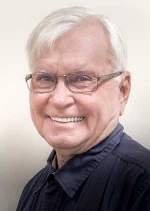 Bob Crum
We all know the delight of sniffing a new car's aroma, the cherished smell of plastic, leather, carpeting and rubber wafting in the air filling our giddy nostrils.
Why can't photographers enjoy the pleasure of sniffing a special aroma of a new camera? The last time I bought a new camera, I slowly opened the box, lifted the camera gently, removed the protective wrap surrounding the camera and what do I smell? A Chinese shipping port!
Speaking of cameras, Canon is back leading a charge featuring a different technology. The camera is Canon's new Ivy Cliq. The Cliq uses a technology called zink which is short for zero ink. It produces more traditional type prints but automatically and in 30 seconds. If you experienced Polaroid at some time in your life, you could relate to the Ivy Cliq.
Wired dot com wrote, "In keeping with the legacy of Polaroids, Canon's Cliq is not going to churn out museum-quality, crystal-clear prints. Still, it's undeniably fun to use and the results will likely be good enough for many people. If you're looking for an easy way to share those selfies or group portraits in the real world, the Cliq delivers.
It's super simple. There's no focusing, no worrying about exposure. You aim. You fire. You print. This is the perfect camera for phonetographers!
Back to wired: "You press the shutter button and 30 seconds later your image prints. It has no screen, no preview. There is a mirror next to the lens to help you frame selfies, but on the back there are just two buttons: one to choose your image dimensions (either 2 x 3 or 2 x 2 inches) and one to reprint the last image, which is handy when you're sharing photos with friends." (Two buttons!)
"The Ivy Cliq holds 10 Zink papers and the refill packs are small enough that you can throw a few in your pocket and you won't even notice them.
¬It does optionally store your images to a MicroSD card (64 GB max, like this one) so you can download and edit them using the desktop software of your choice. Just know that the Cliq has a 5-megapixel camera so they're not the kind of photos you can blow up bigger than 2 x 3 inches. If you bought your phone in the last few years, it likely captures better images than the Cliq.
There's one big gotcha: You can't take pictures without printing. The Cliq requires printing. But the whole point of the Cliq is to print and share in the moment.
The Cliq comes in red, blue, or yellow. It's slightly thicker than a deck of cards and small enough to squeeze into most pockets. It's a little tight in the pocket of your jeans, but considering that it's a printer inside a camera, it's remarkably compact.
There's also a Cliq+ model, which adds eight LED lights around the lens for better selfie lighting, shoots 8-megapixel images, and has built-in Bluetooth wireless support so you can print images you've taken with your phone, making it something of a hybrid camera/printer.
With a 5mp sensor, the Cliq won't produce stellar photos. Still, it's undeniably fun to use and the results will likely be good enough for many people. If you're looking for an easy way to share those selfies or group portraits, the Cliq delivers. As a bonus, Zink images are also stickers. Great for sticker lovers! And only $89.00 on Amazon! Ivy Cliq+ $129.00. The Cliq+ is a better value IMO."
Photo of the week is from the archives: Dodge blue truck at ghost town Bodie. Happy photoing.
Send comments, questions or suggestions to: focusonphotography@earthlink.net