Flashes Strike at Ventura County Academic Decathlon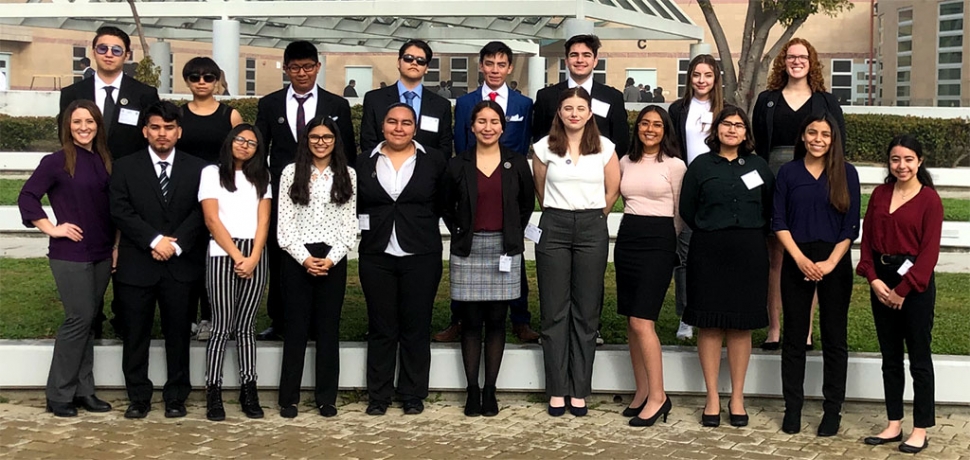 Pictured above is the Fillmore Academic Decathlon Team, taking 2nd Place at the VC Academic Decathlon. Pictured (l-r) top row: Fidel Escoto, Priscilla Rivero, Fernando Gomez, Crystal Rodriguez, Anthony Campos, Bryan Magana, Paola Ruiz, Isabella Palazuelos. Bottom row: Coach Kellsie Weis, Jason Martinez, Maritza Campos, Destiny Carrillo, Brianna Morfin, Kenya Vasquez, Erin Overton, Sophia Pina, Mariam Bazurto, Aliyah Heredia, and Daniela Ruiz.
By Gazette Staff Writer — Wednesday, February 5th, 2020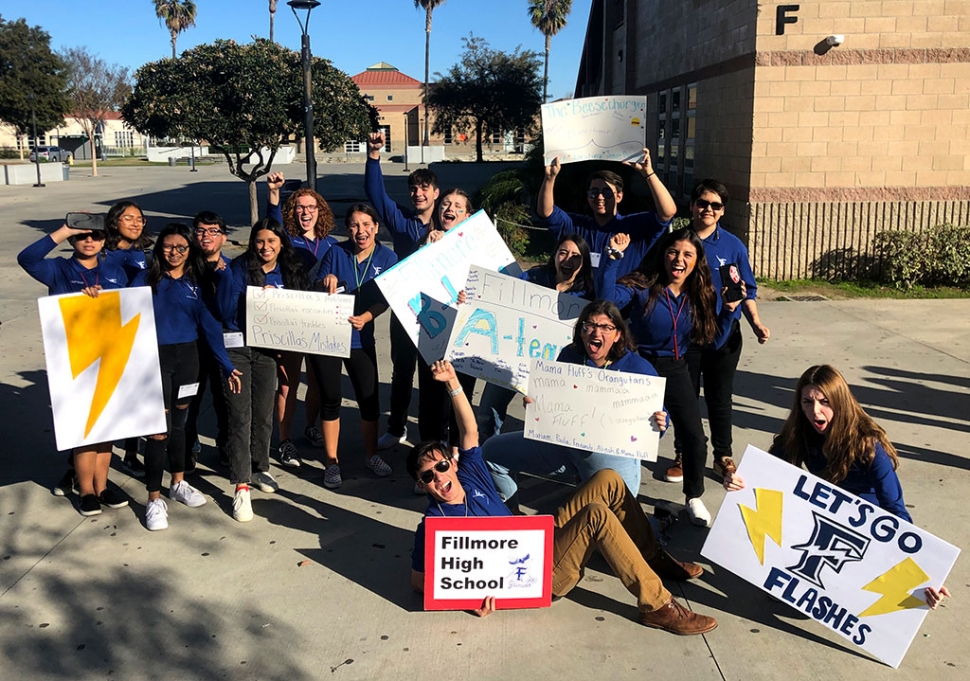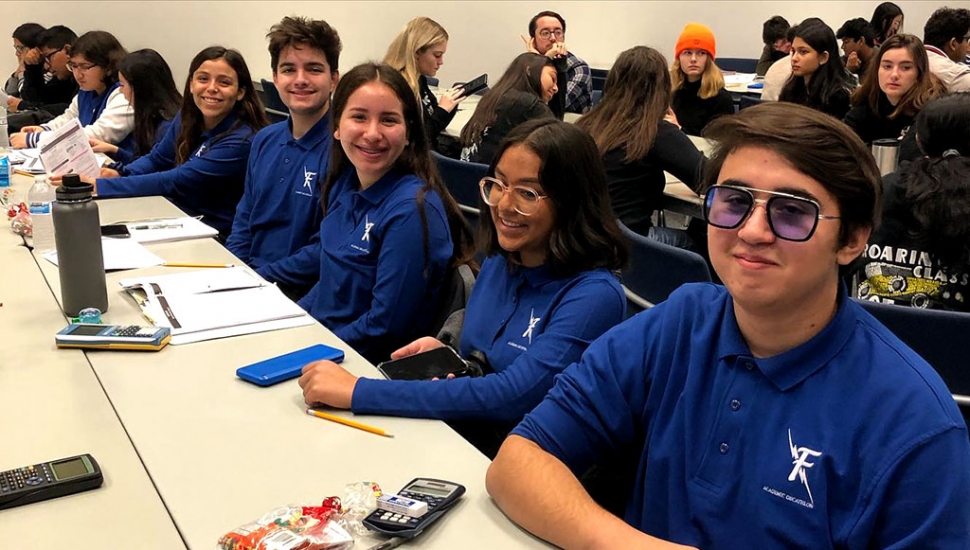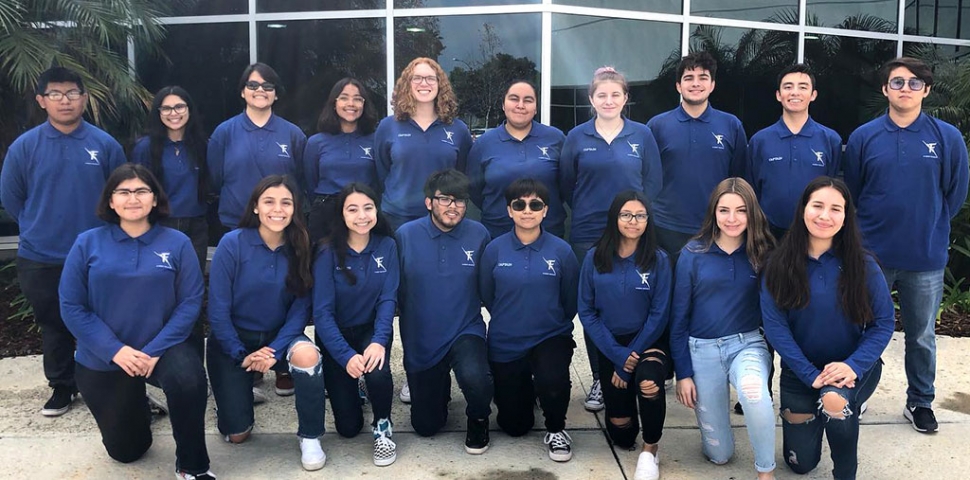 The 2020 Ventura County Academic Decathlon competition concluded Saturday, February 2nd. This year the Fillmore High School Flashes had 18 competitors who elected to compete in the 10 grueling categories of the decathlon. They competed against 200+ students from 16 other high schools in over 20 hours of strenuous competition. The results of their efforts were revealed on the evening of Monday, February 3rd at the annual Ventura County awards ceremony.
Our Flashes brought home a grand total of 28 awards, with 21 individual medals, 6 special recognition awards, and 1 impressive team award. The students medaled in all 10 of the decathlon events, earning 4 gold medals, 8 silver medals, and 9 bronze medals.
The biggest honor for our Flashes came at the end of the evening, however, when it was announced that the FHS team had earned a second place overall placement in their division. This is the highest placement the Flashes team has ever achieved, proving our students outwitted teams from many neighboring schools, including, Buena, Channel Islands, Pacifica, Rancho Campana, Rio Mesa, Royal, Santa Susana, Thousand Oaks, and Ventura high schools. Though they competed in a different division, the Flashes also outscored Oxnard and Oak Park high schools as well. Congratulations Flashes! The FHS Academic Decathlon program, Coached by Kellsie Weis, is in its fifth year since its inception. This year marks the team's best showing yet. Detailed results are below:
Team Award:
Second Place Overall - White Division
Gold Medals Earned (4)
Isabella Palazuelos - Essay: Honors White Division
Erin Overton - Essay: Scholastic White Division
Erin Overton - Social Science: Scholastic White Division
Erin Overton - Art: Scholastic White Division
Isabella Palazuelos - Essay: Honors White Division
Silver Medals Earned (8)
Fidel Escoto - Essay: Varsity Blue Division
Isabella Palazuelos - Language & Literature: Honors White Division
Daniela Ruiz - Essay: Scholastic White Division
Daniela Ruiz - Interview: Scholastic White Division
Anthony Campos - Mathematics: Varsity White Division
Anthony Campos - Economics: Varsity White Division
Erin Overton - Economics: Scholastic White Division
Erin Overton - Science: Scholastic White Division
Bronze Medals Earned (9)
Isabella Palazuelos - Music: Honors White Division
Brianna Morfin - Essay: Varsity White Division
Jason Martinez - Language & Literature: Varsity White Division
Jason Martinez - Music: Varsity White Division
Jason Martinez - Art: Varsity White Division
Erin Overton - Interview: Scholastic White Division
Erin Overton - Language & Literature: Scholastic White Division
Fidel Escoto - Speech: Varsity Blue Division
Fidel Escoto - Music: Varsity Blue Division
Special Recognition Awards:
Priscilla Rivero - Commitment to Excellence Award
Erin Overton - Commitment to Excellence Award
Fidel Escoto - Team Spirit Award
Isabella Palazuelos - Team Spirit Award
Isabella Palazuelos - Highest Team Scorer: White Division
Aliyah Heredia - Highest Team Scorer: Blue Division