Flashes Girls Cross Country Advances to CIF Finals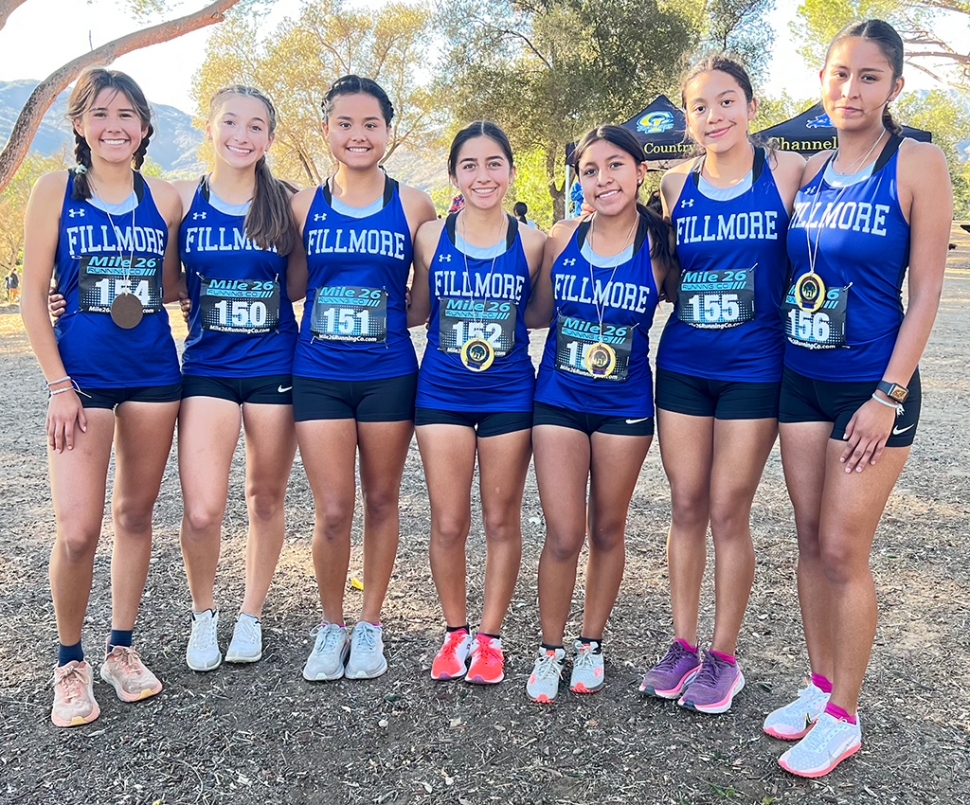 The Lady Flashes Cross Country team will advance to the CIF Finals to take place Saturday, November 19th at Mt. Antonio College. Pictured are the Lady Flashes Girls team: (l-r) Alexandra Martinez, Leah Barragan, Monique Hurtado, Andrea Laureano, Niza Laureano, Diana Santa Rosa, and Nataly Vigil. Photo Credit FHS Cross Country Coach Kim Tafoya.
By Epi Torres — Saturday, November 19th, 2022
On Friday, November 11th the boys and girls varsity teams competed on the challenging Mt. San Antonio Cross Country Course. The course consist of two flat loops that measure approximately one mile. After the first mile, there are three challenging climbs that will test the best of athletes. The boys and girls Division 4 competition featured three heats and several top individuals. The top five teams in each heat, and the next fastest team in the 3 heats qualified to CIF SS D4 Finals. The top 8 individuals in each heat not on a qualifying team also qualify qualified.
For the Flashes, the girls lined up in the third race of the day at 7:58 a.m. In this second heat 13 teams toed the line, and 7 individuals joined them. Niza Laureano led the girls by placing 12th in a time of 19:44. Niza was followed by Nataly Vigil 21st in 20:23.4, Andrea Laureano 29th in 21:00.8, Leah Barragan 39th in 21:32.9, Alexandra Martinez 43rd in 21:50.7, Diana Santa Rosa 45th in 21:57.7, and Monique Hurtado 68th in 23:40.2. As a result of good grouping, Fillmore placed 5th in a heat of 13, thus qualifying for CIF SS Division 4 Finals.
In the Boys Varsity race Eduardo Vigil led the boys with a 19th place finish in 16:38.6. He was followed by Nicholas Hurtado 39th n 17:25.0, Diego Ramirez 41st n 17:27.1, Joshua Estrada 46 th in 17:52.2, Angel Laureano 58th in 18:19.7, and Angel Garcia 65th in 18:32.9. In a heat of 15 teams Fillmore finished in 7th place, thus ending a good season for the boys.
Next week, on Saturday, the Fillmore Girls Cross Country will return to Mt. San Antonio College and compete against the top 16 CIF SS D4 teams. On the line is a chance to compete in the State Finals. To qualify for State Finals, they must finish among the top 7 teams. This race is scheduled to start at 7:45 a.m.