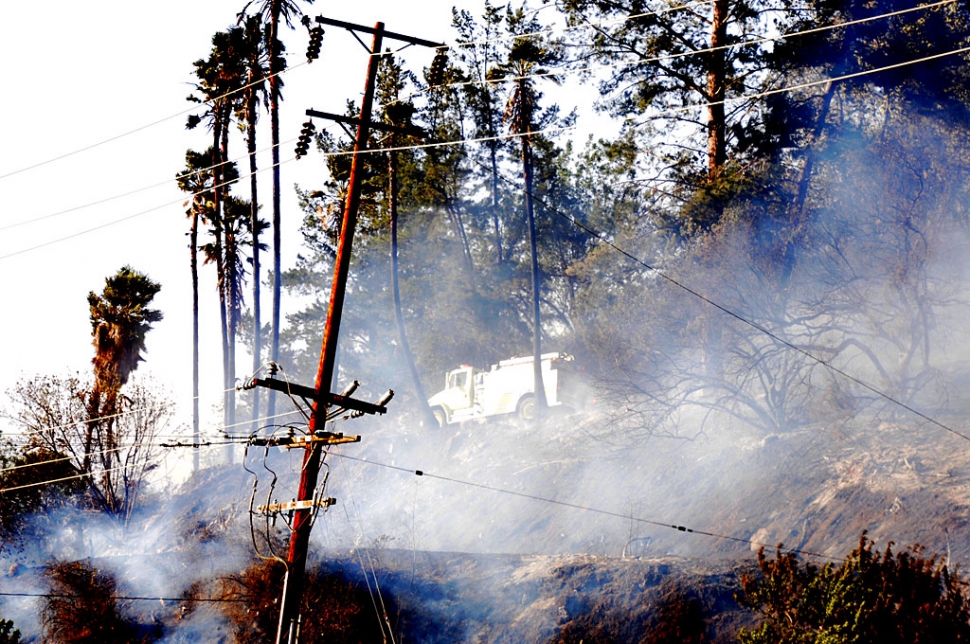 By Martin Farrell — Wednesday, April 10th, 2013
The fire, now labeled the Goodenough Incident, was the fiercest thing of its kind I've witnessed in Fillmore during the past 25 years. Driven by near hurricane force wind at times, it jumped from a mobile home on the west side of Goodenough Road to 100-foot high palm trees and avocado orchards across the road in a matter of seconds.
The wind was from the north, unusual in itself, then whipped around the point, heading southeast above Foothill Road.
It would have been much worse had the wind not calmed down considerably at nightfall. No doubt many residents were praying-up a storm of their own. No structures in the city were destroyed or damaged. One tragedy occurred during the first stage of the fire; the beautifully situated Wokal home atop the hill in the 1200 block of Goodenough Road was nearly destroyed. Valliant efforts by Ventura County firefighters were able to save part of the home and assist in the removal of some personal property.
I recall several other ferocious, and far larger, wildfires in years past. The difference here is that we were immediately in the midst of it all. Flaming palm fronds and other debris from palm trees were carried hundreds of yards in the firestorm, and quickly started dozens of new fires downwind. Flames raced through thick layers of dry avocado leaves allowed to accumulate by farmers growing their crops organically. That carpet of leaves exploded in flame and raced through the groves as though they were sprayed with gasoline.
The fire consumed approximately 147 acres of trees and brush.
As usual, the residents of Fillmore cooperated in assisting firefighters and threatened homeowners. I will try to publish a fairly complete list of those who assisted in this effort in next week's Gazette. In the meantime many thanks are due for all the quick assistance provided from many different fire departments from at least three counties, our council members, and several department heads at city hall. Special thanks to our Sheriff's department, Search and Rescue, Citizens Patrol and many others.
Thanks to all who helped us dodge the bullet, once again. Also look for more spectacular photos from Bob Crum, online and in the Gazette.
Coverage from area television station: