Finance Director Presents a Balanced Budget
By Jean McLeod — Wednesday, May 28th, 2014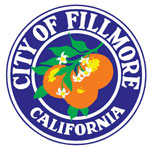 City of Fillmore
The May 27, 2014 Fillmore City Council Meeting had two proclamations and two presentations that included the 2014/2015 City Budget. New business was a review and intent to increase the assessments for the Landscape and Lighting District, the Heritage Valley Lighting District and the Storm Drain Maintenance Assessment District.
Fillmore's Finance Director Gaylynn Brien presented the Council the proposed 2014/2015 Budget. With the judgment of the Sales Tax Settlement in Fillmore's favor and using conservative projections, she presented a balanced budget with future revenue covering expenditures. One negative item is an expected increase in sewer rates by 3% from $89.60 (average) to $92.29 effective August 1, 2014 or possibly January 1, 2015, depending on the Council's future decision. Some capital projects the City hopes to fund, if surplus funds become available, are improvements to Two Rivers Park Tot Lot, Two Rivers Park Bicycle Pump Track and Pole Creek Bike Path.
The meeting began with a proclamation to the Ebell Club for their many years of service to the community and recent generous donations of over $100,000 to a wide range of organizations and activities such as the Annual Art Show, Fillmore High School Music Program, the Boys & Girls Club of Santa Clara Valley and Two Rivers Park. Accepting the plaque were Mary Ford and Marlene Schreffler.
The Future Farmers of America (FFA) received the next proclamation. Accepting the plaque was Macie Wokal, Hannah Wisehart-Saviers, Jessica Manginelli, Timmy Klittich, Joe Ricards-Advisor, and Scott Beylik-FFA Booster President.
Film director Bryan H. Carroll addressed the Council with a proposal to add the Moto Festival to Fillmore's numerous festivities. This one has a new concept that no other city presents; a festival that celebrates motorcycles and automobiles in film, like the Bat Mobile, Speed Racer and Herbie. Carroll, a producer and director of the documentary 'Why We Ride' and other films, explained that there is no other festival celebrating cars in the movie industry and no other town better suited. "Fillmore is just an hour from Hollywood, has an old movie theatre......If you've been in the film industry, you've been to Fillmore" Carroll told the Council. He anticipates an event date of October 10-12, 2014 and is collaborating with Gordon McCall of McCall Events and the Patterson Car Museum.
Two agenda items seeking approval were the engineer's report regarding an increase of assessments of various tracts and setting a public hearing to consider the proposal. The report covered the Annual Storm Drain Maintenance Assessment District Report and the other Landscape and Lighting District No. 2 and Heritage Valley Landscape and Lighting District 2007-1. These funds are for the anticipated expenses and funds to be collected for the period of July 1, 2014- June 30, 2015.
The city annually levies and collects special assessments for 7 designated storm drain maintenance districts which provides funding for the operation, maintenance and servicing of on-site public improvements and infrastructure associated with flood control and/or drainage and water pollution systems specifically installed as part of property development. These districts, or their proportional benefit, are part of the integral on-going maintenance of the facilities that benefit those properties. Improvements and services within those Districts include; cleaning storm drains (typically once every five years), cleaning catch basins and needed, Inlet stencil maintenance, cleaning retention basins and /or biofilter areas (typically three times a year), repair of any damage due to flooding and all operational costs related to the pump station including repairs, maintenance, trash removal and electricity.
Levee maintenance includes; replacement of soil cover over the levee, face vegetation replacement, major repair/reconstruction, river face leech field maintenance and surface irrigation system maintenance and underground drip irritation system maintenance.
The seven districts being considered are; Districts 1, 01-A, 03, 04, 05, 06, 07 and includes the maintenance and servicing of the Santa Clara River Levee adjacent to those properties. District 1, Bird Tracks, which contains 4 tracts totaling 237 homes, District 01-A the Barcelona Subdivision with 32 homes, District No. 03 Hometown with 175 homes, District No. 4 Riverwalk with 114 homes, District No. 5 Riverwalk with 65 homes and District No. 06 River/The Meadows with 110 homes.
District No. 7 was formed in June 2007 contains three Zones; (A) El Dorado and (B) White Ranch, and (C) Heritage Parks with 762 homes and 74 apartments units planned.
The Landscape and Lighting Districts receiving an increase assessment are numerous including both residential and commercial properties.