Fillmore Tobacco Products Retailer Compliance Check
By Ventura County Sheriff Department — Wednesday, June 22nd, 2022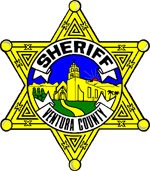 Ventura County Sheriff's Department
On June 15, 2022, the Fillmore Department conducted a tobacco compliance check in the city of Fillmore and Piru areas. The compliance checks were conducted at 7 locations by utilizing an underage decoy to attempt to purchase tobacco products from the businesses. The goal of this operation is to prevent the sale of tobacco products to underage individuals and to ensure that the businesses are following the California State Tobacco Laws. All 7 of the businesses checked were in compliance and none of their employees sold tobacco to the decoy.
During the operation detectives helped to educate the business employees regarding the required signage and potential consequences of selling tobacco products to individuals under the age of 21.
Tobacco and nicotine related addictions are a prevalent and a serious problem with the youth in our community today. The Ventura County Sheriff's Office and the Fillmore Police Department are committed to the health and wellbeing of the youth in our community and will continue to proactively enforce laws prohibiting the sale of these products to people under the age of 21. If you have information about a local retailer in the city that is supplying nicotine or tobacco products to underage buyers, please report it to the Fillmore Police Department at 805-524-2233.
One of Fillmore's two School Resource Officer positions is funded by a California Department of Justice tobacco grant. The SRO proactively engages the students in the Fillmore School District and educates them about the dangers of tobacco while providing exciting programs as interventions for tobacco use. The SRO also works with the Detective Bureau to conduct compliance checks and investigations into businesses that may supply tobacco to youth in the community.
Nature of Incident: Fillmore Tobacco Products Retailer Compliance Check
Report Number: 22-78888
Location: Fillmore/Piru, CA
Date & Time: June 16, 2022
Unit(s) Responsible: Fillmore Detective Bureau/School Resource Officer Unit
Prepared by: Detective Sergeant Hollowell
Approved by: Captain Garo Kuredjian
Ventura County Crime Stoppers will pay up to $1,000 reward for information, which leads to the arrest and criminal complaint against the person(s) responsible for this crime. The caller may remain anonymous. The call is not recorded. Call Crime Stoppers at 800-222-TIPS (8477).