By Ventura County Sheriff Department — Monday, April 28th, 2014
Police asking anyone with information to contact them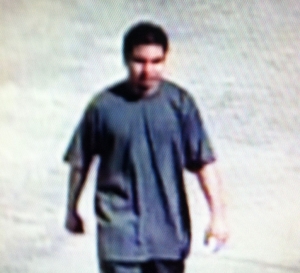 The Fillmore Police Department is seeking the public's assistance in identifying a suspect involved in the theft of a purse.
At approximately 3:10 p.m., on March 26, 2014, the victim was working in the alley in the 300 block of Central Avenue and had momentarily left her purse unattended. A video captured the suspect pictured walking through the alley, approach the purse, pick it up, and run away with it. The purse was recovered a short time later nearby, but was missing a large amount of cash.
There is full video of the incident available for review. If you can identify this person, please contact Detective John Fox from the Fillmore station (805) 524-2233 or Detective Taurino Almazan.
Nature of Incident: Public's Assistance Sought To Identify Purse Thief
Report Number: 14-6779
Location: East alley of the 300 block of Central Avenue, Fillmore
Date & Time: March 26, 2014 @ 3:00 PM
Unit(s) Responsible: Fillmore Police Department - Investigations
(S)uspects, (V)ictims, (P)arty, (D)ecedent City of Residence Age
Unknown young male Unk 16-20
Prepared by: Detective John Fox
Media Release Date: April 24, 2014
Follow-Up Contact: Detective John Fox (805) 524-2233 or john.fox@ventura.org
Approved by: Captain Dave Wareham
Ventura County Crime Stoppers will pay up to $1,000 reward for information, which leads to the arrest and criminal complaint against the person(s) responsible for this crime. The caller may remain anonymous. The call is not recorded. Call Crime Stoppers at 800-222-TIPS (8477).