Fillmore participates in Big Sur Search and Rescue Mutual Aid
By Ventura County Sheriff Department — Wednesday, August 27th, 2014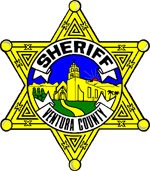 Ventura County Sheriff's Department
The Ventura County Sheriff's Office is sending a contingent of search and rescue (SAR) volunteers to assist the Monterey County Sheriff's Department in the search for Arvin Nelson.
Nelson, a seasoned outdoorsman, was reported overdue on August 16. Nelson was expected to return to the Big Sur area on August 14. Nelson began a nine day trek that started from the China Camp trailhead in the Los Padres National Forrest and was expected to end at the Big Sur Station trailhead in the area of Big Sur.
A total of fifteen volunteers comprised from the Fillmore, Upper Ojai, and East Valley Search and Rescue Mountain teams departed Ventura County in the early hours of August 22. The SAR team members are expected to be inserted by helicopter on Friday August 22 into the search area. They are expected to be picked up by helicopter on Saturday August 23 in the afternoon hours.
A majority of search and rescue teams in the State of California are comprised of volunteers. Their skills and knowledge of the back county make them valuable assists to the counties they serve.
Nature of Incident: Search and Rescue Mutual Aid
Location: Monterey County / Big Sur
Date & Time: August 22, 2014
Units Responsible: Fillmore, Upper Ojai, and East Valley Search and Rescue
Victim: City of Residence Age
Arvin Nelson Big Sur Unknown
Prepared by: Deputy Chris Dyer
Media Release Date: August 22, 2014
Follow-Up Contact: Deputy Chris Dyer (805) 535-0270
Email: Christopher.Dyer@Ventura.org
Approved by:
Captain Luis Obregon