Fillmore man arrested in Taco Bell robbery
By Ventura County Sheriff Department — Monday, December 23rd, 2013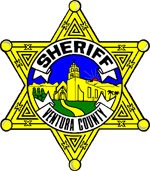 Ventura County Sheriff's Department
On 12-19-13, Investigators with the East County Major Crimes Unit and Thousand Oaks Special Enforcement Unit arrested Arturo Perez and Steven Salceda for robbing two Taco Bell fast food restaurants in the City of Thousand Oaks.
The first crime occurred on 12-03-13 at the Taco Bell located at 1928 E. Avenida De Los Arboles and the second one occurred on 12-16-13 at the Taco Bell located at 1330 N. Moorpark Road. During the 12-03-13 robbery, the incident was captured on surveillance video. The Sheriff's Office provided this information to news sources who distributed it through different media channels. Vital information was provided by the public which ultimately assisted with the capture of Perez and Salceda.
Perez and Salceda were both booked on robbery charges and are currently in custody at the Ventura County Pre-Trial Detention Facility. Salceda's bail is set at $110,000.00 dollars and Perez' is set at $100,000.00 dollars pending their arraignment in Superior Court.
Nature of Incident: Arrest of Robbery Suspects
Report Number: RB# 13-27013, 13-28069
Location: 1928 E. Avenida De Los Arboles, Thousand Oaks CA
1330 N. Moorpark Road, Thousand Oaks CA
Date & Time: 12-19-13 @ 5:30 PM
Unit Responsible: East County Major Crimes, Thousand Oaks Police and Special Enforcement Unit
(S)uspects, (V)ictims, (P)arty, (D)ecedent City of Residence Age
(S) Arturo Perez, Fillmore, 18
(S) Steven Salceda, Moorpark, 24
Prepared by: Sergeant Alan Hartkop
Media Release Date: December 20, 2013
Follow-Up Contact: Detective Todd Welty (805)494-8224
Approved by: Captain Mike Hartmann
Ventura County Crime Stoppers will pay up to $1,000 reward for information, which leads to the arrest and criminal complaint against the person(s) responsible for this crime. The caller may remain anonymous. The call is not recorded. Call Crime Stoppers at 800-222-TIPS (8477).