Fillmore man arrested in "Operation Broken Heart"
By Ventura County Sheriff Department — Wednesday, June 4th, 2014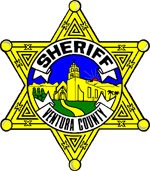 Ventura County Sheriff's Department
The Ventura County Sheriff's Office recently participated in a nationwide month-long action named "Operation Broken Heart." The national crackdown targeted offenders who; possess, manufacture, and distribute child pornography, engage in online enticement of children for sexual purposes, engage in the commercial sexual exploitation of children (commonly referred to as child prostitution), engage in child sex tourism (traveling abroad for the purpose of sexually abusing foreign children) and checking registered sex offenders in the community.
The following people were arrested during this operation:
• Damian Maurice Villarreal Age 30, from the city of Thousand Oaks for Possession of Child Pornography
• Registered Sex Offender Manuel Rene Flores Age 59, from the city of Fillmore for Under the Influence of a Controlled Substance
• Registered Sex Offender Mark Swearingen Age 49 from Thousand Oaks for peeping and child annoying
• Registered Sex Offender Vicente Sosa Pedrito (aka Juan Martinez) Age 47 from the city of Moorpark for failing to register as a sex offender.
In addition to the four arrests above, the Ventura County Sheriff's Office served three Possession of Child Pornography search warrants in the cities of Fillmore, Oxnard, and Ventura. Arrests are pending the completion of computer forensic examinations by the Southern California High Tech Task Force.
.
Sixty one coordinated local task forces throughout the nation made arrests during the month of May, then collected and shared the arrest statistics with the Washington, D.C. Office of Juvenile Justice and Delinquency Prevention (OJJDP) who will release the statics at a later press conference this month.
Nature of Incident: Ventura County Sheriff's Office participation in "Operation Broken Heart"
Report Number: N/A
Location: Ventura County
Date & Time: Month of May
Unit(s) Responsible: Ventura County Sheriff's Office
Prepared by: Sgt. Anthony Aguirre
Media Release Date: June 2, 2014
Follow-Up Contact: Sgt. Anthony Aguirre 805-384-4721
anthony.aguirre@ventura.org
Approved by: Captain Chris Dunn
Ventura County Crime Stoppers will pay up to $1,000 reward for information, which leads to the arrest and criminal complaint against the person(s) responsible for this crime. The caller may remain anonymous. The call is not recorded. Call Crime Stoppers at 800-222-TIPS (8477).