Fillmore Lions Club Awards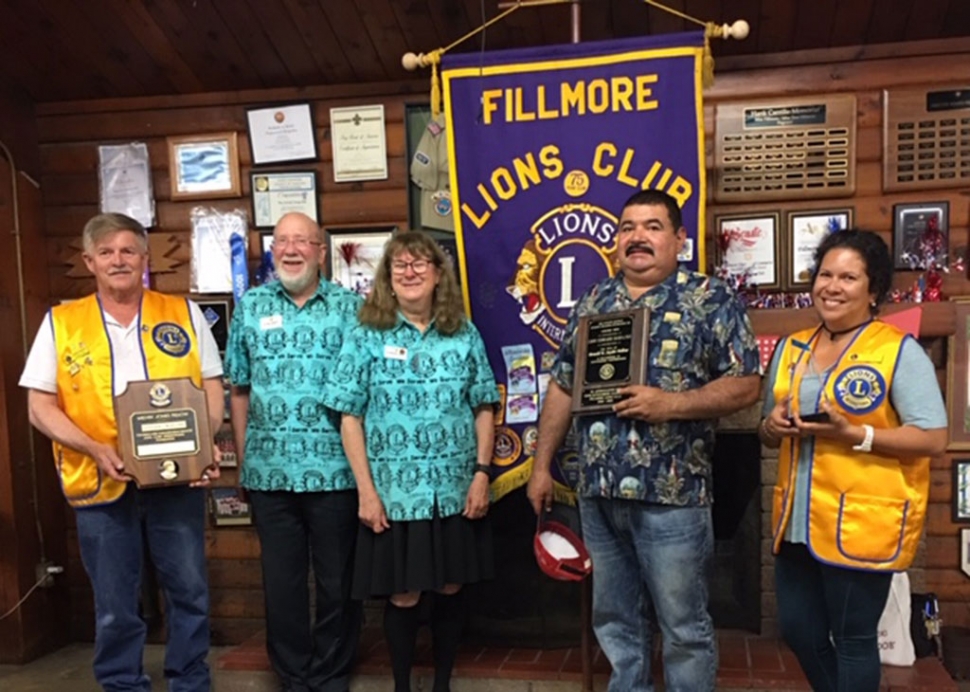 The Fillmore Lions Club recently recognized three members for the multiple club awards. Pictured (l-r) is Stephen McKeown, "Lifetime Achievement Award" recipient, Lion's District Representative Bill Dunlevy (award presenter), Lion's District Representative Margaret Dunlevy (award presenter), Eddi Barajas "Don Snyder Award" recipient, and Jaclyn Ibarra "Lion of the Year" award recipient. Photo courtesy Jan Lee.
By Gazette Staff Writer — Wednesday, July 10th, 2019
Courtesy Jan Lee
Recently, the Fillmore Lion's Club took the time to honor members of their local Club. Member Jaclyn Ibarra earned the "Lion of the Year" which is given to the Fillmore member who has done the most for the local community. Ms. Ibarra has been active in almost all the community activities this year. Her enthusiasm and good nature is contagious!
The second award given was for service above and beyond was Eddi Barajas, current president of Fillmore Lion's Club. Mr. Barajas received the "Don Snyder Award." One of the Lion's Club's community projects is the Youth Speaker contest; Mr. Barajas spent hours and hours working to coordinate this contest on top of the time he spent as Club President. The young speakers and local members appreciate his outstanding efforts.
The third awarded was to Stephen McKeown who earned the "Lifetime Achievement Award." Like the other two recipients, Mr. McKeown stays busy working on projects that help the Fillmore community. Over many years, he has been available to work toward any and all Lion's Club projects. Fillmore residents have benefitted greatly by the efforts of these three dedicated people. When you see them around town, congratulate them and thank them for their service. The awards were presented by Lion's District Representatives Margaret and Bill Dunlevy.