Fillmore Juvenile Arrested for Vandalism Graffiti
By Ventura County Sheriff Department — Wednesday, October 3rd, 2012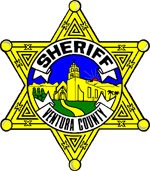 Ventura County Sheriff's Department
On 09/26/2012, at approximately 7:15 P.M. an alert anonymous citizen reported to the Fillmore Police Department a male juvenile subject vandalizing (Graffiti) several private properties, as well as property belonging to victims E.J. Harrison and Southern California Edison.
Officers from the Fillmore Police Department and Ventura County Sheriff's Office arrived moments later and located the juvenile suspect, who was arrested for "Possession of Tools To Commit a Vandalism (Graffiti") "Vandalism" and Felony "Possession of a Billy Club." The 15-year-old juvenile was lodged in Juvenile Hall. Investigators from the Fillmore Police Department and the Ventura County Sheriff's Office estimate that this juvenile is possibly responsible for at least 35 other vandalisms committed during the past six months to one year.
Nature of Incident: Vandalism-Graffiti arrest
Report Number: RB#12-21697
Location: 400 Block Mountain View, Fillmore California
Date & Time: 09/26/2012 @ 7:15 PM
Unit Responsible: Fillmore Police Department & Ventura County Sheriff's Office
(S)uspects, (V)ictims, (D)ecedent City of Residence Age
Juvenile Fillmore, Ca 15
Deputy Preparing Media Release: Sergeant David Lea
Media Release Date: September 27, 2012
Follow-Up Contact: Deputy Gene Torres (805) 524-2233
Approved by: Captain Monica McGrath
Ventura County Crime Stoppers will pay up to $1,000 reward for information, which leads to the arrest and criminal complaint against the person(s) responsible for this crime. The caller may remain anonymous. The call is not recorded. Call Crime Stoppers at 800-222-TIPS (8477).