Fillmore Historical Museum Receives $2,000 Grant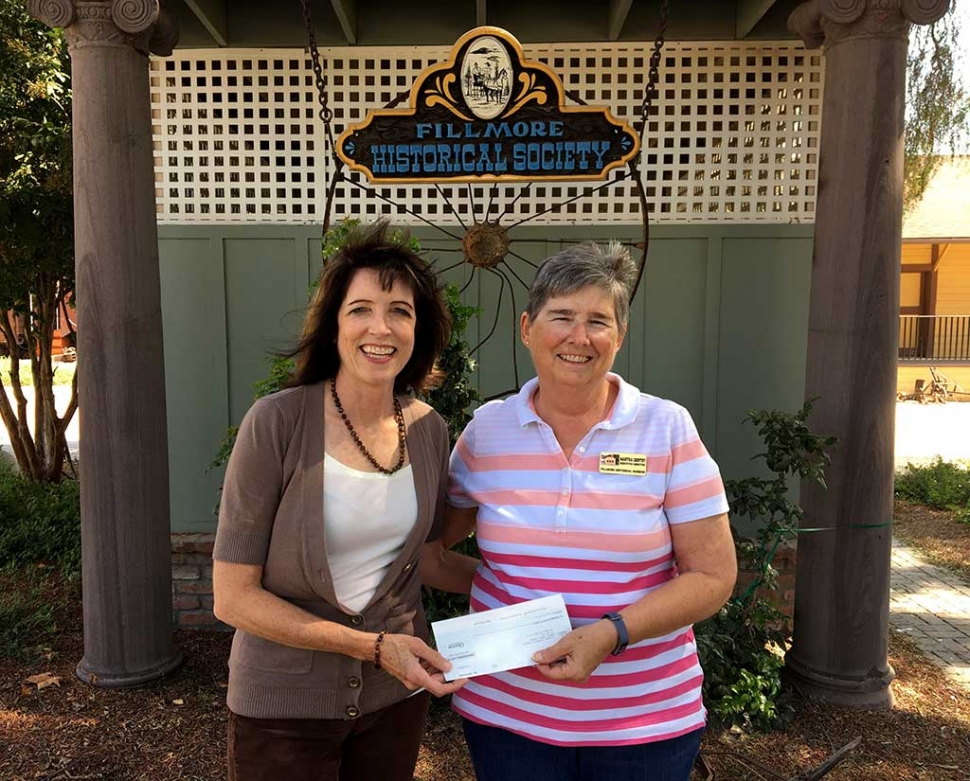 Chevron's Leslie Klinchuch, left, presented Martha Gentry of the Fillmore Historical Museum with a $2,000 donation check for the March 2018 commemoration of the 90th anniversary of the St. Francis Dam disaster.
By Gazette Staff Writer — Wednesday, August 16th, 2017
Submitted by Fillmore Historical Museum.
The Fillmore Historical Museum was pleased last Wednesday to receive a $2,000.00 grant from Chevron Corporation for use in the development of displays and programs related to the upcoming March 2018 commemoration of the 90th anniversary of the St. Francis Dam disaster. Martha Gentry received the check from Leslie Klinchuch of Chevron Corporation. There are members of the communities of Fillmore, Piru, Sespe and Bardsdale who are relatives, children and grandchildren of the victims and survivors of this disaster. The purpose of the commemoration is to tell the stories of these families and honor the 450 + people who died. The event will include a program on the morning of Saturday, March 17, 2018, followed by a lecture by Jon Wilkman, author of the book, "Floodpath", about the dam and the aftermath of the collapse. There will also be an afternoon bus tour to the site with an onboard docent who will point out locations along the route where major events occurred. We hope you will all mark your calendars and plan on attending some or all of the events.
The staff at the museum is also looking for individuals who have photos of the damage caused by the disaster and have family stories to tell. Call us at 524 0948 or come by the office in the bunkhouse, 340 Main St. in Fillmore, and tell us your stories. We look forward to hearing from you.