Fillmore High School Mock Trial Team Takes Other County Teams by Surprise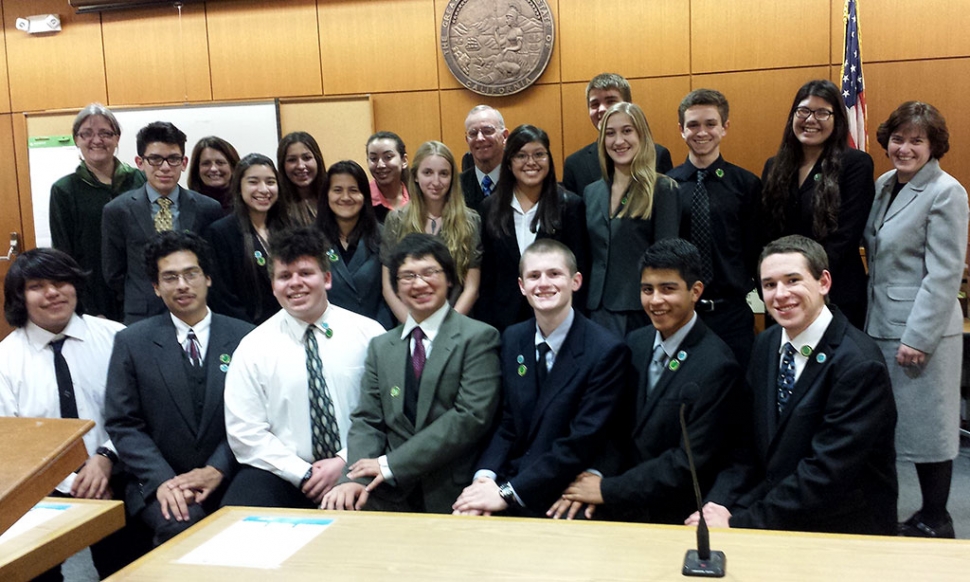 (l-r) (back row) Attorney coach Laura Bartels, Miseal Ponce, attorney coach Cynthia Pandolfi, sophomore Jacqueline Tovar, junior Viridiana Quintana, sophomore Cathy Alonzo, junior Maria Ibarra, Sara Beylik, Superior Court Judge Vince O'Neill, senior Citlali Erazo, sophomore Nicholas Bartels, senior Melissa Nunes, senior Justin Beach, junior Claudia Moreno, teacher-coach Jennifer Fitzpatrick, (front row) Freshman Nathan Martinez, senior Jovanny Bravo, junior Wesley Brecheen, sophomore Hai Tran, sophomore Matthew Hammond, senior Mario Gaspar and senior Austin Manzano.
By Gazette Staff Writer — Wednesday, March 19th, 2014
The second year team consisting of seven seniors, five juniors, and five sophomores, all but one returning from a successful run in 2013, made major strides during the Ventura County Mock Trial competition on February 24th and 25th . At the awards ceremony held at the Oxnard Civic Center, junior Wesley Brecheen won Ventura County Second Place for portraying Defendant Rae Concha, sophomore Hai Tran won Ventura County Second Place as expert witness Dr. Ricki Sanchez, and sophomore Nicholas Bartels won Ventura County third place as a defense attorney presenting the pre-trial motion.
The Mock Trial program, sponsored by the Constitutional Rights Foundation, is designed to introduce students to our legal system. Students prepare both the prosecution and defense sides of a fictional case. This year's case, People v. Rae Concha, involves the felony charges of second degree murder and drug possession for sale of the prescriptive medication Adderall. From research to role-playing, students gain a comprehensive understanding of the pertinent legal and factual issues.
The students portrayed each principal of the cast in a courtroom, including attorneys, witnesses, defendant, court clerk, bailiff, courtroom journalist, and artist. The trial played out in real courtrooms at the Ventura Superior Court before actual judges and is scored by Ventura County practicing attorneys.
Two students began by arguing a pre-trial motion designed to exclude evidence gained by an illegal search. This year's pre-trial motion issue focused on the Fourth Amendment protection against warrantless search and seizure, which created "the right of the people to be secure in their persons, houses, papers and effects." Mock attorneys argued key United States Supreme Court decisions, a Federal Ninth Circuit decision, a California Supreme Court case, as well as appellate court cases. A landmark case central to the motion was Katz v. United States, the seminal decision wherein the U.S. Supreme Court held in 1967 that a person's right to privacy turns on the individual's expectation of privacy and whether society views that person's expectation as reasonable. The issue of was whether the defendant has a reasonable expectation of privacy for items partially covered up in the back of his car and the circumstances surrounding the police officer's "hoisting" himself up on the hood of the car to get a closer look.
On the first night of competition, Fillmore's strong defense team hit the ground running in a match against St. Augustine Academy. Defense opened with a pre-trial motion to have the evidence of the illegal search suppressed. Back and forth verbal between the Superior Court judge and defense attorney, sophomore Nicholas Bartels, drew strong praise from scoring attorneys and admiration from the judge when she misstated the law and Attorney Bartels politely but firmly and with humor, corrected her. A persuasive argument ensued, ending in the defense motion being granted. Attorney Bartels earned three perfect "5" scores for the team and came home with Third Place in the Best Pre-Trial Defense Attorney division. Elegant and articulate, defense trial attorney, junior Maria Ibarra, took control of the courtroom with a strong opening statement earning a perfect "5." Outlining all of the holes in the prosecution's case, the defense was unstoppable. Strong trial team attorneys sophomore Jacqueline Tovar and senior Jovanny Bravo effectively crossed prosecution witnesses, earning strong scores.
Defense attorney sophomore Jacqueline Tovar nailed closing argument with two perfect scores and won the Most Valuable Player Award for Fillmore. A scoring attorney told Jacqueline Tovar, "You have a gift as an attorney. You have a natural talent with your incredible talent and the potential of your extraordinariness you are going to really make a difference in this world." Another scoring attorney told Jacqueline Tovar that she has the natural raw talent to be the CEO of a big corporation. Another advised her not to set her sights on being an attorney, but to set those sights higher and be a judge.
Sophomore Cathy Alonso infused confidence and energy into her performance as band director Avery Perkins. Sophomore Miseal Ponce, playing expert witness Dr. Casey Burke, not only earned perfect scores but was approached after the trial by scoring attorneys asking medical questions and encouraging him with his articulate understanding of hypertrophic cardiomyopathy to pursue a future in medicine. Miseal Ponce's crucial defense evidence and unflappable demeanor wowed the judges and earned him nominations for Best Witness as Dr. Casey Burke. Junior Viridiana Quintana brought authority and credibility to the defendant with her portrayal of the director of a non-profit organization. Junior Wesley Brecheen earned the team's highest scores as the accused defendant and won Second Place for his portrayal of Rae Concha. Due to the skill of the stellar witnesses and their top-notch attorneys, the court had no other choice but to find the defendant "not guilty." Senior Jessie Ponce, playing the role of the Bailiff, impressed the scoring attorneys with his control of rowdy students and gum chewing spectators, earning him a perfect "5" and a nomination for the Best of Bailiff award. In their first round of the first night, Fillmore scored an astounding twenty-three perfect "5" scores from attorney scorers and was seeded in second place, just behind the powerhouse, La Reina. On the second night of competition, the Fillmore Defense team impressively garnered another "not guilty" for their client in Round 3 against new team Rio Mesa and earned thirteen perfect "5" scores.
The prosecution team had time to shine in round two against Oak Park and round four against Agoura. Prosecution attorney for pre-trial motion, Nicholas Bartels, strongly presented the prosecution's argument of why the defendant had no reasonable expectation of privacy for items that could be seen in "Plain View" and needed no warrant. Under this doctrine, the Supreme Court articulated that if an officer was in a place where he could legally be, and saw an item he knew was incriminating, then the item could be seized without a warrant. The judge disagreed that it was reasonable for a police officer to be "hoisted" on the hood of someone's car to gain a better view, but nevertheless; the scoring attorneys awarded higher marks to Fillmore's attorney in one of the two rounds. This was particularly impressive because last minute roster changes required attorney Nicholas Bartels to argue both sides of the motion in different trials. Rising to the occasion, Nicholas Bartels was nominated and won third place as Best Pre-Trial Motion Prosecution Attorney.
In the another strong opening statement, senior Mario Gaspar articulated the prosecution's case by tying the facts to each element of the law and laying a road map of how the prosecution would prove beyond a reasonable doubt the defendant's guilt. Mario Gaspar was also nominated for the Best Prosecution Attorney award. Prosecution attorney senior Citlali Erazo had strong scores of 4's and 5's for her direct examinations and cross examinations and was also nominated for the Best Prosecution Attorney award. The Police Officer witness was played soundly by sophomore Matthew Hammond, who received a nomination as the Best Police Officer. Praise was heaped upon Matthew Hammond by scorers who thought he really was a police officer and thereby encouraged him to continue in the successful Ventura County Sheriff's Explorers program. Senior Justin Beach played the devious Alex Weaver, a known burglar and prankster who the defense team argued was the person who really did the crime and framed Rae Concha. With humor and sincerity Justin Beach was able to fend off opposing defense attorneys and earned a nomination for the Best Witness Alex Weaver award. Senior Melissa Nunes was key in her direct examination of prosecution expert witness Dr. Ricki Sanchez, played by junior Hai Tran. In round 4 sophomore Hai Tran won perfect scores from every judge and was even given an encouraging "You may be excused now, Good Doctor" by a delighted Superior Court Judge Vincent O'Neill. A scoring attorney added that he intended to make an appointment with Dr. Sanchez. Hai Tran won Second Place in the Best Witness Dr. Ricki Sanchez award. The final prosecution witness was the High School Principal, played by senior Austin Manzano, whose impeccable preparation and convincing performance lent the necessary credibility to the witness team and who was also nominated for a Best Witness Principal award. Rounding out the prosecution team was Senior Claudia Moreno, whose job as Court Clerk was to keep the official time, a crucial role in a competition in which every second counts. Joining her with perfect scores were Mario Gaspar, Citlali Erazo, Justin Beach, Melissa Nunes, Hai Tran, and Austin Manzano.
At the awards ceremony at the Oxnard Civic Center, the Fillmore team received an impressive twenty-one nominations for the "Best of" awards and over the two nights of competition earned fifty-four perfect "5" scores. The team ended the competition solidly in the top 20 in the county, a dramatic increase over last year's performance. The students owe their success to long hours of research, preparation and practice, including lunch time, after school, and weekends.
The coaching staff consisted of Teacher Coach Jennifer Fitzpatrick, who teaches English and Speech at Fillmore High School, and Attorney Coaches Laura Bartels and Cynthia Pandolfi of Taylor, Scoles and Bartels in Fillmore. A team of consultants provided the students with invaluable advice, including Bill Bartels, former Fillmore High School Mock Trial coach Carol Herbert, FHS biology teachers Nichia Huxtable and Tim Waddell, and cardiologist Dr. Lamar Bushnell. Team parents Bob and Lisa Hammond, Laura and Bill Bartels, Jennie Erazo, and Manny Manzano provided food, transportation, and cheers. The team's biggest fans were Gerald Fitzgerald and Bill Edmonds of the Fillmore Lions Club, Mark Ortega of the Fillmore Alumni Association, and Anna Morielli of Fillmore High School. Support services were generously provided by Barbara Lemons, Josh Overton, Greg Godfrey, and Darby Schieferle at FHS as well as Shannon Levesque at California Cardiovascular and Thoracic Surgeons in Ventura. Finally, the team would not have been able to attend the invaluable Championship Mock Trial Academy at the University of California, Irvine without the generous donations from the Fillmore Rotary Club, the Fillmore Lions Club, and the Fillmore Women's Service Club.