Fillmore High School Has New Principal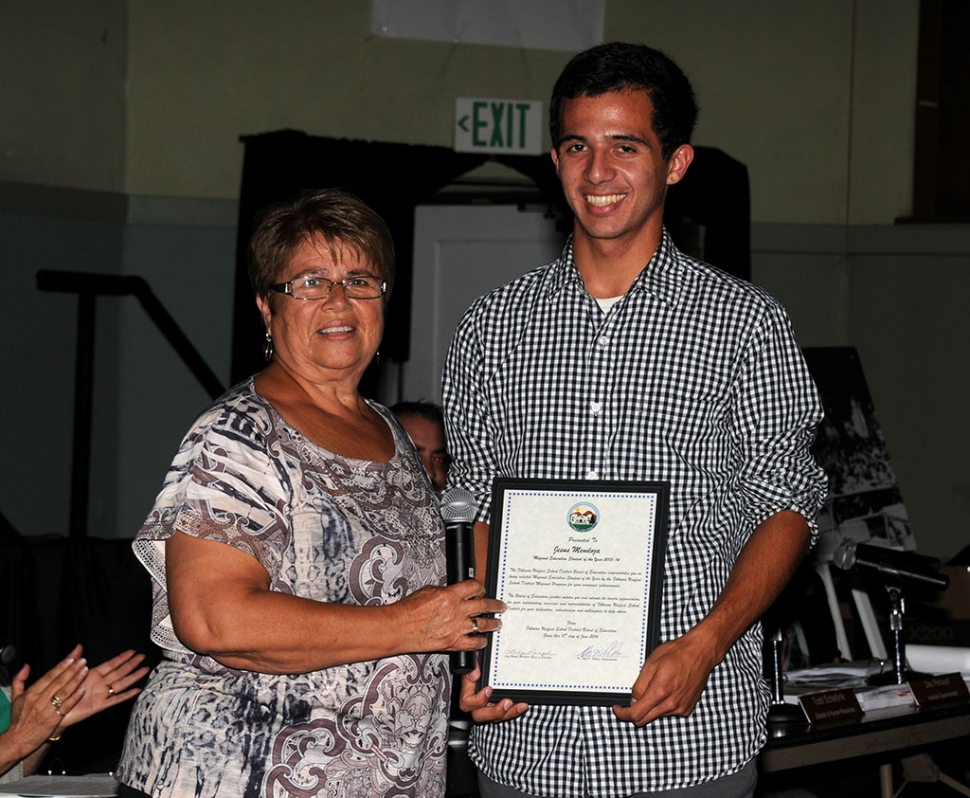 Jesus Mendez, FHS Student of the Month
By Jean McLeod — Wednesday, June 11th, 2014
At the June 10, 2014 Fillmore Unified School District (FUSD) Board Meeting the Board approved the contract for two new employees. One was a new Fillmore High School Principal and the other an Assistant Superintendent of Education Services. The Board gave recognition to three presenters: the Migrant Speech and Debate Team that represented Fillmore at the State Competition, the Migrant Student of the Year and the parents who participated in the English-As-A-Second Language Class.
Mr. Tom Ito has been hired as the new Fillmore High School (FHS) Principal. Ito has experience as a high school science teacher and high school associate principal having worked at Los Angeles Unified School District and Oxnard Union High School District. His most recently was as Associate Principal at Adolfo Camarillo High School. He has a total of 29 years of experience as a teacher, coach and administrator in a wide range of uniquely different comprehensive high schools.
The second hire is Martha Hernandez as Assistant Superintendent of Education Services. Hernandez has served as Director of Curriculum and Instruction for the Ventura County Office of Education and most recently on the state committee as Co-Chair of the English Language Arts/English Language Development Curriculum Framework and Evaluation Criteria Committee. She is bi-lingual with a resume that includes special education teacher, principal, Coordinator of Professional Development and Director of Curriculum and Instruction and the district level.
The FUSD Migrant Student of the Year is Jesus Mendoza. Mendoza has worked hard to achieve his goals and made this education a priority, he maintained a GPA of 3.8 in AP and Honor classes while also participating in extracurricular activities and sports. Jesus has received many awards including the Golden State Seal Merit Diploma and is a CSF Member. He has also been an active student of the Migrant Education Program. He has worked in the homework centers, Migrant Summer School office and participated in the Family Conference, Computer Camp, UCLA Leadership Institute and Speech and Debate Tournament where he had the honor of winning State Champion in 2013.
In his busy schedule Jesus finds time to give back to his community by tutoring students in math, being a judge for Elementary Science Fair, Relay For Life, Community Emergency Response Team, Martin Luther King Community Clean up Days and helping at the Rotary Club. Hernandez lives with his parents Leobardo and Josefina Mendoza in Rancho Sespe. He has been accepted to UCLA, Cal Lutheran, and Channel Islands. He plans to one day become a doctor.
Diana Vides, Principal of Piru Elementary School and Piru Migrant Coordinator, and Maria Gonzalez Migrant Office Clerk/Recruiter introduced the two students in attendance (there were four winners total) from Fillmore Middle School and FHS, who won at the recent state competition. After winning 1st place last March the students went on to compete at the Migrant Speech and Debate State Tournament held in Santa Maria on May 2, 3, & 4, 2014. From Fillmore Middle School; Anahi Pasqual (grade: 6, language: English) 2nd place Prepared Speech, 3rd place Extemporaneous Speech.
From FHS: Montserrat Infante (9, Spanish) 1st place Prepared Speech; Yulissa Fregoso (10, English) 2nd place Prepared Speech, 1st place Extemporaneous Speech; Jessica Cortez (12, English) 3nd place Prepared Speech. The students were coached by Jennifer Fitzpatrick. Yulissa Fregoso and Anahi Pasqual, two of the winning students attended the meeting and brought the four trophies that all four students earned.
Next to be introduced were the 30 parents who attended the English as a Second Language Classes conducted by Assistant Superintendent Michael Johnson. Three of the parents addressed the Board in English to express how much they appreciated the classes and how much their English had improved. These classes happened, when, during a Local Control Accountability Plan (LCAP) Meeting in March of this year, parents expressed their desire to learn English to improve their ability to help their children with their homework and studies. Johnson saw a need and began teaching these parents in April for 1 1/2 hours each week. The classes consisted of three parts; grammar, history and cultural literacy which included songs by Johnny Mathis and Frank Sinatra's My Way. To add to their cultural experience, on Wednesday June 11, 2014 the parent/students went on a field trip to the Reagan Library and later attended their last class where they received a certificate of accomplishment.
Each Board Member addressed the parents/students and congratulated them on their achievement. Superintendent Alan Nishino responded, "They are real role models for their kids."