Fillmore Heritage Valley Blazers Conclude 2022 Track & Field Season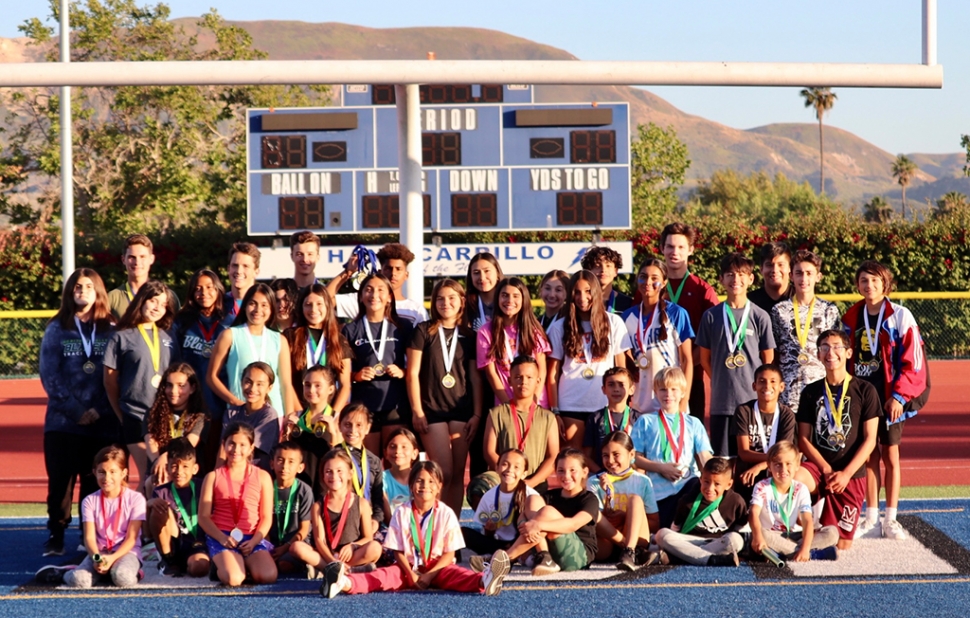 The Fillmore's Heritage Valley Blazers completed their 2022 season at the Southern California Track & Field Co-Conference Championships at Rio Mesa High held Saturday, May 14th to close out their season. Pictured are 2022 Heritage Valley Blazers Co-Conference Championship Qualifiers. Photos courtesy Erika Arana.
By Gazette Staff Writers — Wednesday, June 1st, 2022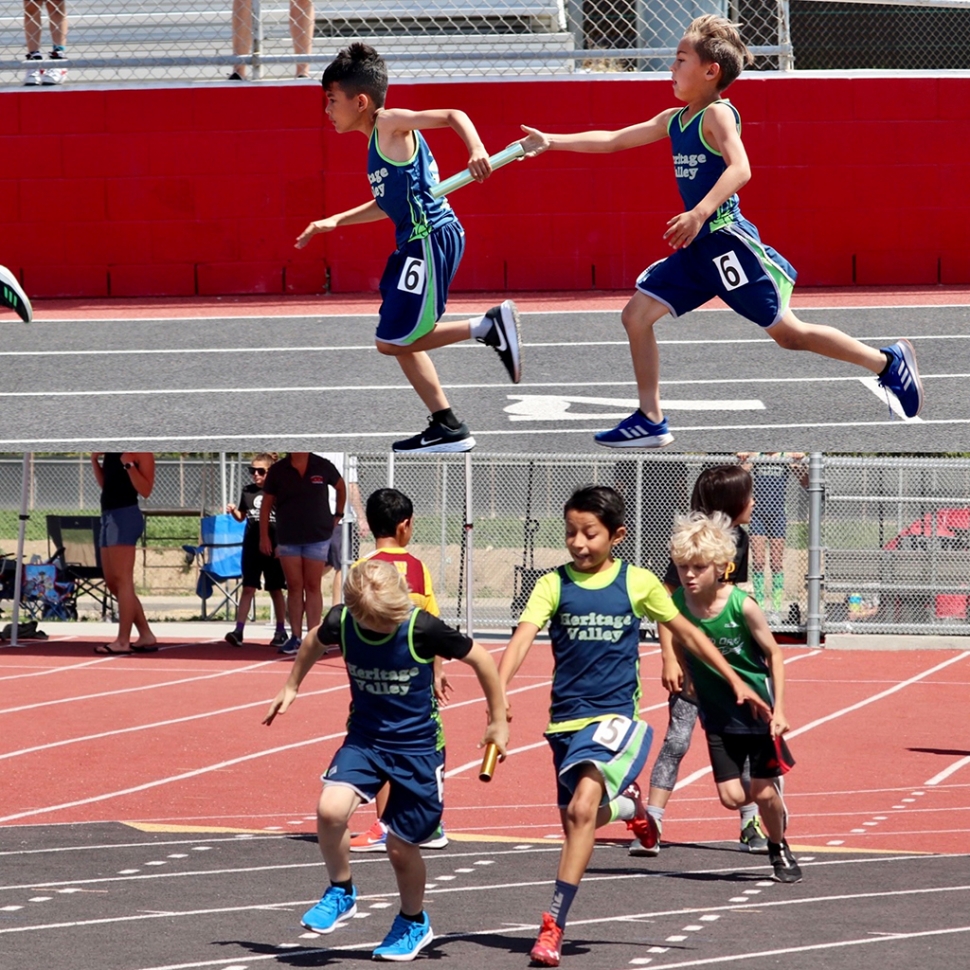 Blazers 8U Boys and 9-10 Boys Relay Teams.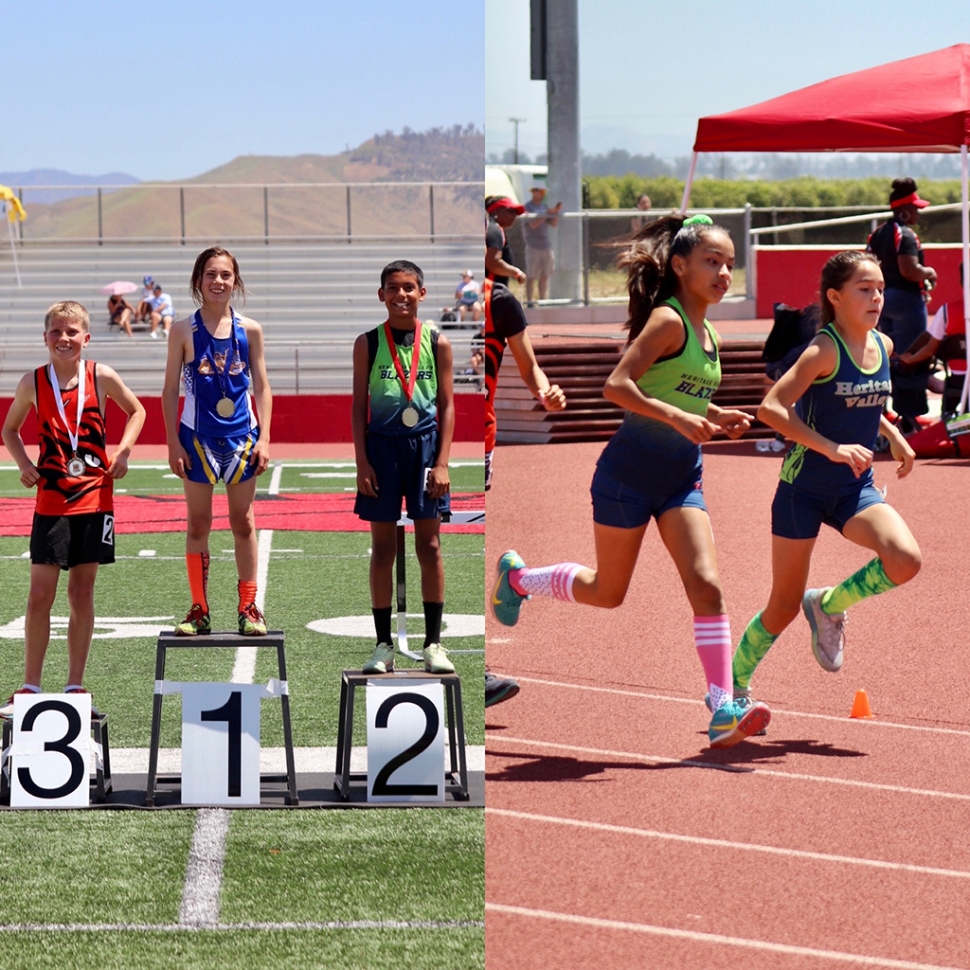 Blazers 11-12 year old Division Distance Runners, Abel Arana, Destina Guzman and Lucy Zuniga.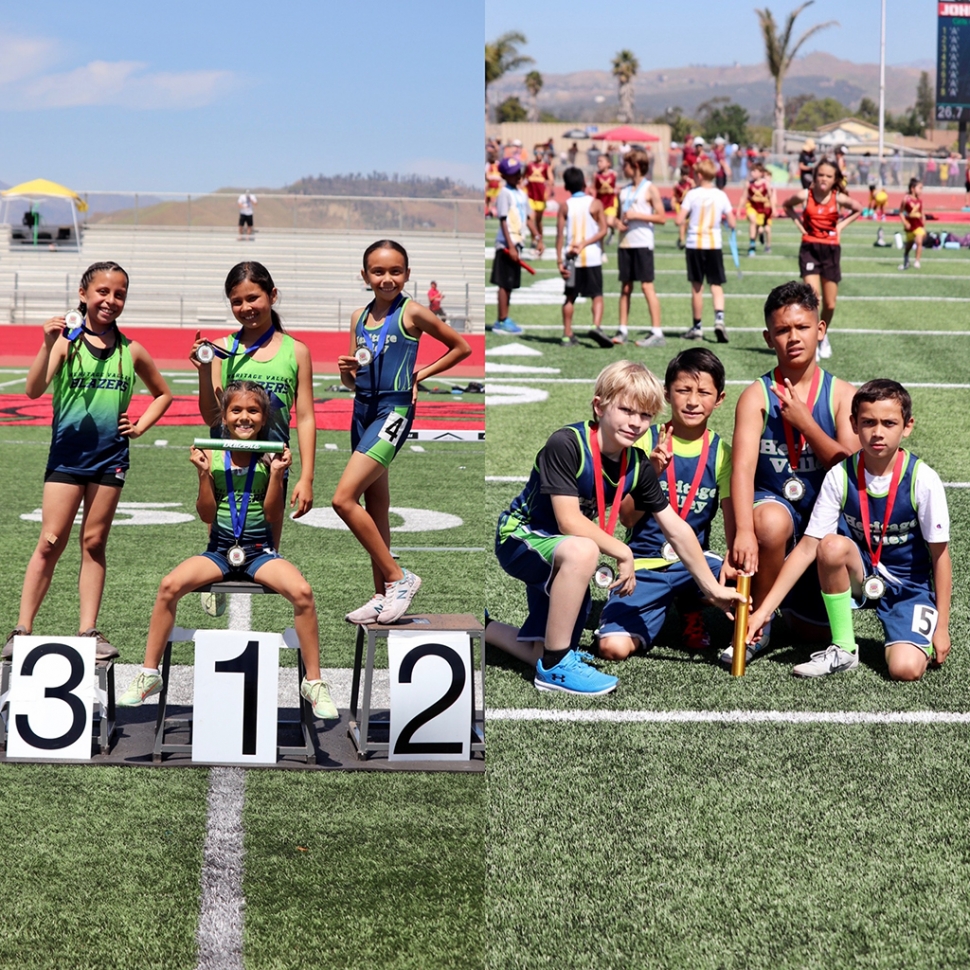 Blazers 9-10 Bantam Girls 4x400m Champions & 9-10 Bantam Boys 4x100m Relay Team.
By Erika Arana
The Heritage Valley Blazers track and field club kicked off their largest season yet, with 236 athletes, and the third largest club in the Ventura County Track Conference. This season, the conference welcomed the Rio Mesa Spartan Track Club, total athletes competing was nine clubs of 1,636 athletes.
The Blazer's season opener was Saturday, March 14, at the Fillmore High School Track. They competed a total of six regular season track meets, JV finals at Buena High School on April 23, where most of the athletes finished their season. The Ventura County Track Championships (Varsity) was on April 30 at Moorpark High School and Blazer's had 76 athletes qualify.
The Southern California Track & Field Co-Conference Championships were held on Saturday, May 14th at Rio Mesa High School. A total of 13 teams participated with only the conference top athletes who qualified. Heritage Valley Blazers represented well, with 56 athletes.
In Distance and Mid-Distance, Jacob Ramirez was the only (8U boy) to qualify for both the 800m and 1600m. He ran away with two medals, 11th in the 800m 3:27.39, and 8th in the 1600m 6:50.54 PR. Abel Arana (11-12yr/boys) was also the only who qualified and placed 7th in the 800m 2:38.41 and dominated in the 1600m, placing 2nd with a PR of 5:29.17. The Blazers had two (9-10yr/girls) qualify for the 800m; Jaylene Ponce out kicked her teammate for a 4th place 3:01.12 PR finish; In 5th plc was Itzel Arana, 3:03.72. Itzel also placed 4th, in the 1600m, 6:26.97. In the same race, close behind was Anika Uribe, 7th, 6:41.20 PR. Destina Guzman (11-12yr/girls) division took 10th, 2:53.43 and 6th in the 1600m, 6:05.23. Luzy Zuniga finished the season with an 8th place 6:08.78 PR. In the (13-14yr/boys) 800m, Noah Halcon started off fast and eased it through the finish line with a strained muscle. Diego Felix (15-16yr/boys) placed 6th in the 1600m, 5:29.75.
In the 100m, hurdles, Noah Halcon (13-14yr/boys), took 5th. The (15-16yr/girls) 100m hurdles, Maria Faulk took 2nd and Arianna Halcon was 3rd. Isaac Mohun (15-16yr/boys) finished in 1st place, 15.48.
In the relays, Blazers (8U/divisions) 4x100m, Aixa Lomeli, Avery Arias, Delilah Vargas and Nadia Rangel placed 2nd, 1:10.17. The boys, Isaak Romero, Koen Richie, Jacob Ramirez, and Jacob Santa Rosa were 3rd, 1:09.54. In the (9-10/divisions) we saw some impressive racing. For the 4x100m boys, Vincent Halcon, Michael Hipskind, Marcus Castro, and Jesse Navarro took 2nd by 7 hair biting milliseconds. The girls, Alexis Amaro, Itzel Arana, Itzel Abrego, and Jaylene Ponce took 8th, but redeemed themselves in the 4x400m taking 1st with a 5:23.36 PR. The (13-14/divisions) 4x100m, girls, C'enna Uribe, Sarah Cedillos, Jasmine Gonzalez, and Kimberly Magaña placed 4th, 54.08. Boys, Blasie Mohun, Abel Villela, Jacob Montes, and Jasiah Patterson, dropped the baton in the second leg exchanged and finished 7th. Amelia Cervantes, Daniela Hurtado, Kaylee Riedmiller and Sophia Aviles, (15-16yr/girls) placed 3rd, 55.80. Benedict Collins, Isaac Mohun, Joseph Weinkopf and John Paul Mohun (17-18yr/young men), took 1st in the 4x100m, 49.67. Diego Felix and Preston Good joined the Mohun brothers in the 4x400m, to run a 4:14.55.
In the Sprints, first time track star, Nadia Rangel (8U girl) took 6th in both her races; 100m, 16.90 and 200m, 36.68. Vincent Halcon (9-10yr/boys), took podium 3rd place finishes in the 100m, 14.35 and 31.12, in the 200m. A blazing fast 12.86, 100m 1st place finish for Kimbery Magaña (13-14yr/girls), she also finished 3rd in the 200m, 27.54. Teammate, Leah Barragan was behind her in the 200m, 27.88 for 5th and took 4th, 1:04.19 PR. Andrew Estrada (13/14yr/boys) took 8th, 25.80 in the 200m and 4th in the 400m, 57.65. Sophia Aviles (15-16yr/girls) took 2nd, 13.68 in the 100m. Kaylee Riedmiller was 3rd in the 200m, 29.99. Aralynne Gonzalez took 4th in the 400m, 1:21.11. Isaac Mohun (15-16yr/boys) finished with a 58.09 PR, to take 1st place in the 400m. In the (17-18yr/young men) John Paul Mohun, took 2nd in both the 100m, 12.32 and 200m, 25.87. He placed 1st in the 400m, 57.66. Benedict Collins took 3rd in both the 100m; 13.35 and 27.63 in the 200m. He also took 2nd in the 400m, 1:03.38.
In Jumps, Nadia Rangel (8U girls) placed 2nd 9'-06" in the Long Jump. Vincent Halcon, 3rd place jump, 12-11.5. Isaac Mohun had a PR leap of 17'-07.25" for 3rd. His brother, John Paul, took 1st in 18'-05.75" and Benedict Collins, 16'-00.50" PR jump. Joseph Weinkopf (15-16yr/boys) was the only HVB high jumper to qualify and he did not disappoint. He had an impressive PR jump for a 1st place tie that ended in a 2nd, based off attempts, 5'-03.00"
In Throws, shot putters Isabella Zavala (9-10yr/girls) in 5th, 16'-10.25". Hermelinda Ocegueda 3rd, 25'-02.75" and Jaylin Faulkner, 4th, 24'-04.25" for (11-12yr/girls). Ralph Avila managed to throw his best season PR of 33-10.50 for a 1st place finish. Andrew Estrada (13/14yr/boys) threw 31'-11.75", for 2nd. In the (15-16yr/girls), Maria Faulk, 1st, 25'-00.50" PR and Kaylee Riedmiller, 2nd 23-04.75 PR. Sebastian Faulk (15-16yr/boys), took 2nd 28'-09.50" and Diego Felix, with a 7th, 24'-06.25" throw.
Heritage Valley Blazers is a nonprofit organization, providing each athlete the opportunity to reach their full potential by developing endurance, strength, self-esteem, discipline, personal accountability, and goal achievement while encouraging positive attitudes, good sportsmanship, and respect. With the help of our coaching staff, these young athletes have grown to love the sport. Until next Track & Field Season... GO BLAZERS!