Fillmore Flashes Head Football Coach Miller Resigns
By Gazette Staff Writer — Tuesday, December 24th, 2019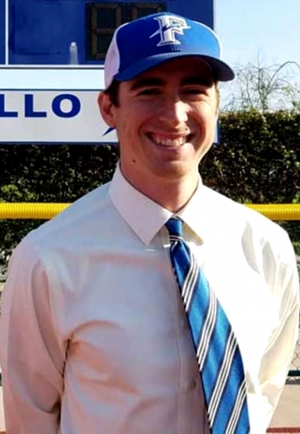 Fillmore High Head Football Coach Sean Miller
After two years at Fillmore Flashes Head Football Coach Sean Miller has resigned. Miller has a 15 – 5 record over the last two years, making playoffs and breaking several school records, such as passing yards in a game - 311 against Carpinteria on September 27th; most passing yards in a season - 1,875, and 24 touchdown passes in a season.
The team was only able to play eight games in regular season due to cancelations against Santa Clara and long time rival Santa Paula, because of the Maria Fire.
Fillmore finished the 2019 regular season 7-1, which got them into the Citrus Coast League CIF-Southern Section Division 13 playoffs, where they beat South Pasadena in the first round but fell short to Yorba Linda in the 2nd round of playoffs.
Coach Miller, who still teaches at Fillmore High, is focusing on obtaining his Masters Degree, and has recommended Flashes Defensive Coach Tony Tafoya for the job.