Fillmore Fire Department Live Grass Fire Training Wednesday July 1st, 2020 from 10AM to 4PM
By Gazette Staff Writer — Tuesday, June 30th, 2020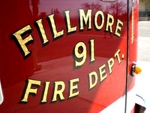 Fillmore Fire Department
The Fillmore Fire Department in conjunction with the Ventura County Fire Department, the U.S. Forest Service and CalFire will be conducting live grass fire training in the west end of Fillmore on Wednesday July 1st from 10 AM – 4 PM. This will be a controlled burn under ideal circumstances that are favorable to training fire crews.
Crews will light small fires that are easily controllable with fire engines and handcrews. The main objective is to give valuable wildland fire fighting experience to all firefighters participating in the drill. Firefighters will be attacking the small fires with water from fire hoses and with hand tools.
The area to be burned is boarded by roads on all sides. Ventura St to the north, River St to the south, E St to the west and D St to the east. There may be a smell of smoke in the air for a few hours but burning will take place to minimize the overall smoke production.
All questions may be directed to Fillmore Fire Department 805-558-0932