Fillmore Condors Compete in USA Track & Field Jr. Olympics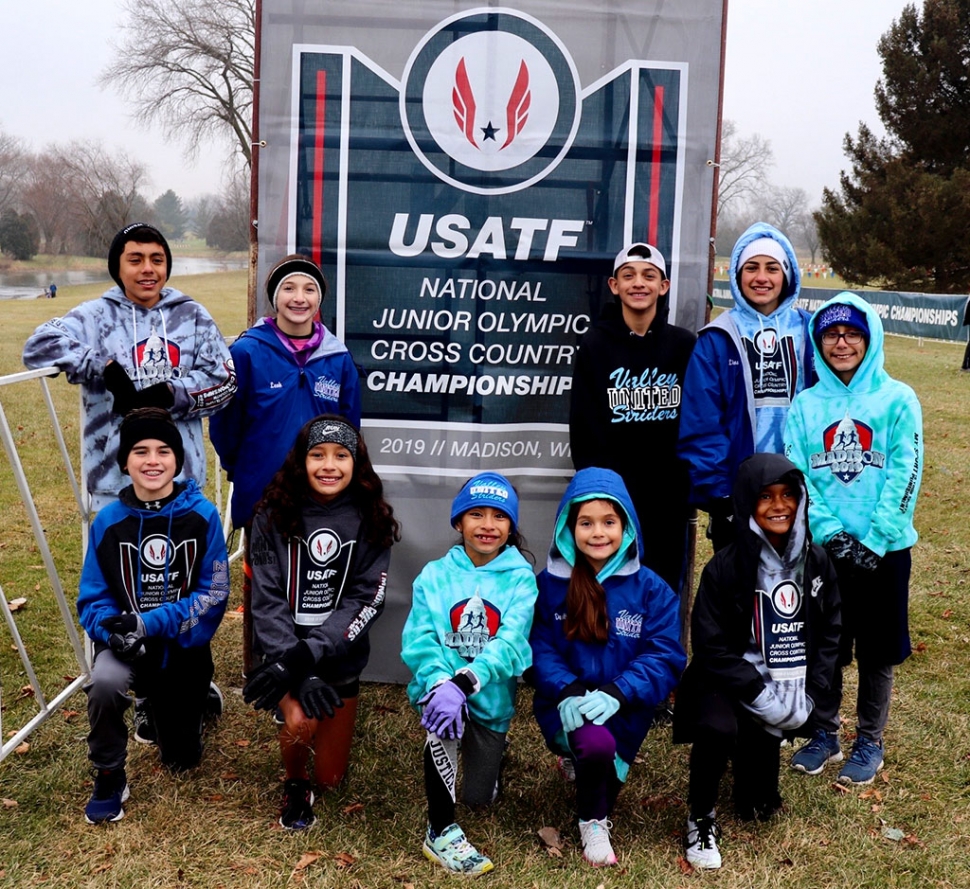 Pictured is the Fillmore Condors Cross Country team in Madison, Wisconsin at the USA Track and Field Junior Olympics on Saturday, December 14th. Left to right, Top row: Diego Rodriguez, Leah Barragan, Noah Flores, Lindsey Ramirez and Diego Felix. Bottom row: Ayden Barajas, Carolina Garcia, Lucy Zuniga, Destina Guzman and Abel Arana. Not pictured: The Theobald sisters. Photos courtesy Margarita Felix.
By Gazette Staff Writer — Tuesday, December 24th, 2019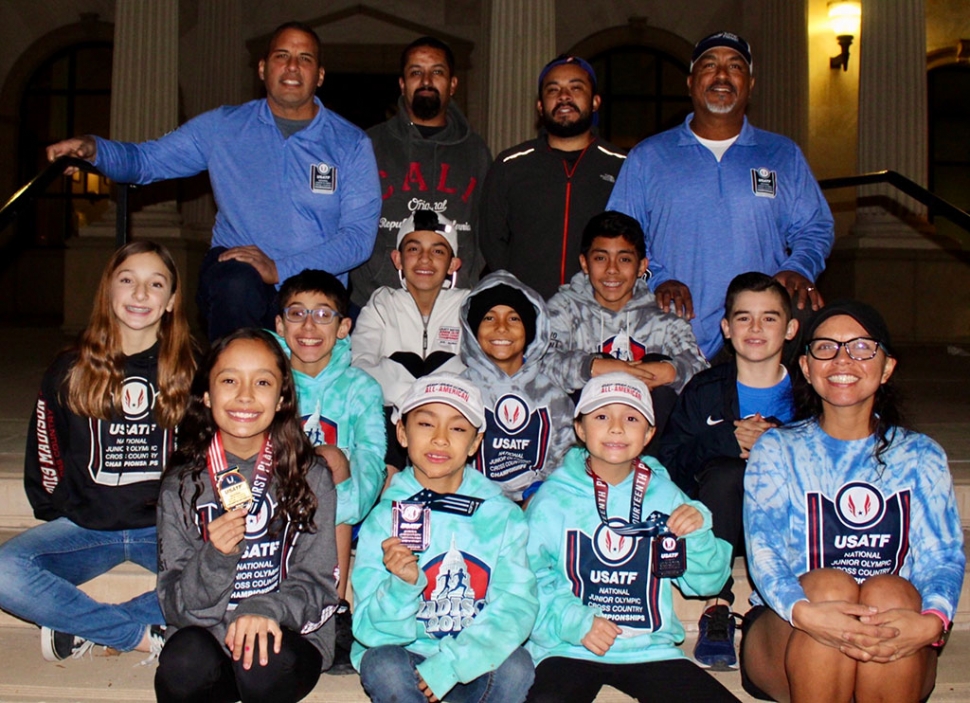 Pictured is the team showing off their awards in front of Fillmore City Hall. Congratulations Condors! Left to right - back row: Coaches Phil Ramirez, Ben Garcia, Gerardo Flores and Felix Zuniga, runners Noah Flores, Diego Rodriguez, Leah Barragan, Diego Felix, Abel Arana and Ayden Barajas. Bottom row: Carolina Lucy Zuniga, Destina Guzman and Coach Connie Guillen. Not pictured: Lindsey Ramirez and the Theobald sisters.
Submitted by Ericka Arena
The Fillmore Condors concluded their 2019 cross country season by participating in the USA Track and Field National Cross-Country Junior Olympic Championships on Saturday, December 14th. Over four-thousand elite athletes competed at the Yahara Hills Golf Course in Madison, Wisconsin. The Fillmore Condors Cross Country is a non-profit organization under Heritage Valley Blazers Inc. Thirteen athletes ranging from ages 7-13 traveled to Madison, Wisconsin where they began race day with 21-degree temperatures and by noon, it had dropped to an unbearable 18-degrees. The 400 acres of the rolling hillside golf course had patches of solid ice throughout overlooking a frozen pond.
USATF is the highest level of competition with athletes from all over the U.S. Yearly, the top eight athletes in each division from Valley Youth Conference come together to create an all-star national team, The Valley United Striders. The Fillmore Condors athletes who qualified were, Abel Arana, Ayden Barajas, Leah Barragan, Diego Felix, Noah Flores, Carolina Garcia, Destina Guzman, Lindsey Ramirez, Diego Rodriguez, Kailey Theobald, Kistern Theobald, Kristen Theobald, and Lucy Zuniga.
The first race of the day began with the 7 and 8-year-old girls competing in the 2,000-meter (1.24 mile) race with 157 runners on the starting line. Condor runners were, Destina Guzman, Kirsten Theobald, Kristen Theobald and Lucy Zuniga. Top runner for this Striders team was Kristen Theobald with a time of 8:35.0 finishing 11th; On her feet right behind was first time cross country teammate, Destina Guzman in 14th place with a time of 8:36.4; Not far behind was Lucy Zuniga in 19th place with a solid 8:43.8; Kirsten Theobald who fought and raced with the stomach flu finished 125th, in 10:32.2. This Strider team was a powerhouse! Five of the girls earned an individual All-American award, which is only given to the top 25 finishers and three of those girls were Condor athletes. They also came home with a 1st place gold team title, to become the back to back Jr Olympic Champions.
In the 9 and 10-year-old girls' race of 241 runners, Condor athlete Kaylie Theobald finished in 36th place, 12:26.4. Abel Arana and Ayden Barajas were the fourth group to race in the 9 and 10-year-old boys division. They managed to race within sight of their teammates in a field of 306 runners. Ayden finished in 12:01.6 for 88th place, and Abel Arana 6 seconds behind him in 96th place, running a 12:07.99. All 3 ran the 3,000-meter (1.86 mile) race and the boys team missed the podium spot by 10 points, to finish in fourth place overall.
Following, was the 11 and 12-year-old girls race with 317 runners. Condor runner Leah Barragan finished strong in 12:28.6, to place 160th. The boys 11 and 12-year-old race was made up of 364 runners, with two of our Fillmore Condors; Noah Flores who finished 93rd with a time of 11:12.4, and Diego Felix crossing the line in 11:27.3, for 148th place. This division also ran a 3,000-meter (1.86 mile) race.
316 runners were in the girls 13 and 14-year-old race. Lindsey Ramirez finished in 94th place with a time of 15:42.9 and teammate Carolina Garcia in 166th place, 16:19.5. Together with their Strider team, they earned a 2nd place national title. Diego Rodriguez ran the loaded field of 380 runners in the 13 and 14-year-old boys' race. Diego was able to finish his race in 14:49.1 earning 199th place. All 3 Fillmore Condor athletes ran the 4,000-meter (2.48 mile) race.
The Condors are coached by Phillip Ramirez, Felix Zuniga, Gerardo Flores, Victor Rodriguez and Connie Guillen from Oxnard. "We strive to teach our athletes how to love the sport that tests their limits, time after time. Every set back is a journey and this 4-month long season, was exactly that. We found ourselves with no support from FUSD on track usage. Therefore, our athletes had to travel outside of our city just to train. Despite the struggle, it was worth it. We are proud of our athletes. The pain, grit and heart they trained and raced with day in and day out, will help mold who they will be in the future." Condors President Erika Arana and board members would like to thank the following for sponsoring our athletes this cross-country season: Fillmore Lions Club, Fillmore Rotary Club, Central Station, Estrella Market, El Hair Studio, Inkfactuation, Innocenti Construction, Cliton Simonson, California Well Services, Metering Services Inc, American Water, Jamba Juice and Heritage Valley Blazers Inc. FOREVER CONDORS!