Fillmore Area Serious Habitual Offender Probation/Parole Searches
By Ventura County Sheriff Department — Wednesday, June 11th, 2014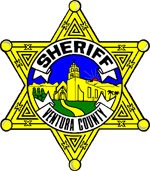 Ventura County Sheriff's Department
On Saturday 06/07/2014, members of the Fillmore Police Department, Ventura County Sheriff's Office, and Ventura County Probation Agency conducted multiple searches of residences of parolees and probationers in the City of Fillmore and the surrounding unincorporated areas. This operation was funded by a California state grant for supervising post-release and serious habitual offenders, due to state prison Realignment Act (AB 109).
Sheriff's Deputies visited forty-two Fillmore area locations Saturday morning and conducted probation / parole searches, and served multiple felony arrest warrants. Of the probationers and parolees contacted, 19 subjects were arrested for a variety of charges, ranging from narcotics violations to felon in possession of ammunition charges. Six individuals were booked into the Ventura County Jail, while the remaining were cited and released.
Similar operations have been conducted in Camarillo, Thousand Oaks, Moorpark, Ojai, and the Ventura/Oxnard unincorporated areas in recent months.
Unit(s) Responsible: Fillmore Police Department and multiple specialized units of the Ventura County Sheriff's Office, and the Ventura County Probation Agency.
Prepared by: Sergeant Mario Aguilar
Ventura County Crime Stoppers will pay up to $1,000 reward for information, which leads to the arrest and criminal complaint against the person(s) responsible for this crime. The caller may remain anonymous. The call is not recorded. Call Crime Stoppers at 800-222-TIPS (8477).