Fillmore's Vita Jolie Vazquez Wins VC Fair 2022 Poster Contest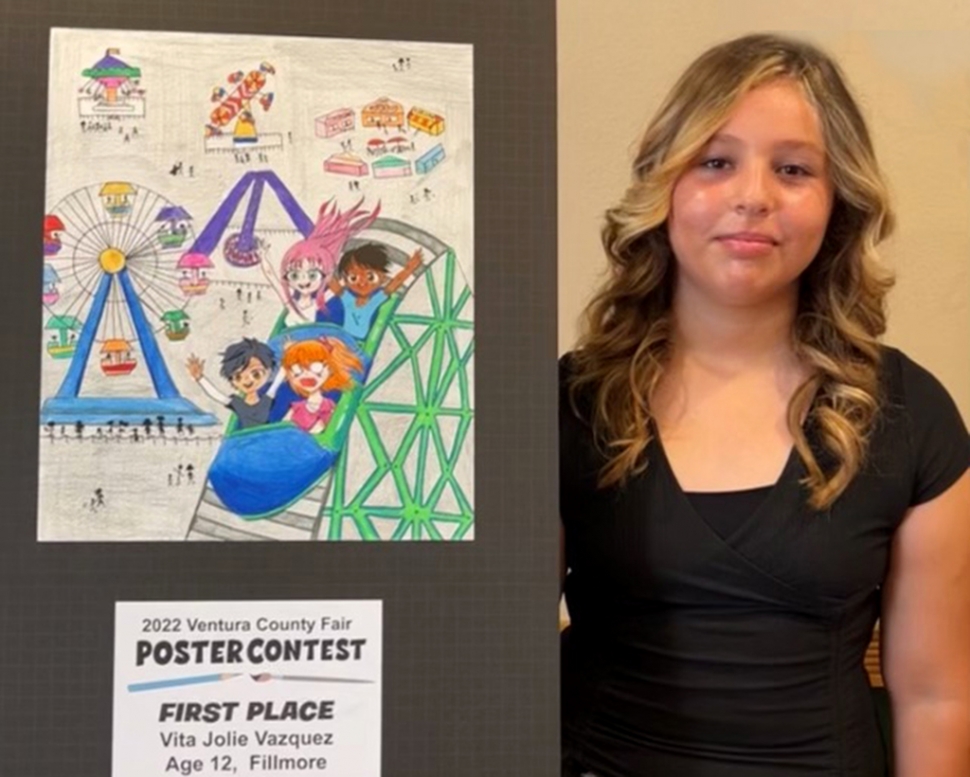 Congratulations to Fillmore's Vita Jolie Vazquez, 12-years old of Fillmore Middle School who won this year's Ventura County Fair Poster Contest earning the grand prize of $500. You can see her poster in color on page 10. Photo credit Ventura County Fairgrounds and Event Center.
By Gazette Staff Writers — Wednesday, July 20th, 2022
The Ventura County Fair has announced that Fillmore's own 12 year old Vita Jolie Vazquez ha won the first prize in the 2022 VC Fair poster contest. Vita Jolie rendered her exciting illustration in colored pencil and included a quartet of animee-styled screaming kids on the roller coaster. We think she captured the essence of the theme.
"I've always been interested in art and the different forms of it, including the process and stages. That includes drawing and painting, video games, fashion and style. My immediate goals are to get my name and art out there to hopefully find people interested in my art. My ultimate goal would be to make a living out of my work when I'm an adult. I've been drawing ever since I could hold a pen, which was before I could walk, and draw almost daily. This year, however, I have had the best experience and achievements with art. I have had two of my drawings published; one as the official VC Fair poster of 2022 and the other as the back cover of the 2021-2022 Fillmore Middle School yearbook. I will be starting 7th grade at FMS this Fall." –Vita Jolie Vazquez, 2022 Ventura County Fair Poster Artist.