Fillmore's Camilo Qualifies for State Finals
By Epi Torres — Wednesday, November 24th, 2021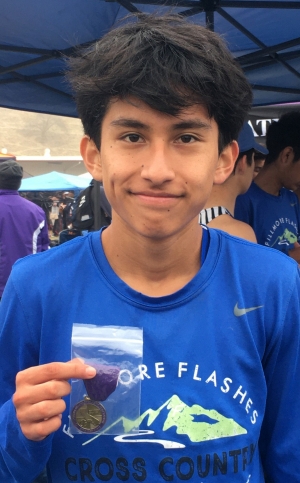 Congratulations to Michael Camilo Torres as he advances to the CIF Cross Country State Championships after placing 6th at CIF SS Finals. Photo courtesy Fillmore High School Facebook page.
On Saturday, November 20th, the Fillmore boys varsity cross country team returned to Walnut, California, one of 16 teams to compete on the fabled Mt. San Antonio College cross country course. These are the best Division 4 teams in the Southern Section. At this stage, every team's goal is to be one of the top 7 teams to advance to the State Finals. A tough task indeed.
On an overcast day, Camilo ran in the front pack with the goal of qualifying for the State Championship meet in Fresno. Even though he was not 100% today, he managed to will himself to a 6th place finish, thereby earning a spot on the starting line in Fresno. Camilo earned a medal and covered the course in 15:34.3. Following Camilo was teammate Kobe Lizarraga 96th in 17:48.5, Joshua Estrada 100th in 18:01.3, Nicholas Hurtado 101st in 18:01.4, Eduardo Vigil 105th in 18:08.7, Diego Estrada 108th in 18:26.3, and Angel Garcia 111th in 18:58.6.
As expected, the team competition was very tough. Fillmore was unable to qualify as a team. In the team competition, Fillmore finished in 16th place at the CIF Southern Section Division 4 Cross Country Finals.
So ends another fine season for the Fillmore Cross Country team. But the season continues for Camilo, who will run next week in Woodward Park in Fresno at the California State Championships. His race will start at 9:00 a.m.