FHS Teacher Randal Kamradt Receives Two Awards at Chelsea Film Festival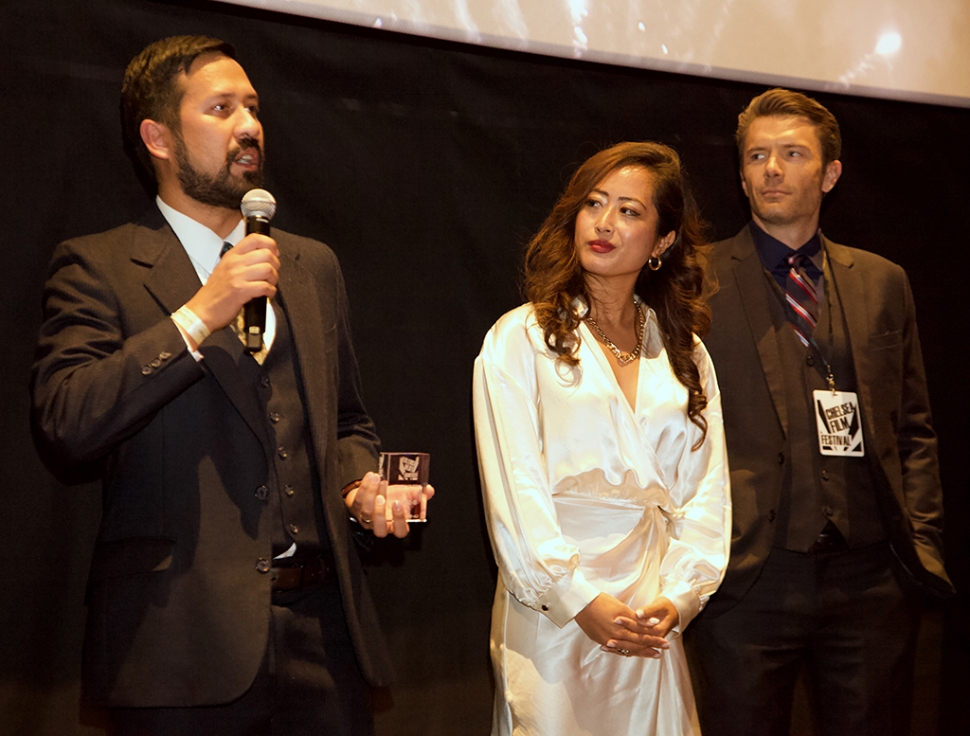 (l-r) FHS Teacher Randal Kamradt, Star Georgina Tolentino, and Co-Star Ian Coleman receiving the Audience Award from the Chelsea Film Festival in New York for his fifteen-minute short film "No Dogs."
By Gazette Staff Writers — Wednesday, November 10th, 2021
Fillmore resident and Fillmore High School teacher Randal Kamradt has won two awards from the Chelsea Film Festival in New York for his fifteen-minute short film "No Dogs". The film highlights Filipino-American history in the 1930's, telling the suspenseful story of a young woman who spends a night hiding in a diner from racial violence, and was awarded the 'Petite Prix Award for Best Short Film' and the 'Short Film Audience Award'. "No Dogs" stars Georgina Tolentino, who wrote the screenplay with Alex Fabros, and co-stars Ian Coleman, who also won the festival's 'Best Supporting Actor' award. The ceremony took place October 17th, 2021 at the Regal Theatres Union Square, in New York, NY.
The film had its World Premiere earlier this month on October 1st, 2021 at the Los Angeles Asian Pacific Film Festival, alongside Kamradt's feature film "The Monsters Without". Since then "No Dogs" has also appeared in Minneapolis at the Twin Cities Film Festival where it was named as a top four finalist among more than seven hundred entries for 'Best Short Film'.
"[The] hope for any artist or a filmmaker of color is to gain better exposure for their culture, to further normalize Filipino-American storytelling, and to bring more of my own and my culture's voice into the cinema" said Kamradt, "It takes a lifetime of work and a lifetime of creating films, before you get to that point where you're making movies that stand the test of time."
"No Dogs" will next be appearing as part of the Philadelphia Asian American Film Festival from November 4th to 14th. The festival will feature virtual screenings so viewers can watch the film from any part of the country. Tickets are available at www.paaff.org