FHS Students attend Navy SEAL Invitational Tournament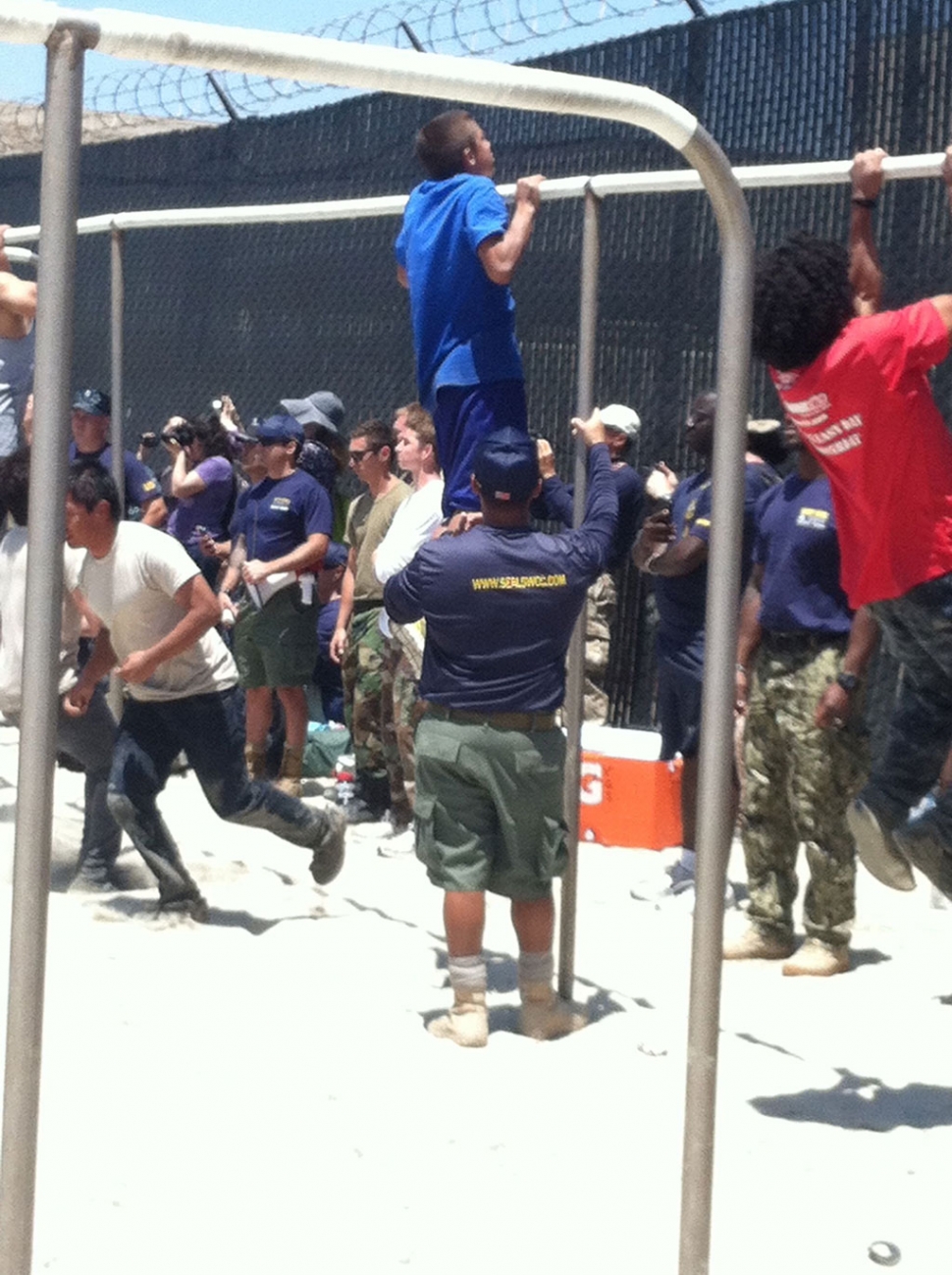 70 pull-ups were just one of the drills at the Warfare Center.
By Gazette Staff Writer — Wednesday, May 28th, 2014
Athletes from 13 high schools participated in the Fourth Annual Navy SEAL Invitational at the Naval Special Warfare Center May 10th, 2014. The 13 high schools each brought teams of 7 athletes (plus one alternate) to compete in a race comprised of Navy SEAL physical training techniques.
The tournament included physical and mental challenges that pushed the athletes to succeed beyond their expectations. The event consisted of both water and land challenges that required individual persistence, determination, athleticism, strength, endurance and enthusiasm.
The day of the Invitational began with a parachute demonstration by the U.S. Navy Parachute Team "The Leap Frogs". Their jump began in the clouds, and it was nothing short of spectacular!
Next the student athletes were assembled at the Official BUD/S Obstacle Course where they completed almost all of the official course. They then went on to complete a three-mile run with a 35-pound sand bag (in the soft sand!), and then had two team members swim 400 yards in the Pacific Ocean, next was a relay with the 35 pound sand bag, a rope climb completed by one member, and finally each team had to work together to complete 70 pull-ups, 300 sit-ups, and 300 push-ups.
The athletes at the invitational represented several different sports and athletic backgrounds such football, track, wrestling, and swimming, but one thing they all had in common was their dedication to teamwork. One of the goals for the students is to learn they can never give up, and to rely on their teammates. That is something that The Navy SEALs instill in them.
Student athletes from the following high schools competed this year … from Cathedral Catholic HS, San Diego; Central Catholic HS, Modesto; Coronado HS, Coronado; Del Norte HS, San Poway; Eastlake HS, Chula Vista; Fillmore HS, Fillmore; Hoover HS, San Diego; Irvine HS, Irvine; Lincoln HS, San Diego; Mount Miguel HS, Spring Valley; St. Augustine HS, San Diego; and Thomas Downey HS, Modesto. Friends and family joined the event as spectators. Students who attended from Fillmore High School were Angel Velez, Donovan Mitchell, Jessie Vasquez, Josh Ruiz, Matt Hammond, Michael Castro, Nick Bartels, Tereck Morales. Dr. Nishino, Michael Johnson, Mrs. Morielli and Bob and Lisa Hammond were also able to attend this amazing event.
The Navy SEAL Invitational is a great way to promote physical fitness in a competitive environment. It's also an exciting event that offers a rare peek inside Naval Special Warfare training while providing these athletes with an awareness of opportunities available in the Naval Special Warfare community. Navy SEALs are elite maritime special operators who take their name from the environments in which they are trained to operate: sea, air and land. They work quietly to carry out the nation's most important missions without being detected by enemies. There are fewer than 2,500 active duty SEALs.
For more news from Naval Special Warfare, visit http://www.navy.mil/local/nsw/