Family Looking For Answers
By Gazette Staff Writer — Wednesday, January 29th, 2014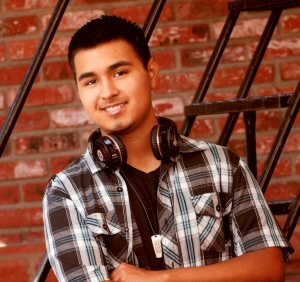 Pictured is Adrian Moreno. A "Spiritual Retreat" will be held in loving memory of Adrian on Saturday, February 1 from 8 a.m. to 1 p.m. at St. Francis Church. Anyone interested in attending should contact Maggie at 524-1306 no later than Thursday for food purposes.
On the night of January 11, 2014, Deputies from the Ventura County Sheriff's Department responded to a gunshot victim on the roadway of Grand Avenue. The gunshot victim, later identified as 18 year old Adrian Moreno, was pronounced dead at the scene. Just prior to the shooting, Adrian was there with friends on a private property ranch.
Adrian Moreno was born in Ventura and raised in Santa Paula until completing 1st grade. He attended St. Sebastian School and Glen City School. After moving to Fillmore, Adrian attended the Fillmore Unified School District until he graduated in 2013. He had started Ventura College in the fall of 2013. Adrian was taking general education classes and wanted to pursue music production. He had various programs on music production that he spent hours on creating music and experimenting.
Adrian was known as "Chubby" to his friends because when he was about 8-years old he gained a lot of weight. His parents put him in soccer to see if all the running would help him lose some of it but he loved to eat so that did not help much. He made many friends through playing soccer and played until his freshmen year in high school. While in soccer he was also enrolled at Perce's Kenpo Karate studio where he attended for 5-years and gained more friends. There he learned about integrity, respect, self-confidence, and earned a 3rd degree Brown Belt.
Adrian also played the drums all through elementary, middle school, and up to his freshmen year of high school. He was also a student of Camilla Conaway for over a year where he took piano lessons and enjoyed it very much.
When Adrian was a sophomore he joined the football team and again made more new friends.
During his junior and senior year he was more involved in AVID and looking at colleges to attend. He would always go to Sespe School and do his community service hours in his mom's classroom. Just this past December Adrian and his family went to help El Pescador Restaurant in Santa Paula for their yearly community Christmas event, and he went so gracefully to help.
For his graduation he went on the Senior Trip to Long Beach and had an amazing time with his close friends. Adrian also was a candidate in the Confirmation Class of 2013 at Saint Francis Church in Fillmore. He attended 2 years and last year when the students were taken to "The Mountain" (a spiritual retreat) he came back more so than ever with the Holy Spirit.
Adrian also loved to snowboard where the family would go every time there was snow nearby. He loved to play X-Box Live with his friends until late night hours.
Over the last year he had started attending concerts of his favorite bands like Linkin Park, and Kaskade. He loved to go bowling and to the movies with his friends and family. Adrian loved exotic cars and enjoyed going to car shows. He knew a lot about them and could name them on the street. He enjoyed cooking breakfast, staying up late, and Skyping. He also loved to drink a lot of water and Rock Stars. Adrian hated taking out the trash, getting up early, and a messy house.
Adrian had a way with friends, cousins, family, teachers, and people he barely knew that was caring, generous, and giving. His smile would light up a room and had the power of saying few words with the most meaningful message. He would listen to friend's problems and somehow made them be not so bad.
Adrian always asked his mom how her day was and would actually listen and give input. He would give her a hug and a kiss upon arrival and although he did lag at things he would always follow through. He loved his family, always shared funny videos with them, and was always so helpful. He knew he was loved and we knew he loved us. He believed in God, happiness, and in living everyday as if it were the last. We will miss his smile, laughter, and great heart. May the Lord have you in the kingdom of glory and give us strength to endure this pain and this emptiness. May you watch over us to protect us from the evil that took you without cause. May the soul that did this find God and speak out because whether one believes in God or not only the truth will set you free.
The community needs to come together and understand that your son, daughter, sister, brother, or family member could be next. As long as there are young kids with guns this will not stop and who will be next at the next gathering? Are your kids really safe?
Adrian's family is requesting the community to assist in finding out what led to Adrian's death. There were several individuals at the social gathering who Sheriff Investigators believe have the answers. Anyone with information regarding the incident is encouraged to contact Sergeant Todd Inglis with the Ventura County Sheriff's Office Major Crimes Bureau at (805)384-4730.
Ventura County Crime Stoppers will pay up to $1000 reward for information, which leads to the arrest and criminal complaint against the person(s) responsible for this crime. The caller may remain anonymous. The call is not recorded. Call CRIME STOPPERS at (800)222-TIPS (8477).