Faces of Fillmore: Barbara Filkins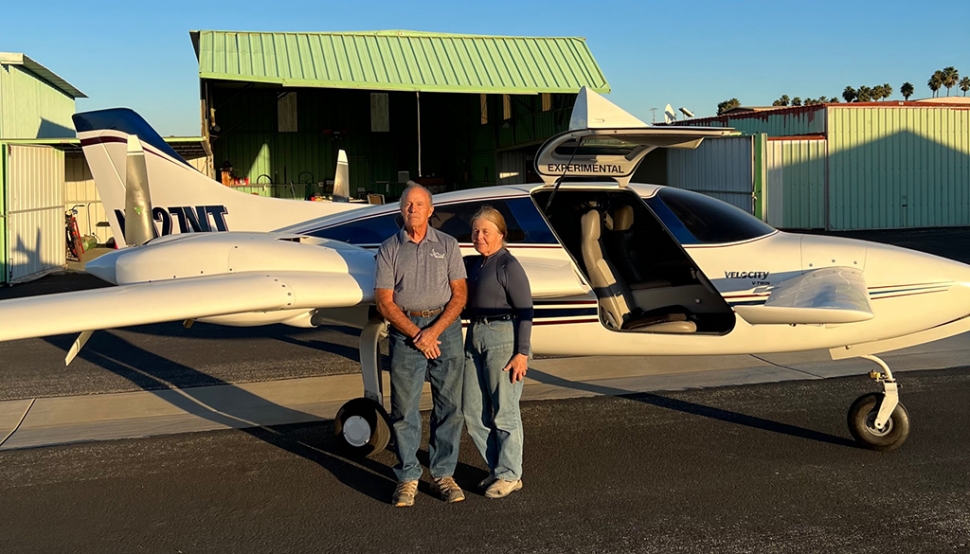 Barbara and Dale next to their Velocity V-Twin engine plane at Oxnard Airport. Photo courtesy Barbara Filkins.
By Gazette Staff Writers — Saturday, November 19th, 2022
Written by Carina M. Montoya
It is true that big things come in small packages. When I met long-time Fillmore resident Barbara Filkins and learned that she is a pilot and has been flying planes for several decades, I wanted to know more about this accomplished petite lady. Originally from Connecticut, Barbara came to California in the early 1970s to study at Harvey Mudd Collegein Claremont, known for its curriculum that educates talented scientists, engineers and mathematicians. It was at Harvey Mudd where she learned to fly and earned her pilot's license under the tutelage of Iris Cummings Critchell. Critchell served during World War II as a member of the Women's Auxiliary Ferrying Squadron (WAFS) and Women Airforce Service Pilots (WASP). She also raced airplanes competitively during the 1950s and together with her husband, Howard Critchell, helped found the Bates Aeronautics program at Harvey Mudd College in 1962.
After Barbara obtained her degree in physics, she returned to the East Coast and began working for the aerospace industryin Upstate New York where she met her husband, Dale, who is also a pilot. Barbara's career soared through the years as her talent and skills in the aerospace industry grew and were in demand within the industry and related industries. A job offer at an aerospace company on the West Coast brought Barbara back to California, where she and Dale decided to make Fillmore their permanent home. They both share a love of flying and have three planes. Dale built one of the planes, a Velocity V-Twin engine,which is a flagship model of the Velocity Aircraft line. Although both have had their share of flying solo, they have flown together many times coasttocoastand often fly somewhere out of town for a weekend getaway. Barbara now teaches aeronautics through distance learning, including flight instruction at the Oxnard and Camarillo airports.
In addition to Barbara's busy daily schedule, she still finds the time for a passionate hobby in an equestrian sport called dressage, which is a form of horse riding performed in exhibition and competition. It is also known as "the highest expression of horse training," which involves the rider and horse to perform from memory a series of predetermined movements.
But wait, there's more . . .Barbara is a member of the Fillmore Rotary Club and gives of her time for community service by enriching the lives of others locally and around the world, which is at the core of the club's mission.
Next time you see a plane flying above when you're out and about in town, give it a wave because it just may be Barbara flying over the town.