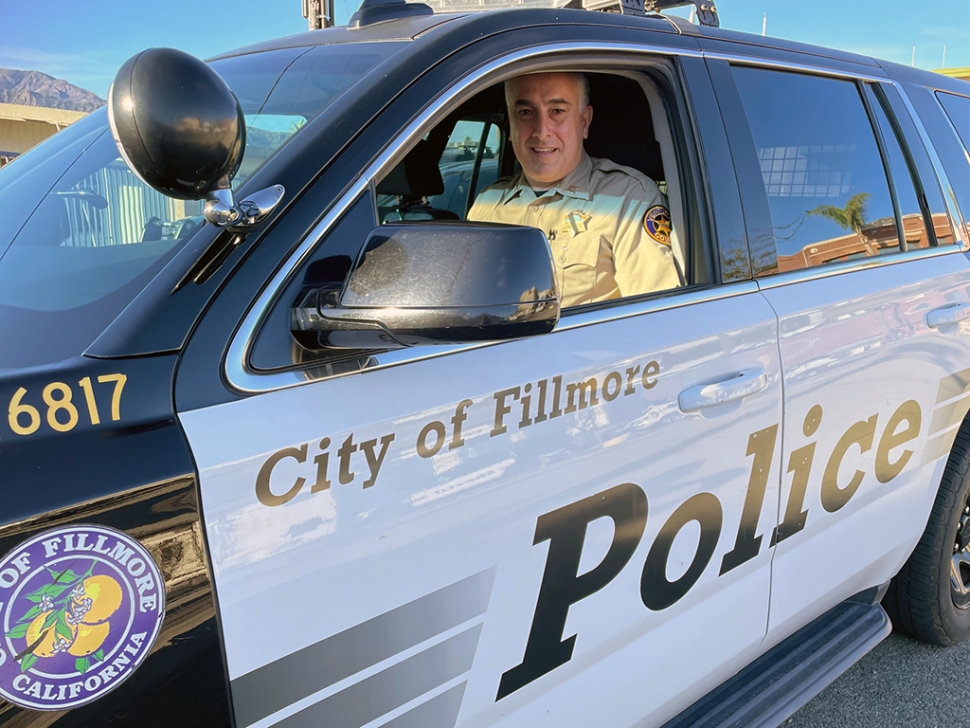 Fillmore Chief of Police Captain Garo Kuredjian.
By Gazette Staff Writers — Saturday, January 21st, 2023
Written by Carina Monica Montoya
A very familiar face in Fillmore is Chief of Police of Fillmore's finest for over three years, Captain Garo Kuredjian. He has been promoted to Commander and will be overseeing pre-trial detention in the City of Ventura later this month. Garo has attended many of Fillmore's town events and celebrations, particularly local clubs and school events. He has been a hands-on police chief that got to know the community he served.
Born in Tripoli, Garo's family emigrated from Lebanon to America when he was 5 years old. They first lived in Alpena, Michigan before relocating to Thousand Oaks in 1987. Garo graduated from Westlake High School and then on to UCLA, where he received his BA in economics. He is a loyal and avid UCLA college sports fan, and has been a season ticket holder for over the past two decades.
Garo has rose through the ranks in his profession because he loves what he does, much like athletes love their sport. From an early age, Garo knew that he wanted to become a police officer. He followed in the footsteps of his older brother, Jake, a Los Angeles County Sheriff's Deputy. It was a childhood dream for each of them to become police officers. Upon graduation from the Ventura County Sheriff's academy in 1994, he was assigned to the Santa Paula jail where he worked from 1995-1998. From 1998 – 2002, he was assigned to field training in Thousand Oaks and Moorpark. When he was promoted to Senior Deputy Sheriff, he worked pre-trial in Ventura for awhile and then returned to patrol in Moorpark until his promotion to sergeant in 2006. In 2014, Garo was promoted to Captain where he became the assistant to the Sheriff and Undersheriff. He was the public information officer during the tragic Borderline Bar & Grill shooting in 2018. His reporting on the incident was broadcast around the country.
In 2019, Garo was assigned as Chief of Police of Fillmore. Under his leadership, the station serves approximately 450 square miles of unincorporated area in the Santa Clara River Valley, including the unincorporated communities of Bardsdale, Rancho Sespe, Santa Paula, and Upper Ojai.
Garo's involvement in the community is focused on the youth in Fillmore. He is a board member of the Boys & Girls Club, an organization that concentrates on youth development in the areas of educational & career development, health & life skills, arts, sports, fitness, and recreation. Garo also helped bring back the Adopt-A-Cop program in Fillmore. The program encourages elementary school students to build positive relationships with police officers through interactive discussions and working with other students on teacher designed activities that help build character, and at the same time strengthening law enforcement's relationship with the community. Garo believes that children are our future, and we need to invest in them because they are the leaders of tomorrow.
In addition to his extensive community involvement, including being a member of the Fillmore Rotary Club that strives to make positive changes in the community and around the world, Garo's interests not only include his passion for community engagement and sports, but he is a devoted father and enjoys spending time with family and his dog, Oliver.