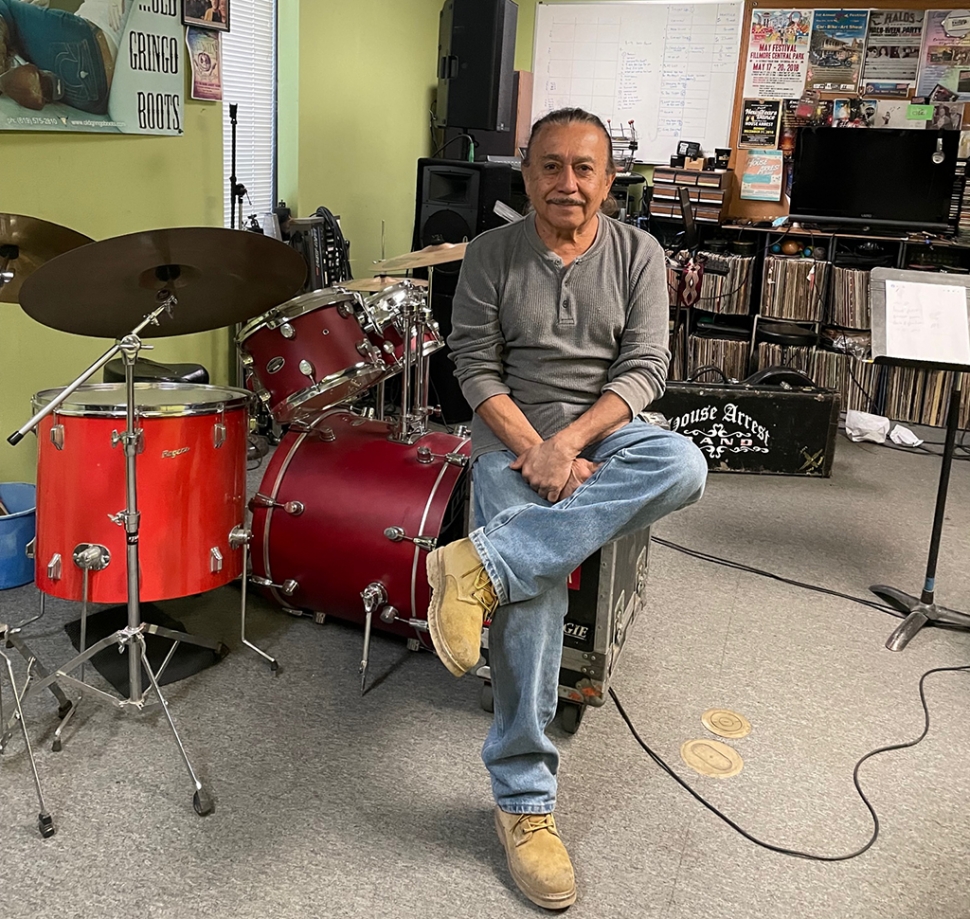 (above) Long time Fillmore resident John Grimaldo in his music studio. John has an auto repair shop in Fillmore, is a professional ceramicist, and is popularly known for his musical band "House Arrest." Photo credit Carina Monica Montoya.
By Gazette Staff Writers — Friday, August 19th, 2022
Written by Carina Monica Montoya
Long-time resident John Grimaldo is a jack of all trades man and master of all. Not only is he known for his local auto repair shop in Fillmore, Grimaldo Enterprises, but he is also a professional ceramicist, and is popularly known for his musical band called "House Arrest." His son, John Grimaldo Jr., helps run the auto repair shop and is the soundman and part-time percussionist for House Arrest.
John has lived in Fillmore for more than 30 years. In addition to his music, he loves old classic cars. You can see him driving around town in his classic 1950 Chevy Panel truck that he fondly named "Trigger." He also enjoys restoring old cars and his business of auto repair enables him to do one of the things he does best.
Originally from Arizona, his family moved to Southern California in the 1950s and settled in Pacoima where Latino-style music was not yet popular in America. Ritchie Valens, one of the music industry's first Chicano artists, also lived in Pacoima and was best friends with John's father. It was in the 1960s when Latino-style music and classic cars made a big impression on John, and they would become his passions for life. His music studio walls are lined with photographs of his bands and many other popular musical groups John has played with through the years from 1967 to present.
John began his music career in the 1960s. He developed a passion for playing the guitar and singing. Although Latino-style music at the time was not yet "mainstream," he continued to play his preferred style even though record companies and many venues were against it. He was even thrown out of clubs for playing his music.
In the 1970s, Latino music groups were beginning to make its mark in the music world and Latino-style music began to rock the music world. Some of the Latino groups include Tierra, Los Lobos, and El Chicano. These groups helped put the Latino-style rock music on the map.
One of the biggest rewards that John finds in his music is making people happy. He believes music is healing and people of all ages come alive when they hear music that takes them back to happy times. John also invites retired musicians, some in their 90s, to come up on stage and do what they do best, which is play an instrument that they may have not played in years yet are able to jam as if it was only yesterday that they were on stage performing.
John has played in many musical groups through the years. He manages his current group House Arrest and is the lead guitarist. House Arrest is one of the most popular local and out of town musical groups, and always packs a full house at The Grape in Ventura and The Copa Cubana at the Ventura Harbor, to name only a few. House Arrest comprises some very talented musicians on the horns, saxophone, keyboard, drums/percussionist, bass guitar, and vocals. John's music is rooted in oldies with a beat that one can't help but get up and dance. His sound is a mix of R&B, jazz, and cumbia. Let's face it, some of the best music and dances were from the 60s and 70s. Who can resist dancing to oldies with a Latin beat?
Growing herbs, raising dogs, writing music, restoring classic cars, and collecting antiques are just some of the many things John does with a passion. He will never retire because one can never set a passion aside. So next time you see John in his 1950 Chevy Panel, don't be a stranger and say "hello."