Exciting time of year at Fillmore Community High School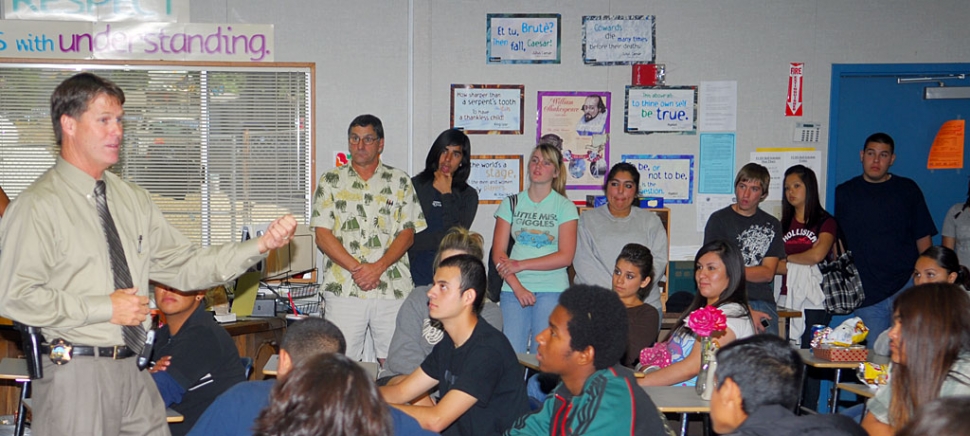 On Tuesday June 10, Fillmore Police Cheif Tim Hagel spoke to students at Fillmore Community High School. Chief Hagel's charismatic and down-to-earth friendly approach with students was obvious as many students approached him after he fi nished speaking.
By Norma Sandford — Wednesday, June 11th, 2008
What a wonderfully exciting time of year at Fillmore High School at Fillmore Community High School.
As a counselor at both high schools, this is my favorite part of the school year. Our graduates will be entering the world of adults. From here, they will be facing challenges, big and small, the rest of their adult lives. I find myself excited for them in what their future personal and professional life will be. I wonder where they will travel to and live, and hope that all find fulfillment and genuine happiness in their search.
I congratulate their effort in striving to give their best and meeting challenges head-on this year. Rest assured, parents and community members, dedicated and hard working school staff in all our schools have guided and educated these youths, from preschool to this week, to the best of their ability to help them reach their utmost potential.
For those students who have chosen to receive this guidance and education with open arms, these learned skills will help them tremendously in their future. It is with great joy that I have seen students turn their life completely around when they finally hit "bottom" and at the eleventh hour finally chose to turn things around for themselves.
I have also been heartbroken alongside with parents a hundred times over, when no amount of counseling or resources is going help a young man or woman, at that time. Personally, I push for what could be the potential in all kids and I do not give up hope on anyone – ever.
This is a very rewarding career and I always know that I am blessed to be part of their lives. For parents, going through difficult teen times, I say to them, never give up and believe in your child with all your might. Hope is such a wonderful gift for you and for your child to have. If they believe it, they WILL achieve it. With your love and support they will be successful. Believe it and remain positive, it's contagious!
On Tuesday of this week, we celebrated Seniors who are graduating at Fillmore Community High School. Fillmore Police Chief Tim Hagel answered student questions regarding law enforcement issues in town as well as, invited them to look into this area as a future career. Students heartily laughed at various examples of law enforcement incidents he has encountered as well as, shared the more difficult aspects of a police officer's daily duties. Chief Hagel's charismatic and down- to-earth friendly approach with students was obvious as many students approach him after he finished speaking.
Ms. Lynda Miller, Founder of the Support for the Kids Foundation, was also present to celebrate the success of Fillmore Community High School Seniors who will be graduating on Wednesday, June 11, 2008. The last week ended with student reports, Power Point presentations and classroom speeches to their peers.
Ms. Miller was here to present each of our fourteen graduating Seniors with one-day complimentary passes to Six Flags Magic Mountain, a $10. gift certificate to Burger King, and a certificate to Baskin Robbins Ice Cream. The Support for the Kids Foundation, Westlake Village, has continually provided numerous academic and art fieldtrips to students and families, as well as, shoes, clothing, furniture, toys, computers, etc. to families in Fillmore and Piru for two years (through the Dr. Neil Schmidt Fillmore Family Resource Center which is located at the Fillmore High School campus).
Another incredible resource that our Fillmore youth have for them in our Piru and Fillmore communities is the Big Brother's, Big Sister's Mentor Program, also on the high school and middle school campus, which provides students with the personal support and the guidance of another caring, responsible adult in their lives.
A moment of silence was given for our sweet Danielle Barrett, a FCHS Senior, who recently passed away. She will always be remembered in our lives.
Today was an absolutely great day for me in my career life. With the powerful and engaging speaker, Chief Hagel, and with the generous gifts for our Fillmore Community High School graduates, I was able to see the spark in our student's eyes. The spark of being challenged to reach out for more in life. The spark of "I can do this!" I hope this spark keeps burning all their lives!