Equestrian Center fee good compromise for all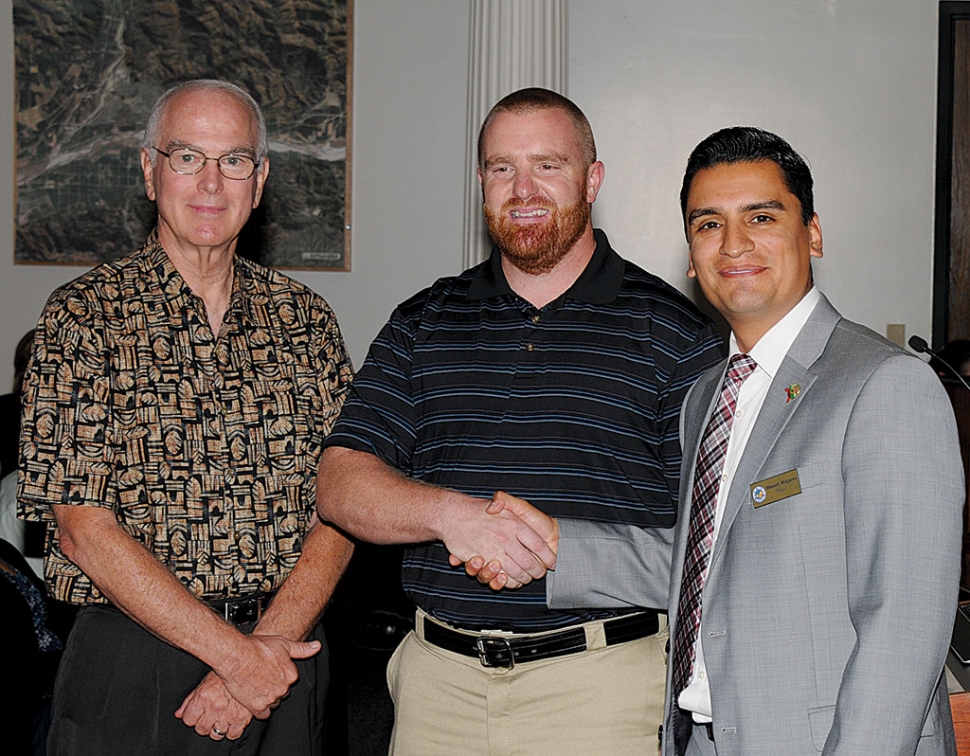 Mike Lyons and Jay Heater of Spears Manufacturing Company in Sylmar were presented with a Proclamation by Mayor Manuel Minjares at Tuesday's council meeting for their donation of the 100 year capsule to Fillmore.
By Jean McLeod — Wednesday, August 13th, 2014
Tuesday's Fillmore City Council Meeting was filled to capacity as half the chamber came to support the seven young Sheriff's Explorers who recently graduated and the other half came to address the Council on an agenda item. The agenda included a fee increase, approval of payments due, a State requirement on water restriction and the traffic signal on Mountain View St. and Highway 126.
The meeting began with a proclamation presented to Mike Lyons and Jay Heater of Spears Manufacturing Company out of Sylmar for their donation of the 100 year capsule to Fillmore. Spears constructed and tested the capsule, making sure it would last a century. Lyons and Heater received boxes of fresh local produce, local honey and tee shirts as gifts from the City.
The first item on the agenda was consideration in reducing the Fillmore Equestrian Center fee to $30 instead of $2 per day for storing a trailer. Speaker after speaker addressing the Council noting that many of the trailers had recently been removed due to the added fee and their concern in an emergency.
Most echoed their concern regarding safety of their horses in case of a fire or flooding and having enough horse/stock trailers at the Center to evacuate at a moments notice. Leslie Adler told the Council she had in the past help evacuate horses using a trailer that did not belong to her, but it was available at the Center. Some reminded the Council of how isolated the area surrounding the Center is and that many who board their animals live many miles way. Jan Briant thanked City Manager David Rowlands and Council members for the improvements made to the Center and suggested the City hire a site manager. Rowlands responded to the fee concerns saying that he had been informed the fee was originally put in place due to people leaving their cars at the Center, not the trailers. Mayor Pro Tem Douglas Tucker said, "It's unique that you all come together as a group" in response to the boarders who said they feel the Center is like a co-op organization where everyone feels a shared part in it.
Council Member Diane McCall told those in attendance, "I understand the need to have a trailer to move your animals" adding she wants the storage allowance to only horse/stock trailers and a restriction on cars and trucks being stored. Council Member Steve Conaway suggested a minimal fee, but was open to what some of the other members had suggested, which was allowing one trailer per boarder and a fee of $25 to $30 dollars per month for a second trailer. Rick Neal was concerned with abuse if there were no fees and stated "....there are about 60 horses, I'm worried about 60 trailers.....I want at least a minimal fee, whether it's $5 or $10, as long as it has a cost associated with it." To which Mayor Manuel Minjares added, "A nominal fee would be helpful...every little bit helps with the costs."
The subject went back and forth with one member suggesting that anyone who did not comply could be fined. That was when City Attorney Tiffany Israel reminded the Council that to fine someone would require placing an ordinance on the city's books and require public meetings and public input. It was then agreed that each boarder could have one trailer and would be charged for a second starting September 1, 2014. This garnered a loud applause from those in attendance.
Also, to be recognized were the seven Santa Clara Valley Post Explorers who graduated August 1st from the Ventura County Law Enforcement Explorer Academy.
Sgt. Mario Aguilar, who himself had graduated from the same academy, introduced the Fillmore Explorers: Demily Amezcua, Nicholas Bartels, Isis Garibay, Isaiah Galvez, Matthew Hammond, Jovanny Herrera and Lauro Medran.
The Santa Clara Valley Post was honored in winning multiple awards by its Explorer graduates. Explorer Isis Garibay was appointed Class Sergeant, Explorer Nicholas Bartels received the Class Spirit Award and Explorer Demily Amezcua received the Female Physical Fitness Award.
The Explorer course, which takes three weeks and 120 hours to complete, is open to young men and women ages 14 to 21. It introduces the complexities of police work and offers an opportunity to participate in a patrol ride-along. There were a total of 47 Explorers from Santa Paula Police Dept., Simi Valley Police Dept. and Ventura County Sheriff's Office who graduated last week.
An agenda item calling for restricting watering of landscape to two times a week was rejected by the Council. Fillmore, like other cities that supply water to their residents, received a notice from Sacramento requiring residents be informed of the State Water Resources Control Board July 15, 2014 decision enacting emergency drought regulations.
Fillmore has sustained a respectable water level in its wells and as Neal stated, "....has been very responsible with its growth...I'm all for water conservation, but if we're going to do this, let's do it right. I don't think restricting watering two times a week is helpful." He suggested reminding residents to water in the early morning or evenings. Conaway added, "I think everyone knows we're in a drought...I don't think we need the water police." It was agreed that the first violation should just be a warning and the second violation would be a fine. They all agreed to revisit the issue and develop an ordinance.
The anticipated light signal at Mountain View St. and Highway 126 is moving forward. The firm Willdan & Associates will be contracted to hire the designers and plans for the installation, which should be completed in about six months. Hearthstone will be paying $100,000 in advanced Development Impact Fees and the remaining $454,000 will come from grants and street/transportation funds. Conaway was very pleased with the news and responded, "We were told for years it didn't meet warrants (warrants are strict requirements by the State because it crosses a state highway). I'm pleased to hear it does meet warrants."
Minjares said a special thanks to those who help make this happen and thanked Fillmore resident Ray Brown who was in attendance.
There will be another two light signals on the east end of Fillmore on Highway 126. One, which will be installed first, will be about 500 feet east of the railroad tracks and the second, which will come later, will be at the entrance to El Dorado Mobile Home Park.