Dye Scholarship Foundation Day Cornhole Tournament Raises Over $10,000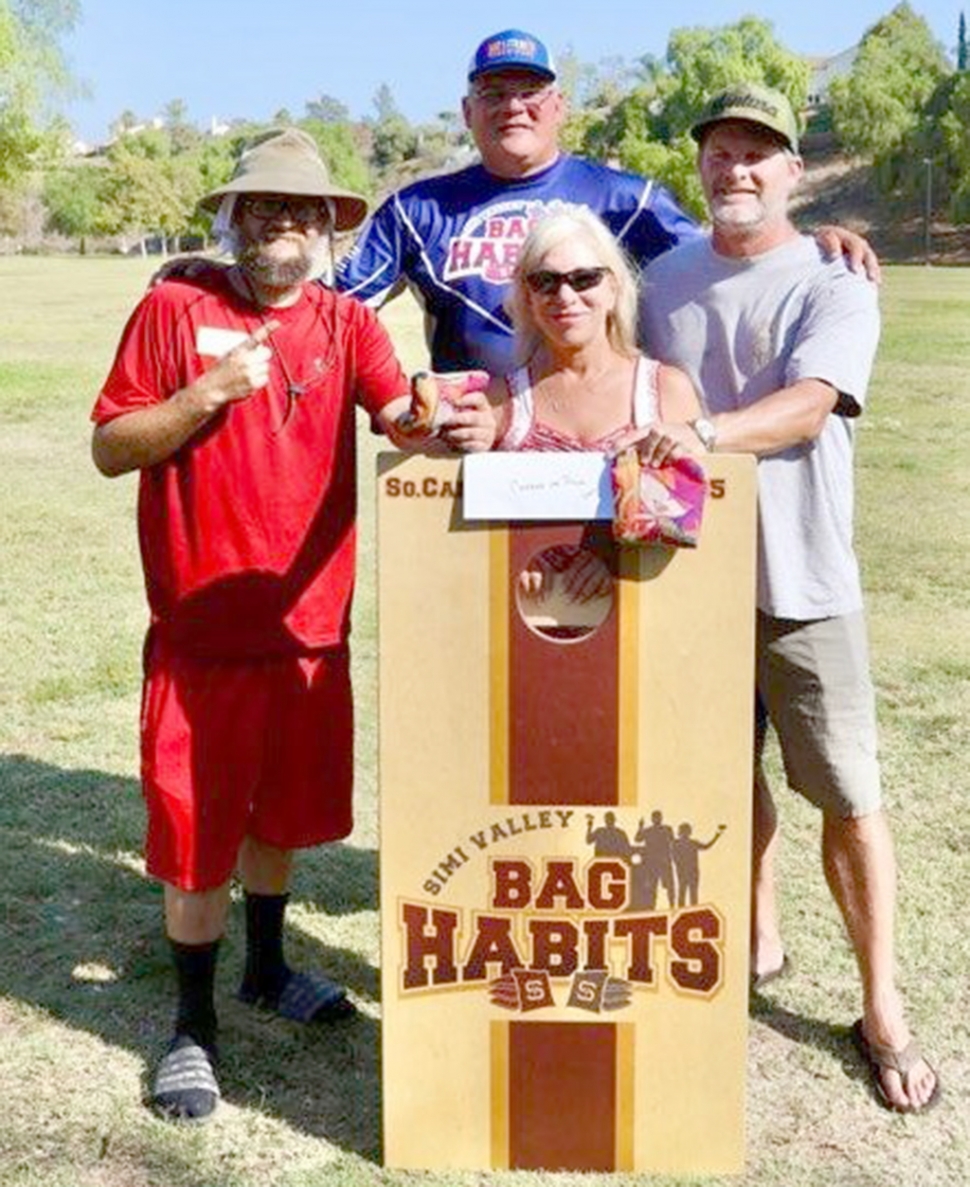 The Dye Scholarship Foundation Day Cornhole Tournament took place on Monday, September 6th and was a huge success, raising over $10,000. Pictured (l-r) are Dustin Parkins, Sandy Dye, Jerry Lopez and Lucio Pertile. Dustin and Lucio took first place in this year's tournament.
By Gazette Staff Writers — Wednesday, September 15th, 2021
The Dye Scholarship Foundation (DSF) raised over $10,000 at its Labor Day Cornhole Tournament and Games event. The cornhole tournament was run by Jerry Lopez and his crew from Bag Habits of Simi Valley. The first place team in the hotly contested tournament were Lucio Pertile and Dustin Parkins from Ventura. Second and Third place went to the teams from Bakersfield, Tyler Valverde and Andrea Baca, and from Simi Valley, Samantha Ohmie and Art Newcomb.
Community volunteer groups included the Ventura County Search and Rescue Team 1 from Fillmore who brought out their Command Post for tours and demos, and Girl Scout Troop 65105 from Santa Paula, who provided games and activities for the younger kids. Pepsico was a major sponsor, donating 650 beverages to the event, and sponsoring their team, Chris Cartee and David Gomez as tournament players. The Ventura County Deputy Sheriff's Association and the Ventura Sheriff's Foundation both provided team sponsorships. Local businesses donated gift certificates which were raffled off, or used as prizes, including Lazy Dog, Lure, Wood Ranch, Islands, Target, Vons, Panera, Presto Pasta and Smart & Final. If you missed it, don't worry, as we are already planning for next year, and the good news is you have a whole year to practice your cornhole skills!
The DSF is a 501(c)(3) non-profit providing scholarships to Ventura County students pursuing vocational career education. 100% of all donations are awarded to recipients with no administrative fees withheld.
https://dyescholarshipfoundation.givingfuel.com/dye